To celebrate the launch of Softer Volumes: Cafés—our hardcover book exhibiting beautifully-designed coffee shops around the world—in this article we've highlighted a selection of the best minimalist cafés. Showcased here are pared-back spaces that ensure the focus remains directly on the specialty coffee they serve. To see more inspiring café designs and coffee destinations, check out the book here—now also available in digital form.
Asia's Best Minimalist Cafés
OMOTESANDO KOFFEE / KOFFEE MAMEYA K11
Hong Kong
In the newly opened K11 MUSEA—a luxurious shopping centre on Hong Kong's Victoria Dockside—two outstanding coffee shops combine and share a space, yet each has its own purpose. OMOTESANDO KOFFEE serves as more of an introduction to specialty coffee, and offers light meals such as sandwiches and curry. KOFFEE MAMEYA caters to those with even greater interest in coffee, and pairs its drinks with sweet treats.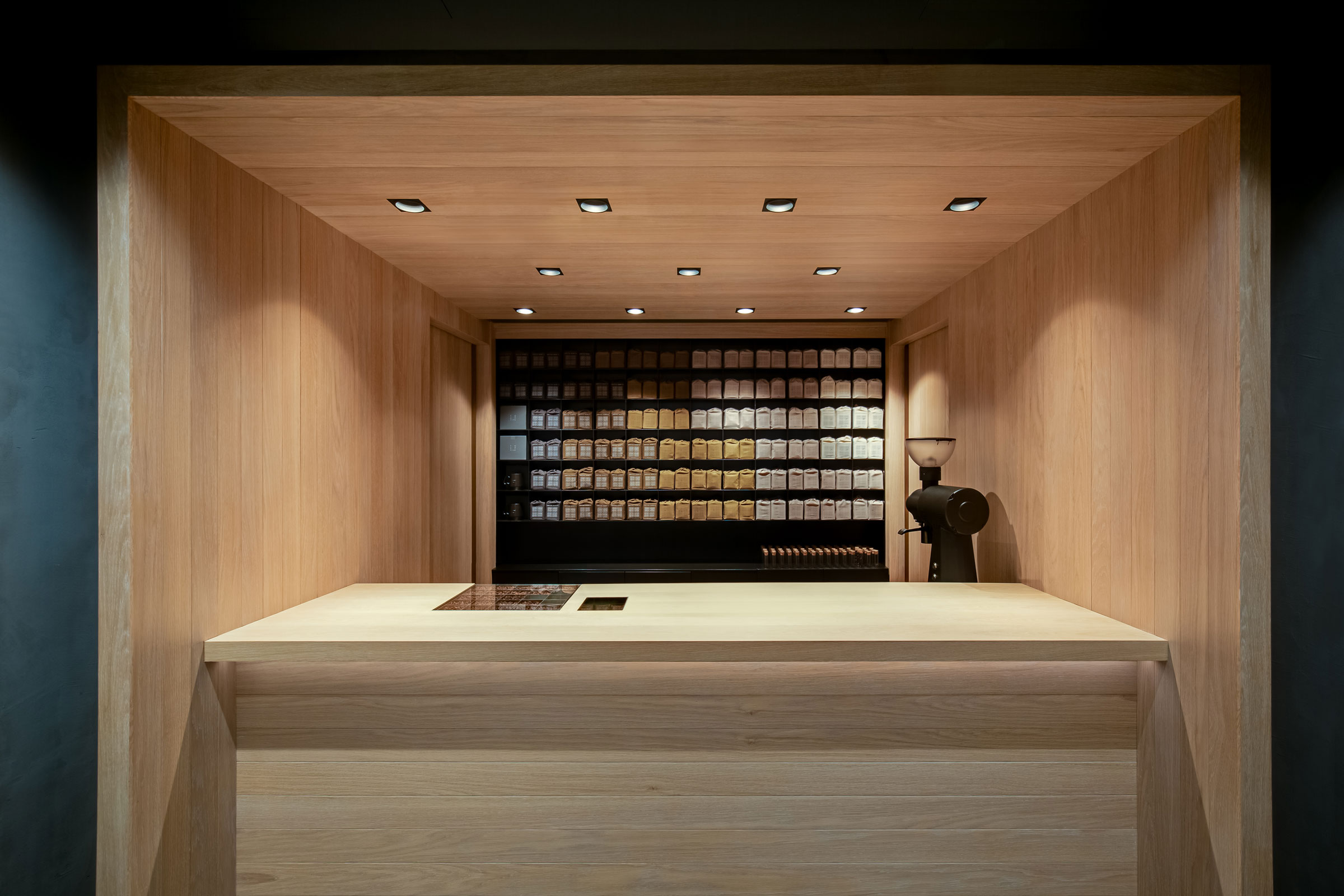 OGAWA COFFEE LABORATORY Shimokitazawa
Tokyo, Japan
Coffee preparation at OGAWA COFFEE LABORATORY is carried out with the utmost care and consideration, in a venue designed to celebrate craftsmanship and encourage dialogue. The vast selection of beans on offer are prepared using whichever method the customer desires, creating a bespoke experience for each guest. The uncluttered interior with raw finishes draws inspiration from Japan's rich history of craft.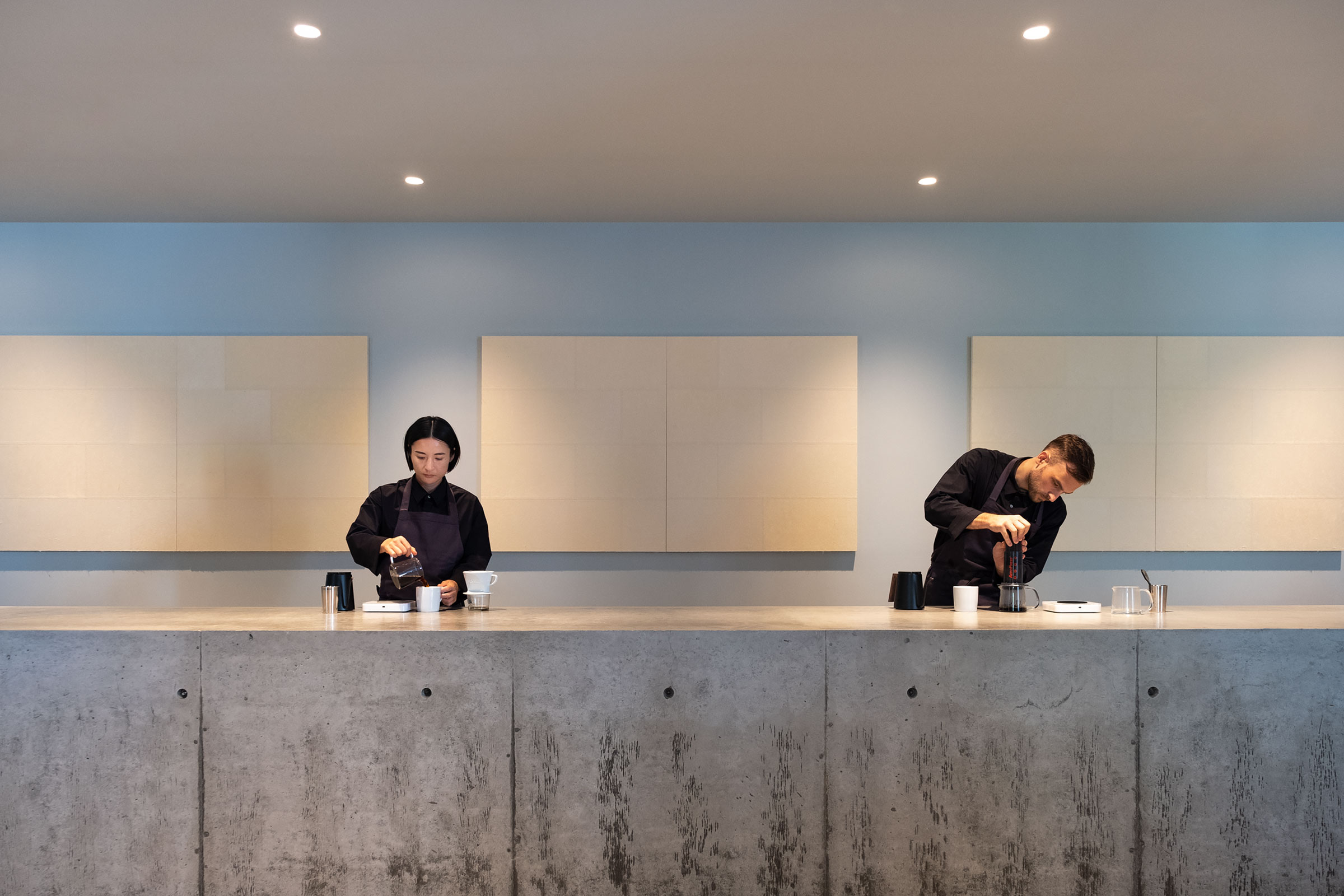 Orijins
Dubai, United Arab Emirates
Orijins embodies nature and its imperfect beauty. The interior materials and furnishings have been as carefully selected as the coffee, offering a unique experience of the highest quality. The coffee counter has been replaced by immense blocks of stone and marble, each with raw and unfinished edges. The walls curve to meet the ceiling, cocooning the space and suggesting not a manmade environment, but a natural one.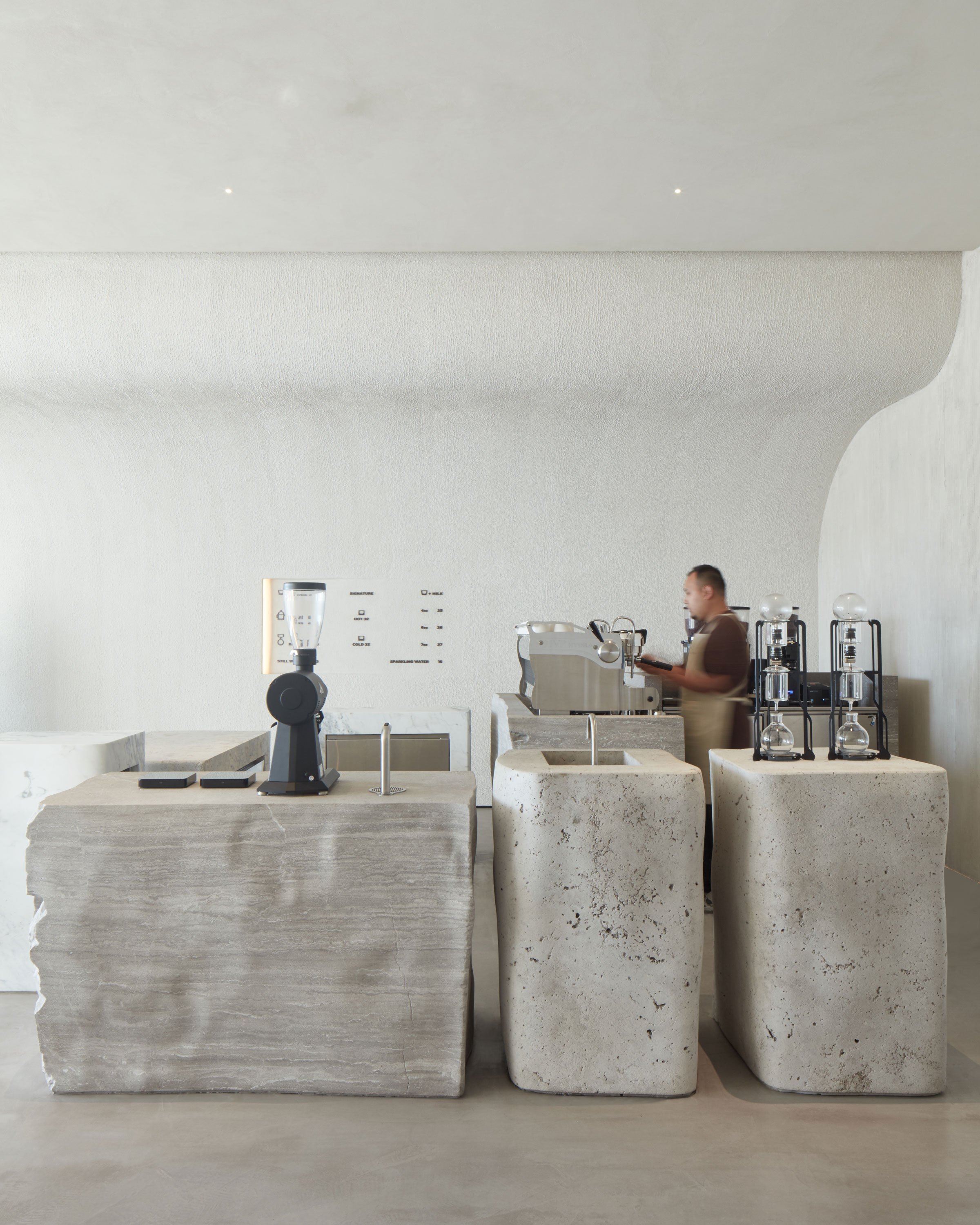 Equate Coffee
Singapore
Patrons are led to this cafe through intrigue; a cave-like wall obscures their view of the interior, encouraging them to venture in and discover what lies inside. Upon entry, they're rewarded with specialty coffee and baked goods—such as canelés and a selection of cakes created in collaboration with other local businesses—served over a stunning golden bar. Situated near Chinatown, there is no shortage of sights and restaurants nearby.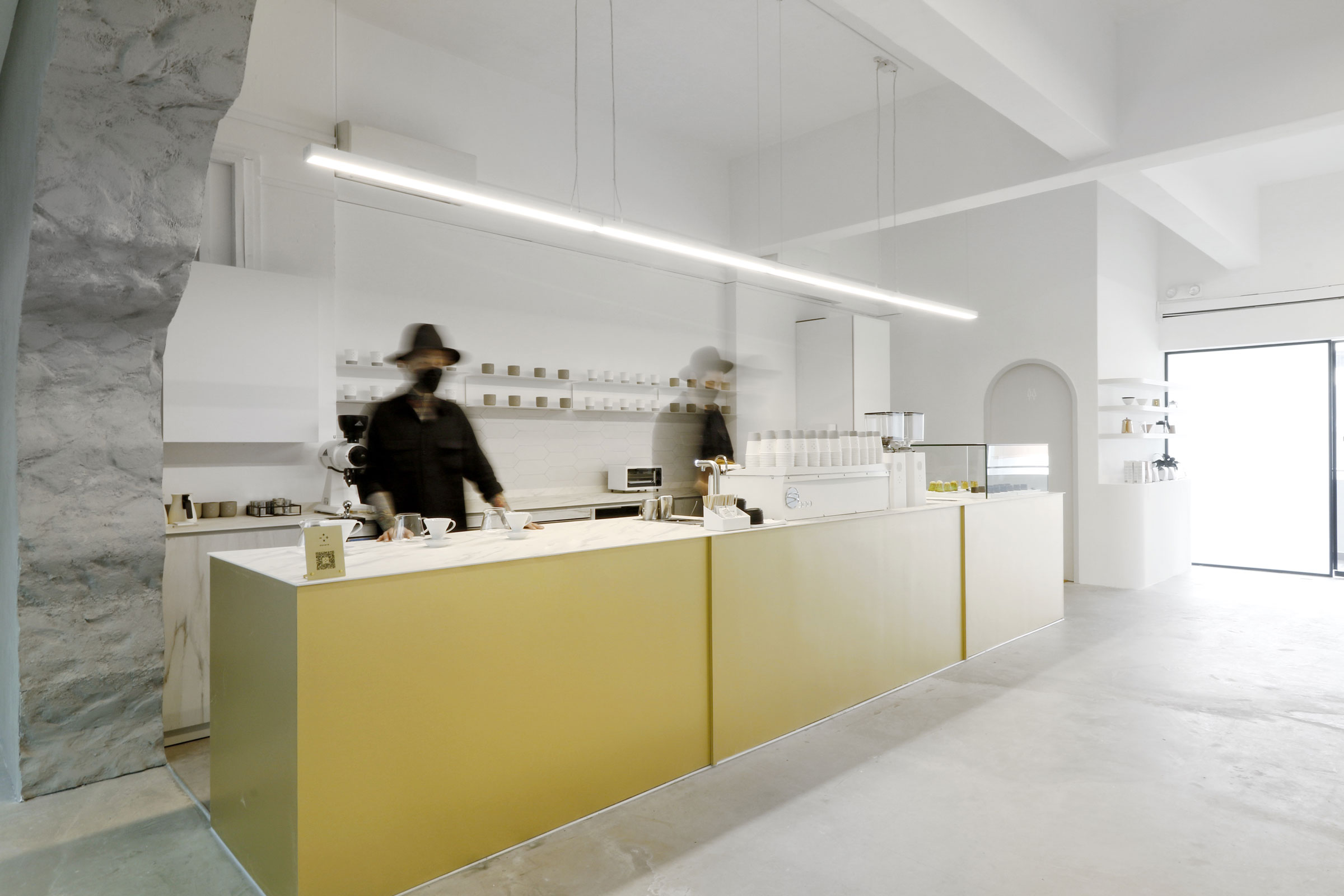 PAGA Microroastery
Bangkok, Thailand
Plain white facades allow the building to interact with its environment as the changing light transforms the building throughout the day. By the entrance stands a large stone, paying homage to the shop's inspiration; the mountainous regions where coffee is cultivated. The roasting room is exposed, not only to optimise conditions but also to al- low visitors to engage in the production process. There is also a dedicated workshop space and additional seating on the second floor.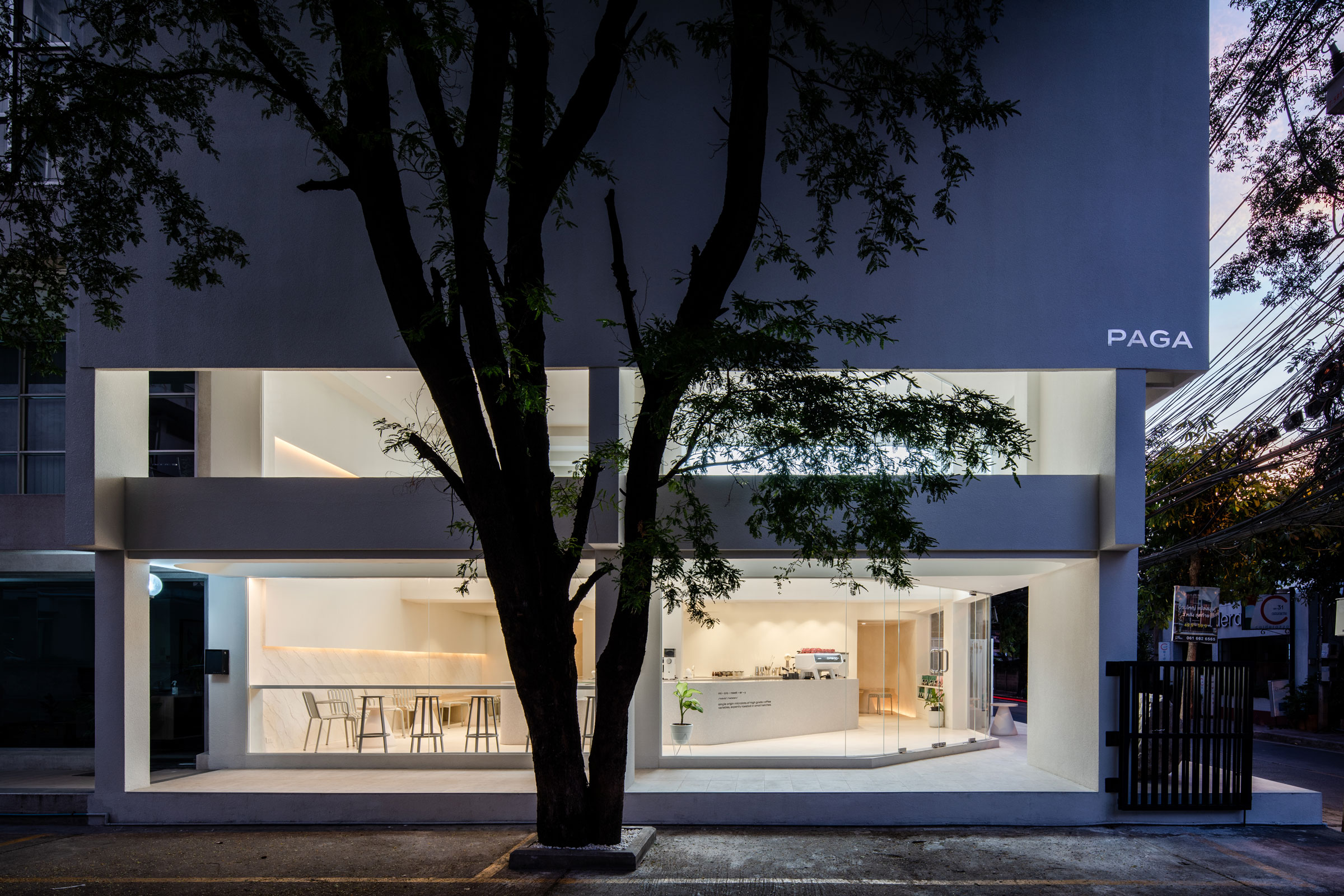 % Arabica Shanghai West Jianguo Road
Shanghai, China
An open facade, warm lighting, and the use of glass make this shop feel much larger than its 50 square meter footprint. Situated on a leafy street, inside the store a small courtyard and seating area is arranged around the U-shaped glass box that houses the coffee counter. The whole café feels bright and expansive, offering space to pause and enjoy a cup of expertly prepared coffee.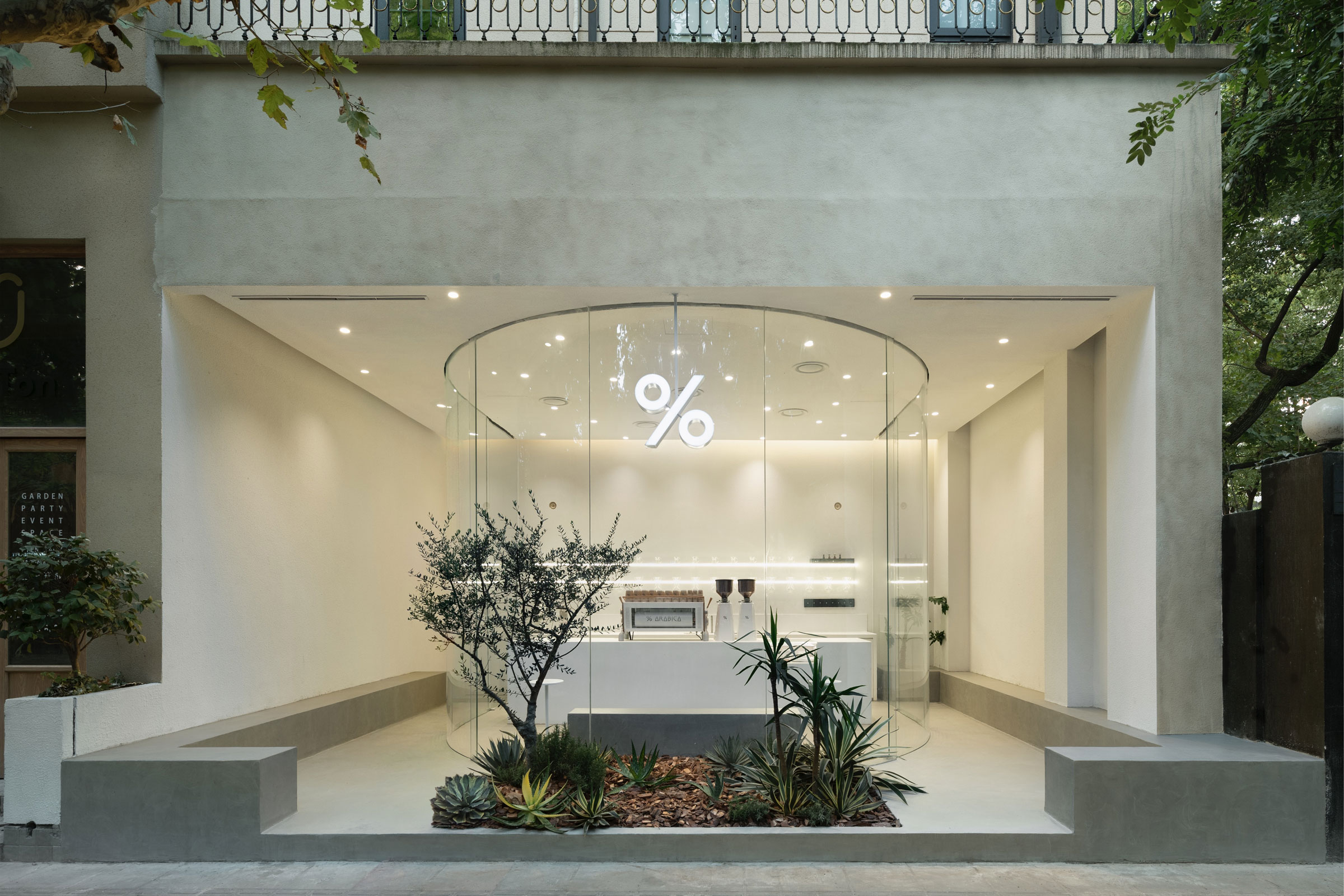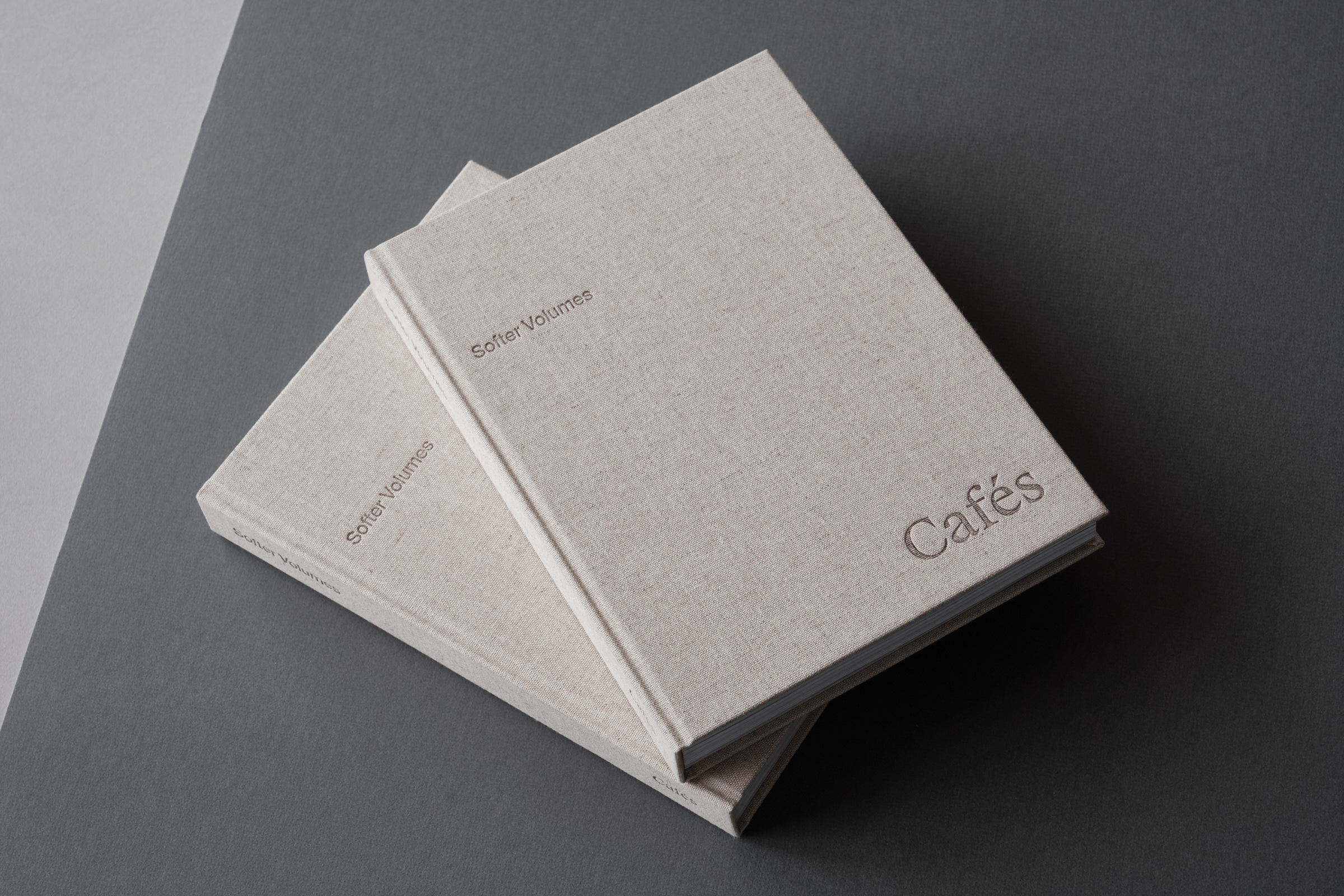 Softer Volumes: Cafés
A luxurious coffee table book exhibiting beautifully-designed cafés around the world. Featuring over 290 hand-picked coffee shops and 350 inspiring pages.
Europe's Best Minimalist Cafés
mazelab.coffee
Prague, Czech Republic
A monochrome palette and clean design form the basis of this unfussy, industrial-like café space. Furniture characterised by simple forms, modest lighting, and natural greenery, ensure the focus is very much on the speciality coffee. With a minimalist approach in every sense—there is no wi-fi or sugar—the customer can experience a remarkable cup of coffee, replete with natural sweetness.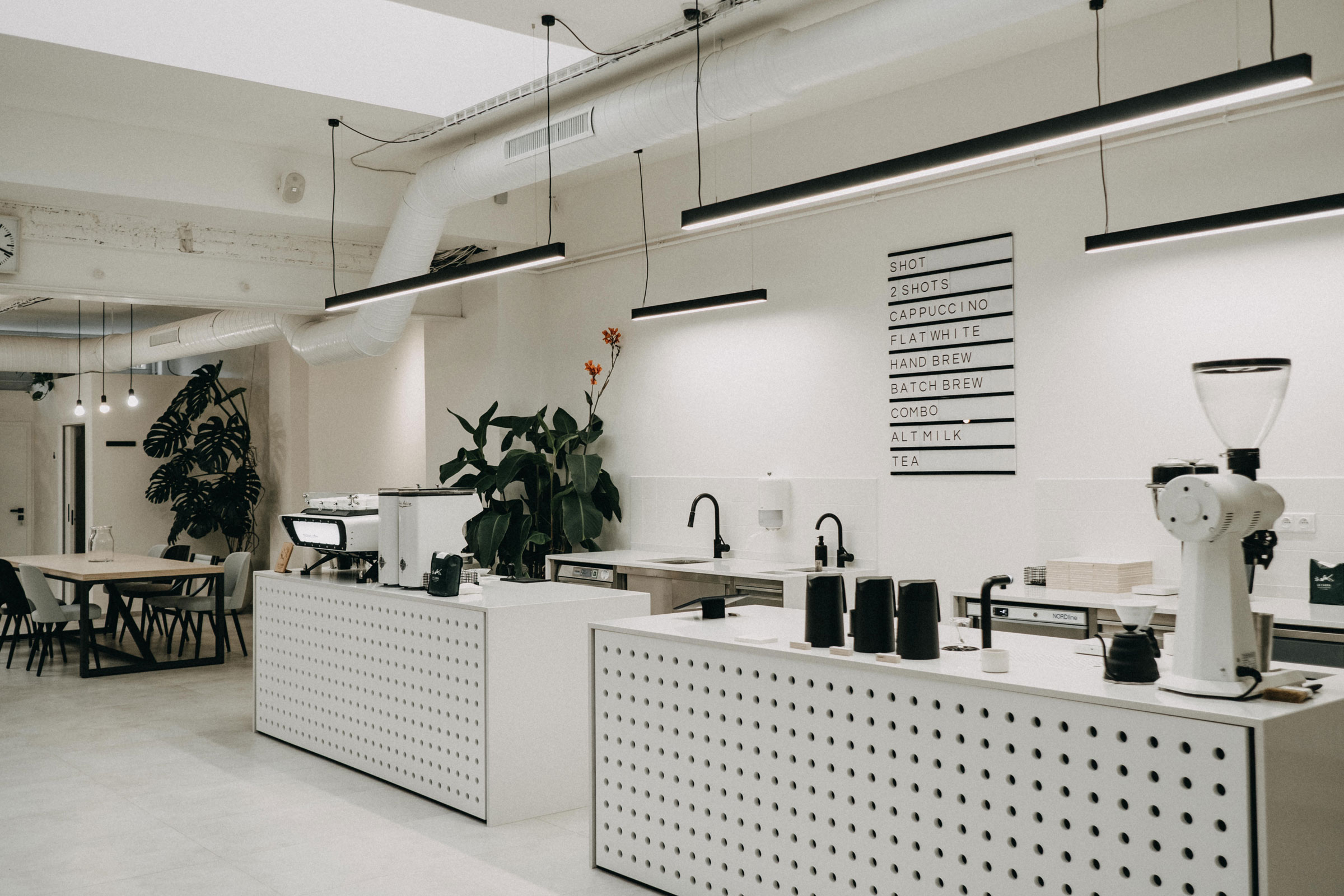 Lift Coffee
London, England
Lift Coffee exudes an industrial air with a bohemian feel. By dipping the staircase in liquid chromate tanks, the effect creates a rainbow of colours as well as deliberate corrosion. Seating hewn out of tree trunks, heavy-knit textiles, and greenery add an artistic, free-spirited dimension. The menu focuses on light-roasted coffee from interesting specialty coffee roasters around the world.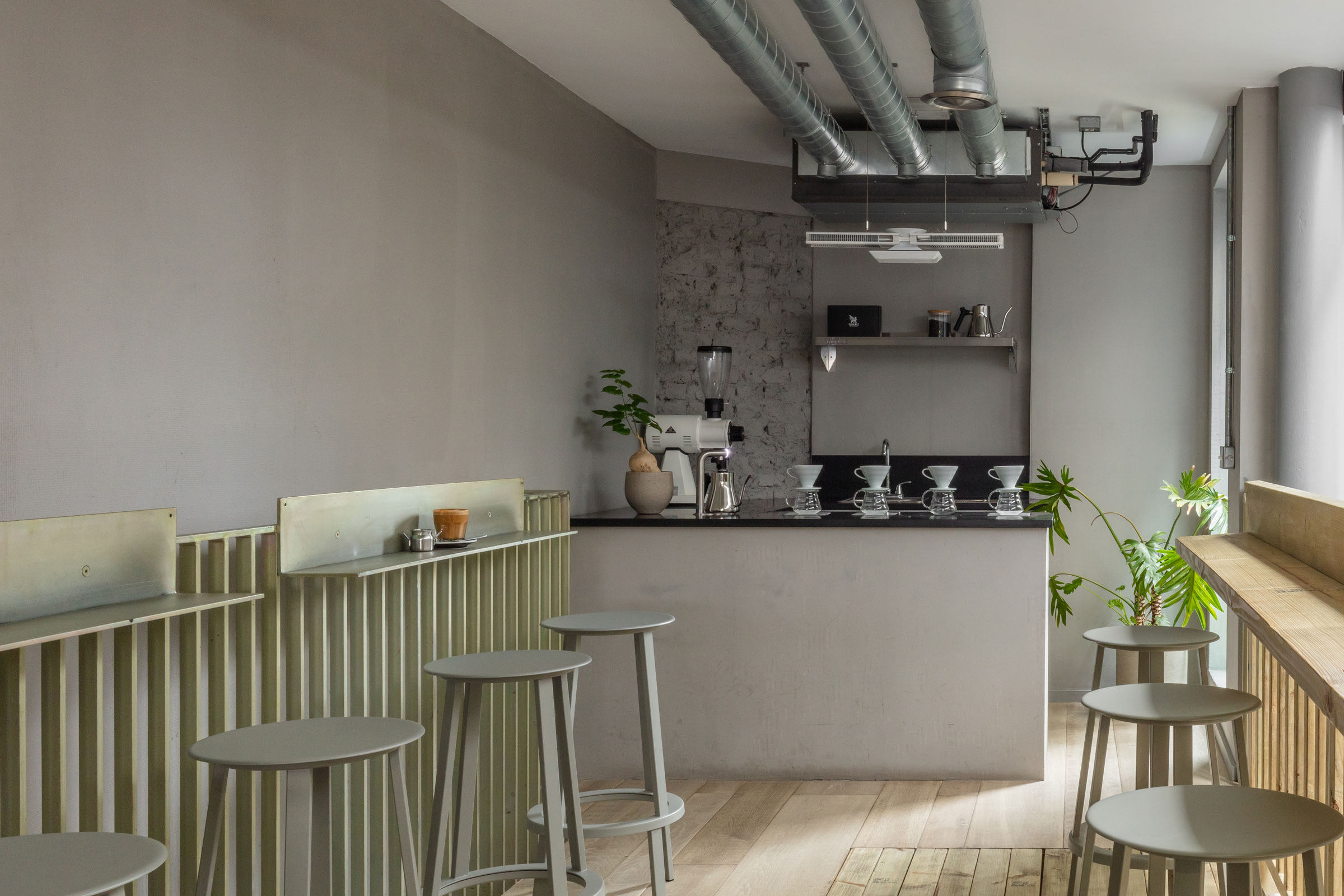 Van Dyck Espressobar
Cologne, Germany
With bifold doors that open onto the street, Van Dyck Espressobar welcomes patrons into its sleek, modern sanctuary. Colours are neutral, with plants and coffee packaged in green bags providing a bright accent. A long, uncluttered counter divides the space, serving fair trade, organic coffee.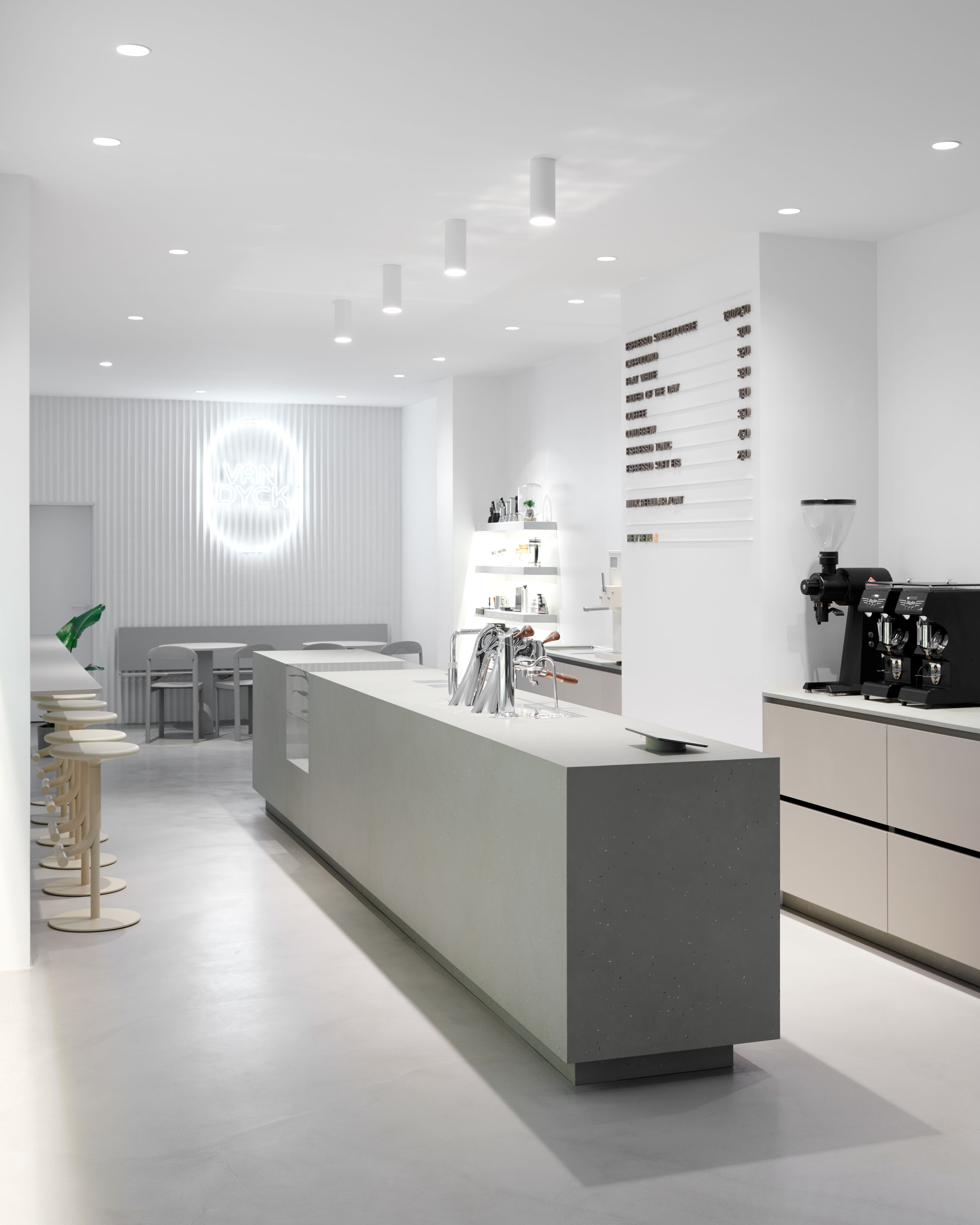 Three Marks Coffee
Barcelona, Spain
Experience Three Marks Coffee at design studio Six N. Five's showroom space in Barcelona. The clean-cut interior design is notable for its straight lines and smooth surfaces. The addition of a mirrored coffee counter, artistic furnishings, and greenery enhances the character of this impressive space. Roasting its own beans at Port Fòrum in Barcelona, you will also find Three Marks Coffee in the city's hip Poblenou neighbourhood.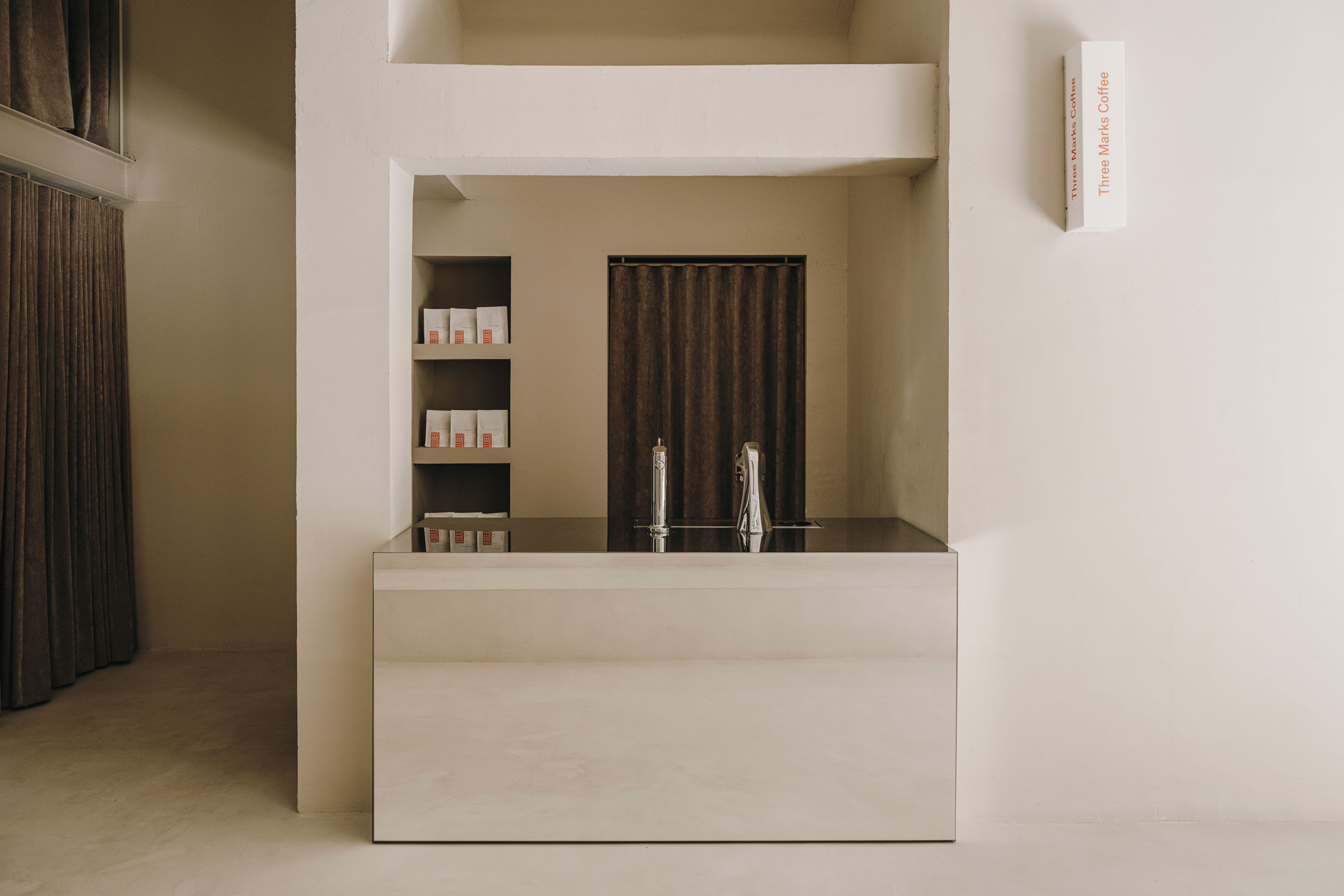 Best Minimalist Cafés in the Americas
JISU Specialty Coffee
Buenos Aires, Argentina
In the revamped dockside area of Puerto Madero is JISU, a café with a design that's as well thought out as the specialty coffee on the menu. Drawing inspiration from the public spaces of Buenos Aires, this café is a little taste of outside, indoors. Stone-tiled benches and flooring is a nod to the city's squares, and the space is lit by a large, sculptural light in the centre of the industrial ceiling.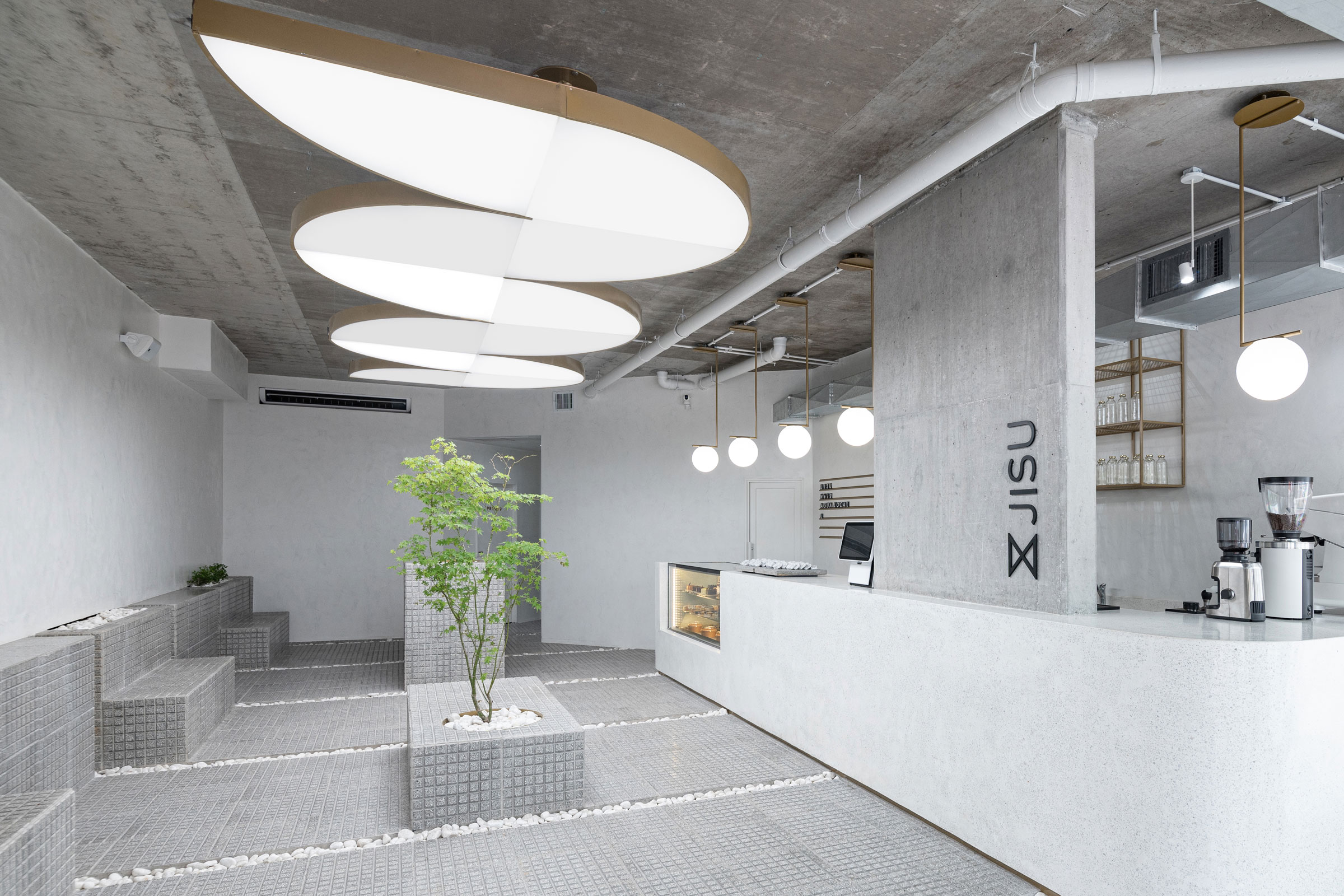 Dayglow
Chicago, United States
Dayglow's offering is refined. There are two coffees, handpicked by the team from the best international roasters, that can be enjoyed with any brew method. The short menu graces the blush pink wall—one of the only pieces of décor in the clean space—behind the large concrete bar that's topped with just a few select pieces of matte black coffee equipment. Guests can grab their coffee of choice and watch the neighbourhood go by from the streetside tables.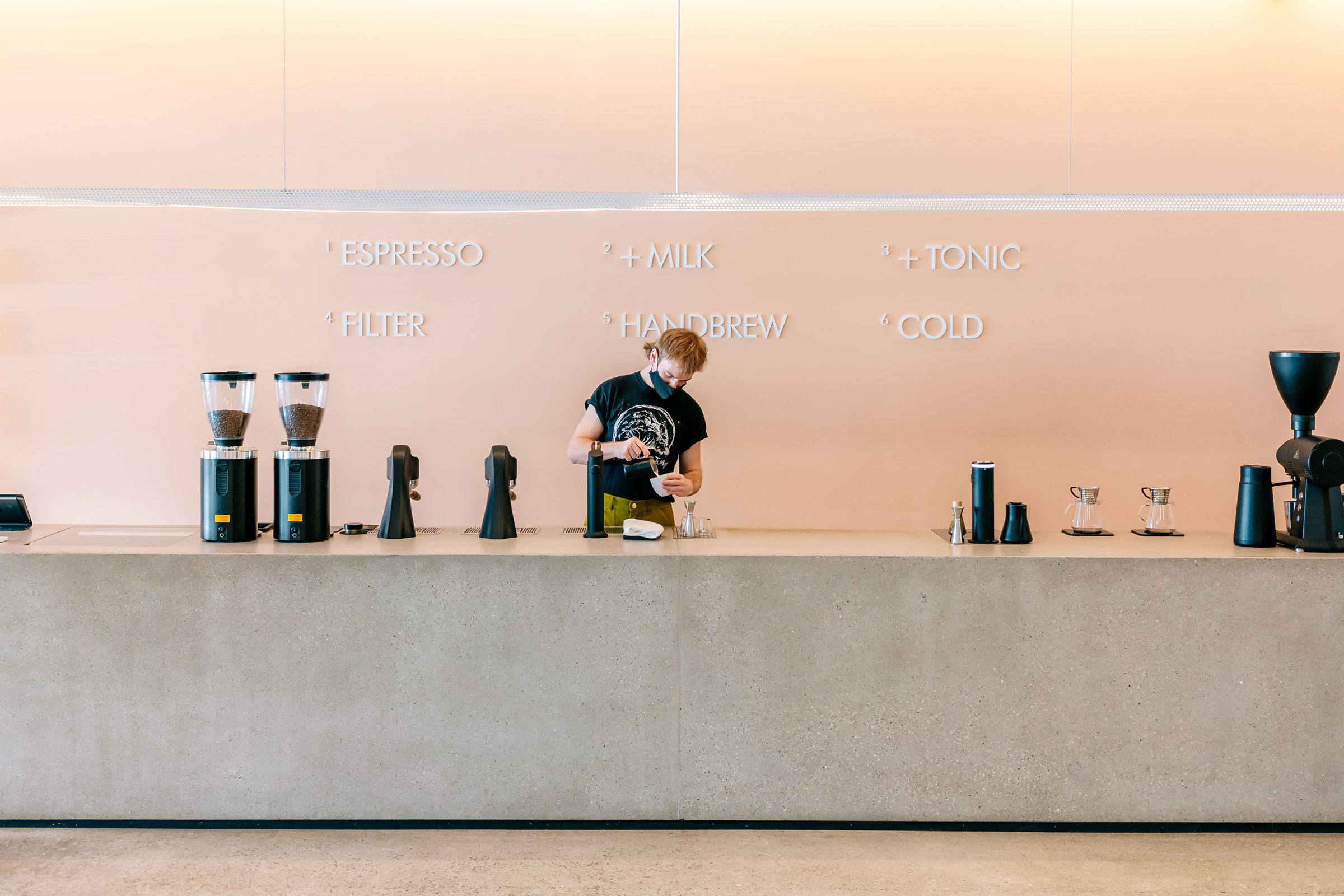 Newport Coffee House
Evanston, United States
Newport Coffee House is a little slice of Sweden in Evanston. Serving espresso-based drinks using organic beans from the owners' roastery, along with traditional baked goods from their bakery, this is a great spot for fika. The Scandinavian design of pale wood, white surfaces, and clean lines is the perfect accompaniment.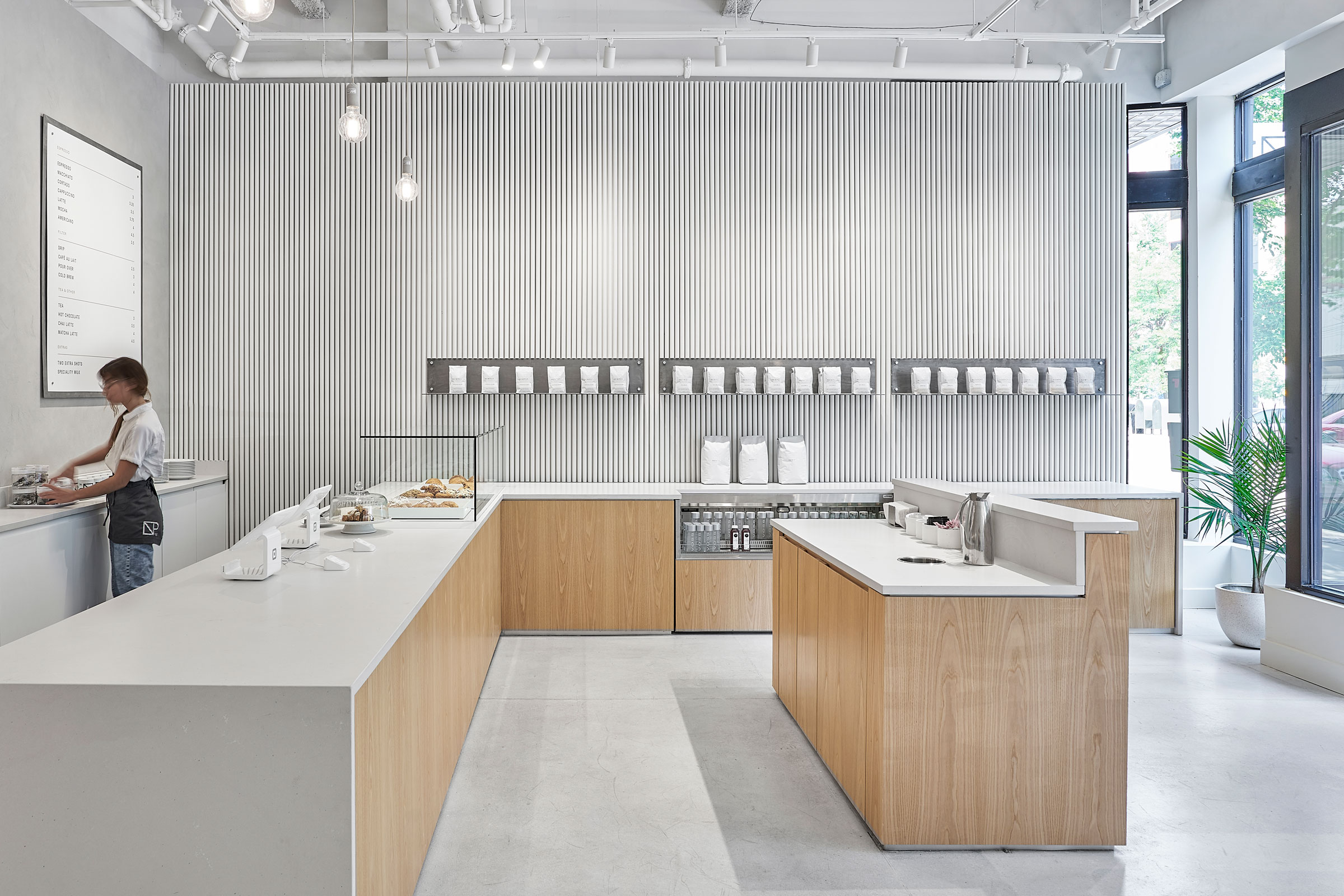 Best Minimalist Cafés in Australia
ACOFFEE
Melbourne, Australia
In a small former panel beating garage in Collingwood is ACOFFEE, a simple and bright space with built-in wooden bench and counter that ensures all focus is on the coffee. Seasonally sourced beans are roasted on site in small batches, each one carefully considered to bring out their distinctive flavours. Guests can grab a pastry with their coffee, and a bag of beans to go.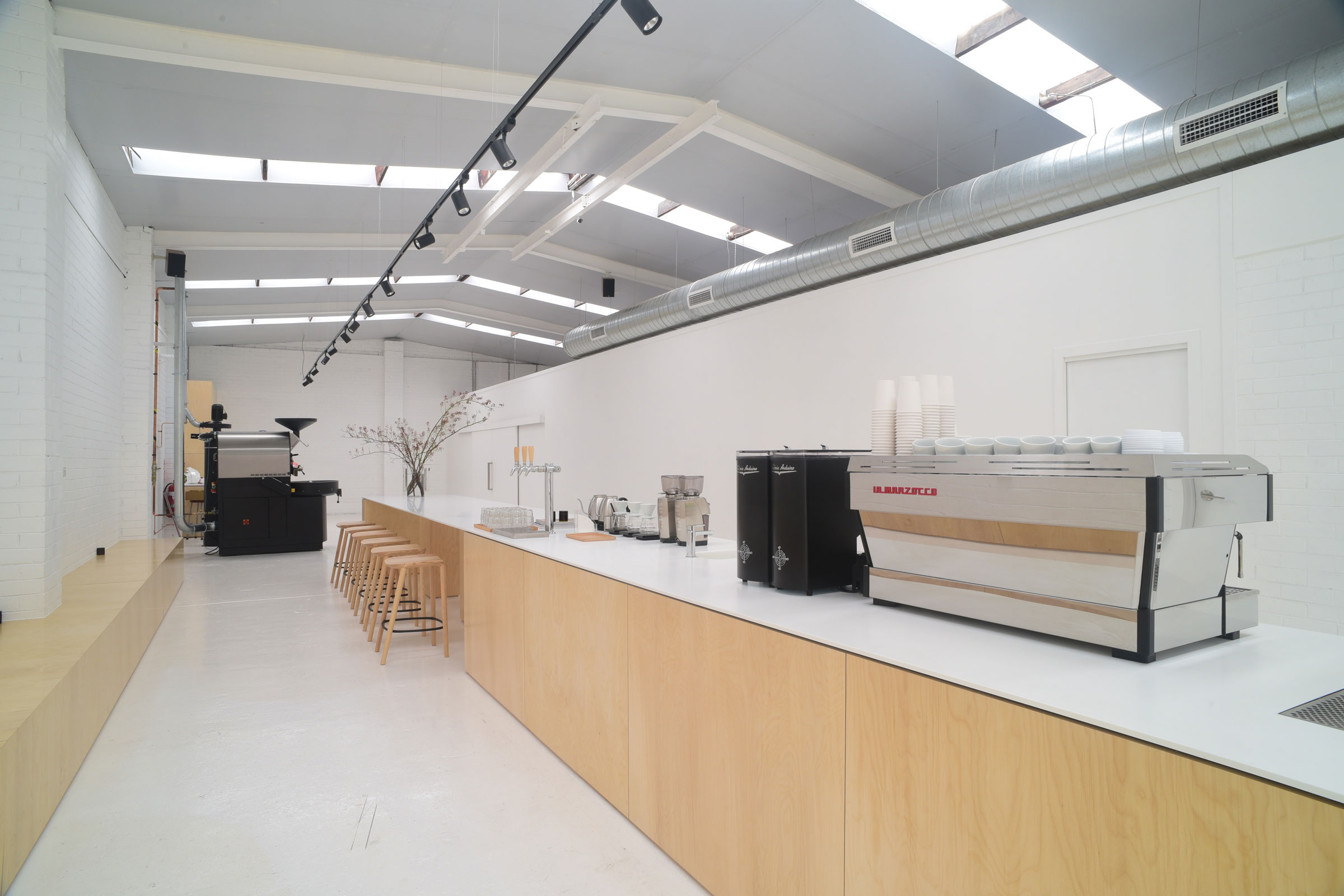 Midi
Melbourne, Australia
Tucked away behind Richmond Station is Midi, a simple café serving espresso and cold brew from local roasters Seven Seeds, as well as a host of freshly made sandwiches. From the outside, the brutalist concrete exterior seemingly blends in with the commercial buildings surrounding it. Inside though, the recycled Spotted Gum bar, smooth curved lines of the seating, and graphical elements in the lighting bring the space to life.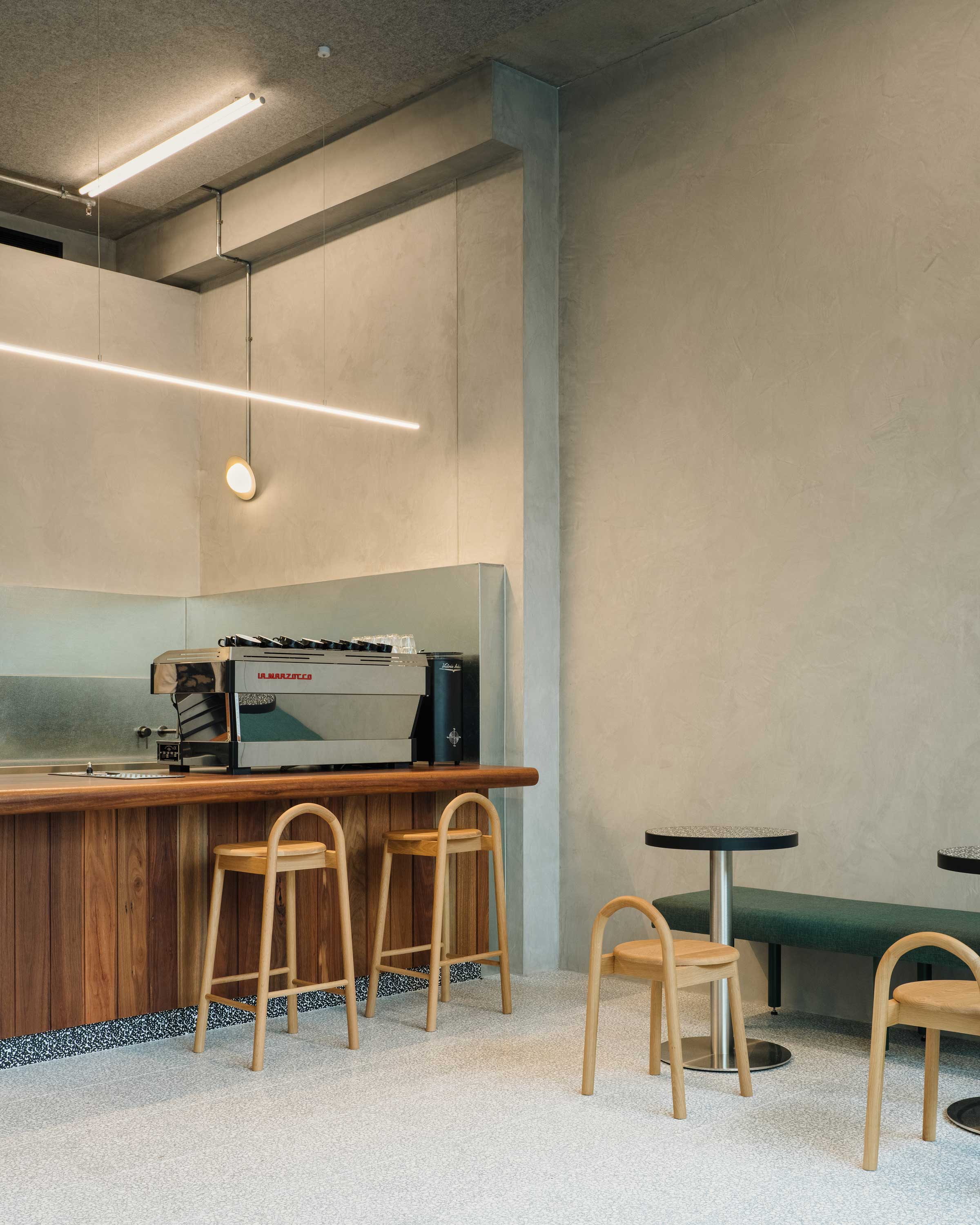 Check out our book Softer Volumes: Cafés for more of the best cafés around the world.
World's Best Minimalist Cafés
Read more:
Best Cafés in Singapore
Best Cafés in Seoul
Best Cafés in Tokyo