Kyoto is the soul of Japan. The cultural importance of this small, endlessly charming city simply cannot be overstated; its history is deep, rich and dynamic. Inter-generational artisans exist and thrive alongside cosmopolitan enhancements, welcoming modernity in their own unique way and adapting it into one of the country's most fascinating destinations.
Exciting traditional markets, elegant museums, design-forward boutiques, ambitious department stores, heritage-listed sites, and grand temples all co-exist in this exquisite and creative city, threading a cultural fabric with a strong sense of place. No matter what type of traveller you are, exploring Kyoto is one of the most rewarding experiences you can have in Japan.
The Softer Volumes team travelled to Kyoto to learn how innovative leaders in the hospitality and retail industries in Japan's former capital are cleverly interweaving contemporary design and modern luxuries with traditional Japanese culture. Here in this guide, we've highlighted a considered selection of cafés, bars, restaurants, shops and hotels that we believe offer something special for like-minded readers to enjoy when exploring the city.
Tea & Coffee
Vibrant and accessible, Kyoto's tea and coffee scene is one of the strongest in all of Japan, despite its comparatively small size. The many kissaten — a Japanese style tea room that also serves coffee — and boutique roasters that dot the ancient capital exhibit a great variety of techniques, flavours and atmospheres, each adding to the city's artisanal reputation.
A short walk from the iconic Nishiki Market is where you will find Yugen: a modest, quiet matcha house big on aesthetics, and even bigger on craftsmanship. Framed by a beautiful, minimalist concrete interior, the highly skilled team prepare essentials like Matcha Latte or the must-try Iced Hojicha Latte in meticulous and captivating ways.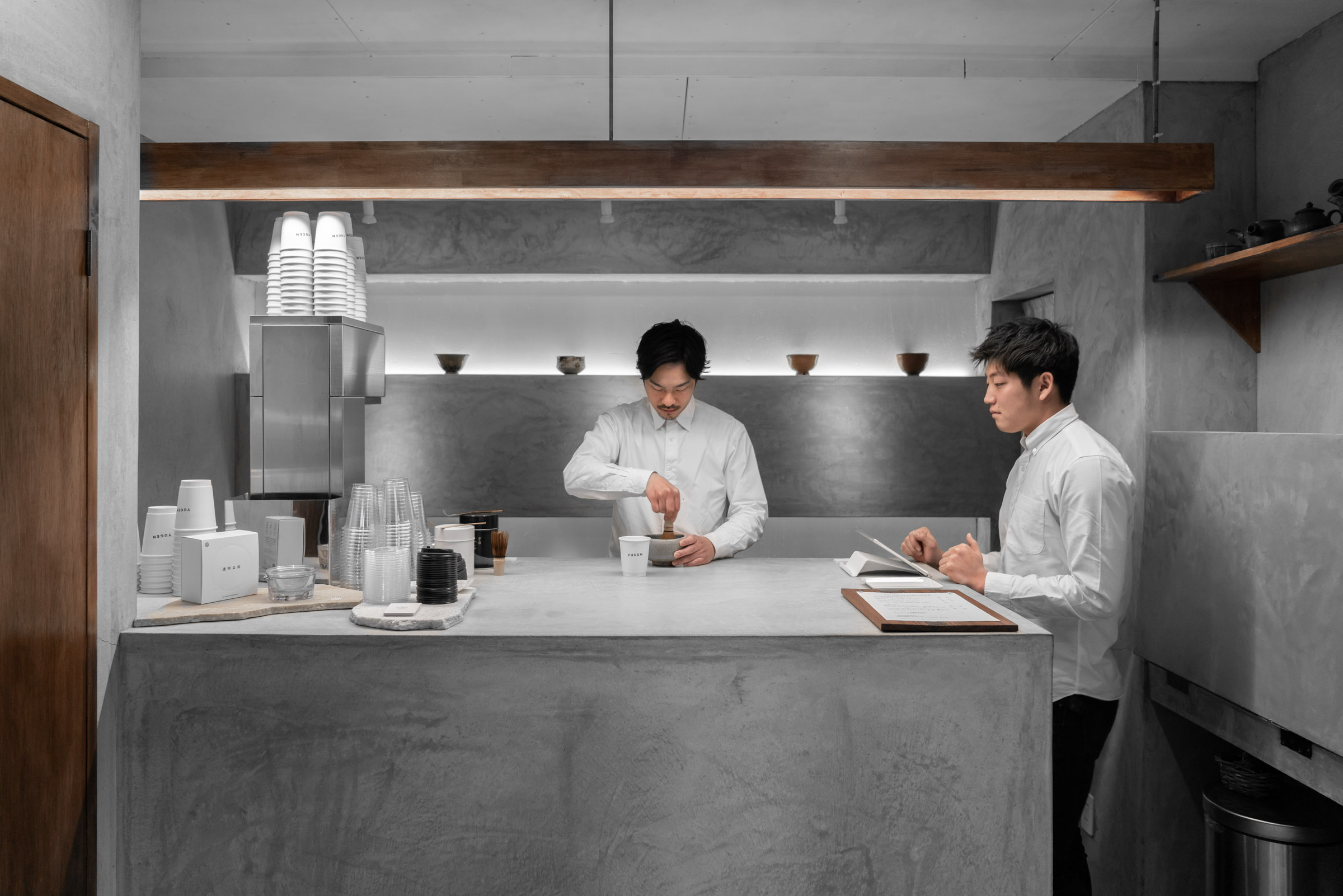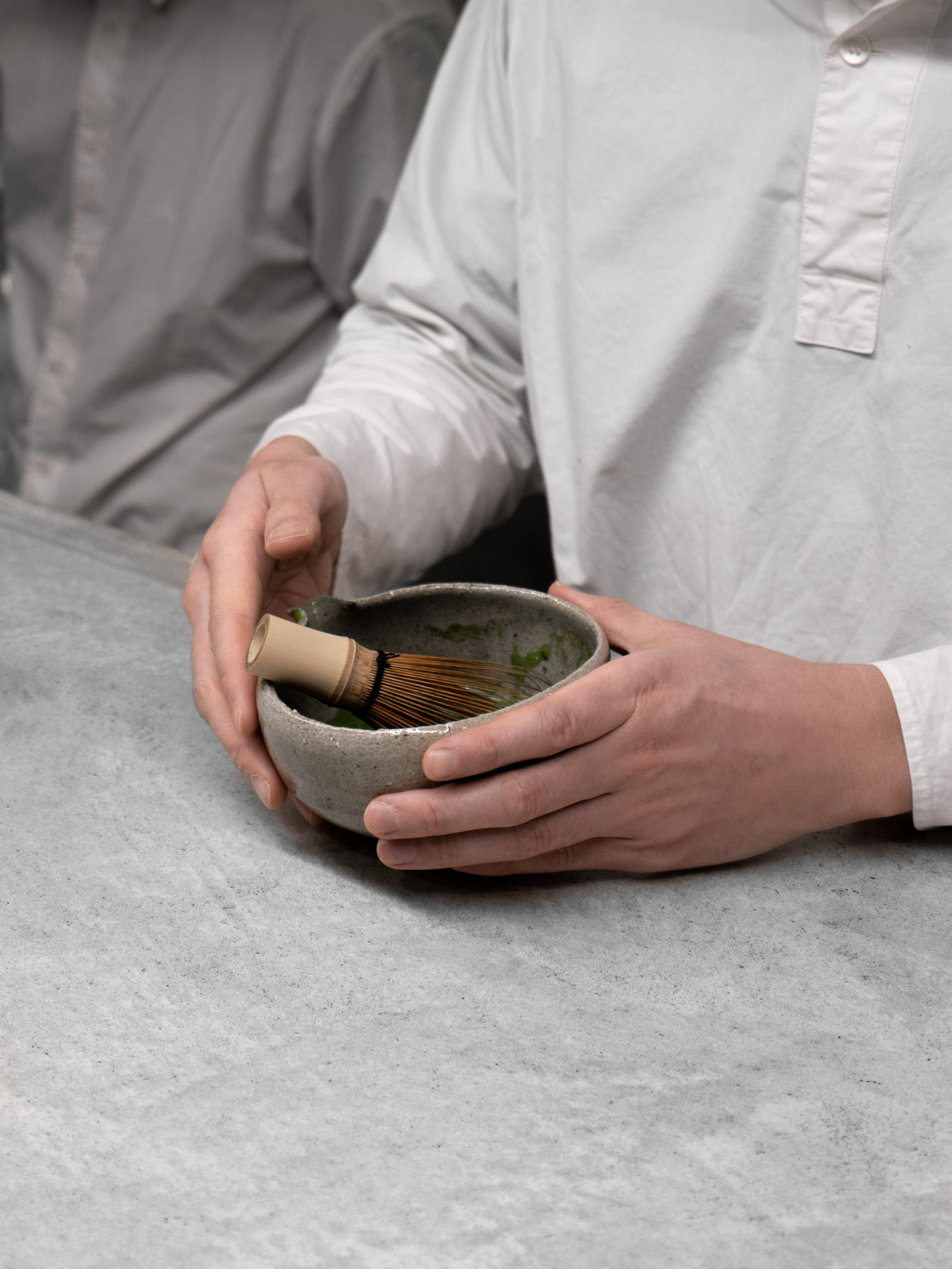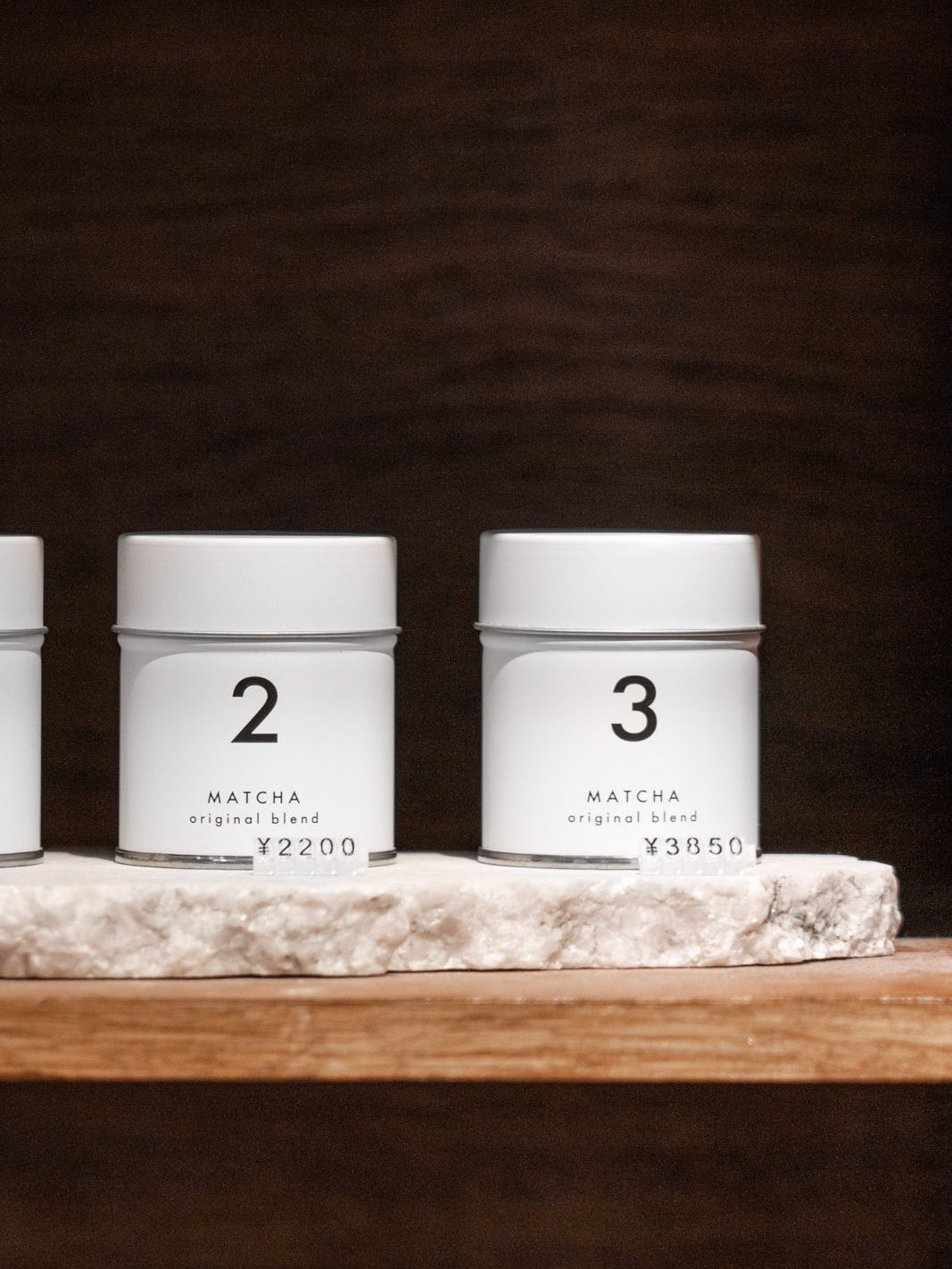 Although they have expanded to include twenty-nine stores in ten different countries, the flagship %Arabica in Kyoto, established after initial success in Hong Kong, is mandatory for discerning coffee enthusiasts. In fact, there are three of these shops in the city, all known for their consistency, as well as pairing a love of effervescent design with high-quality coffee and intricate latte art.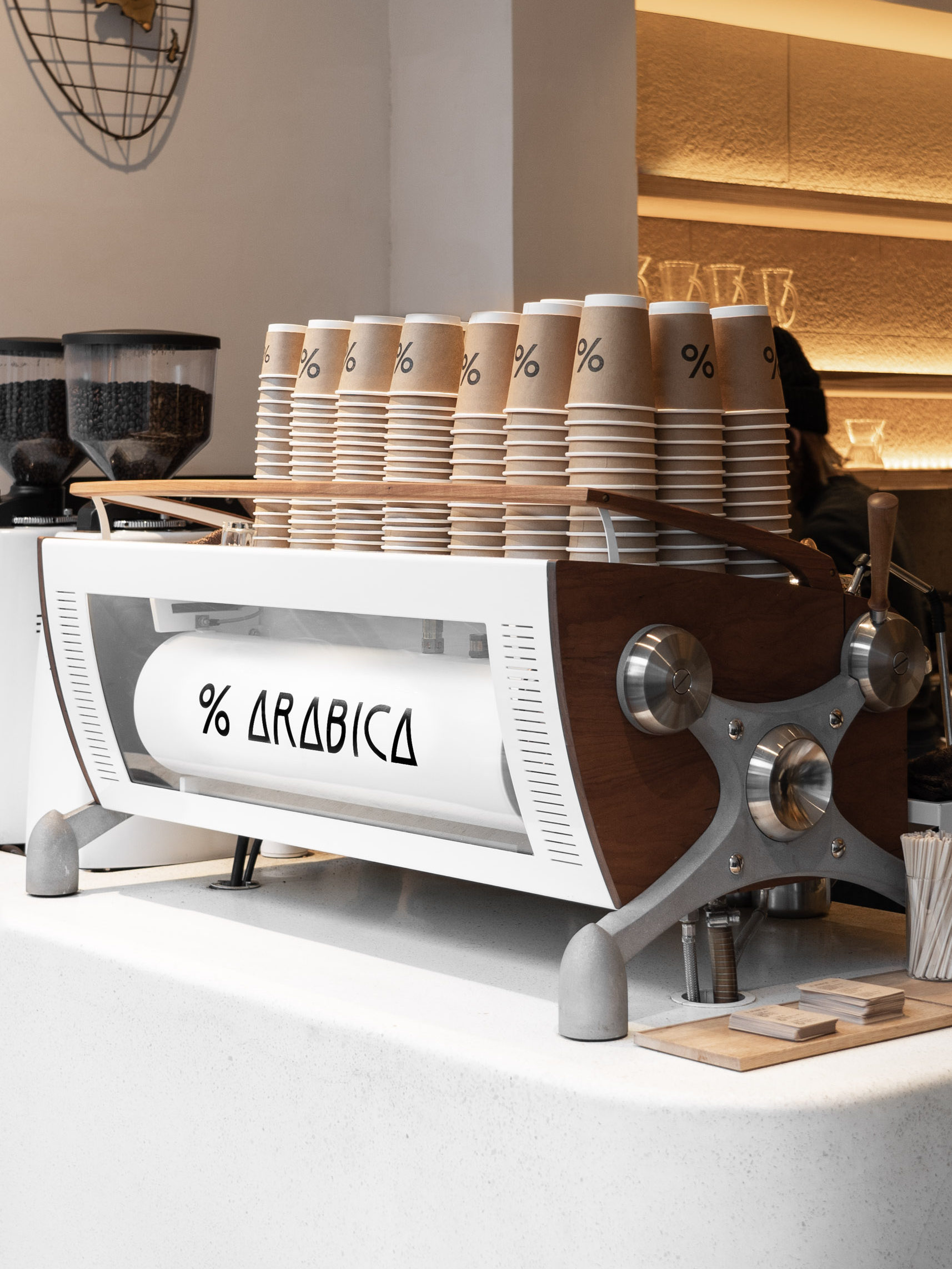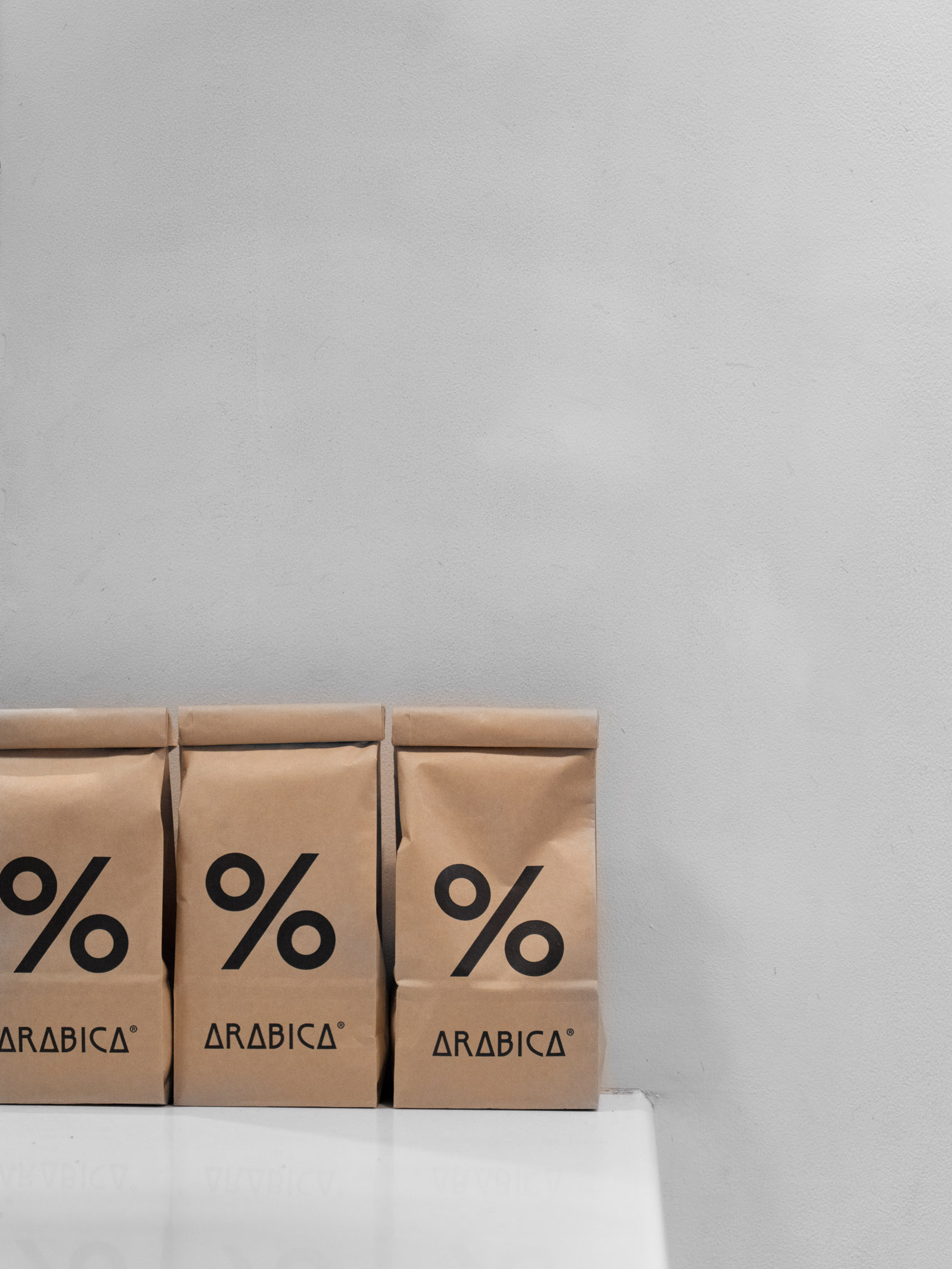 An extension of the historic Kaikado brand established in Kyoto back in 1875, Kaikado Cafe shares the spirit and dedication which has made the company a true icon in Japan. A popular spot for a tea matched with a fluffy piece of cheesecake, this airy cafe just across the river and a few streets away from Shichijo Station is packed with character, elevated by products from its nearby store. The partially exposed concrete walls and light oak furnishings create an pleasant atmosphere in which to enjoy some beautifully presented Japanese tea.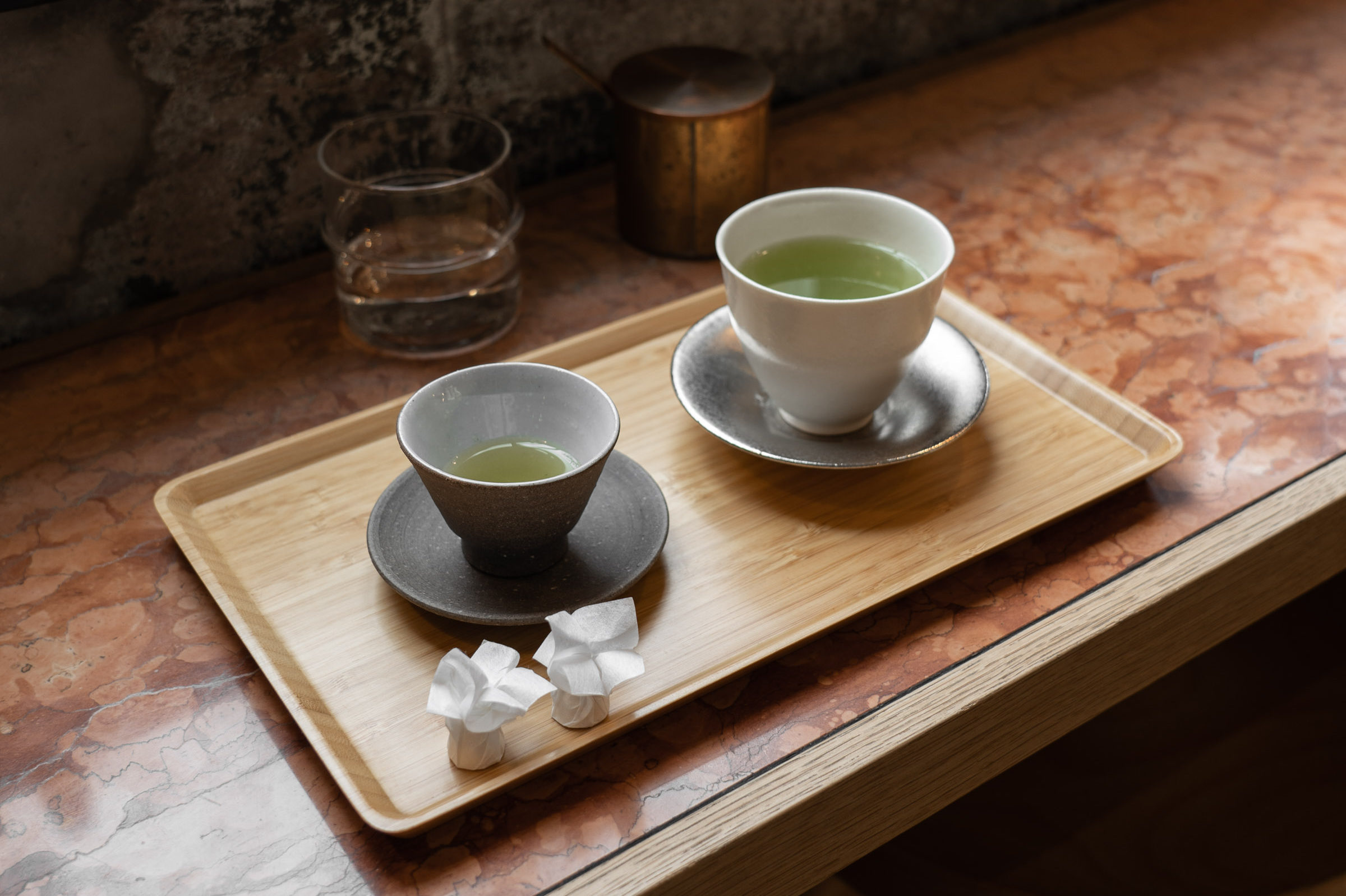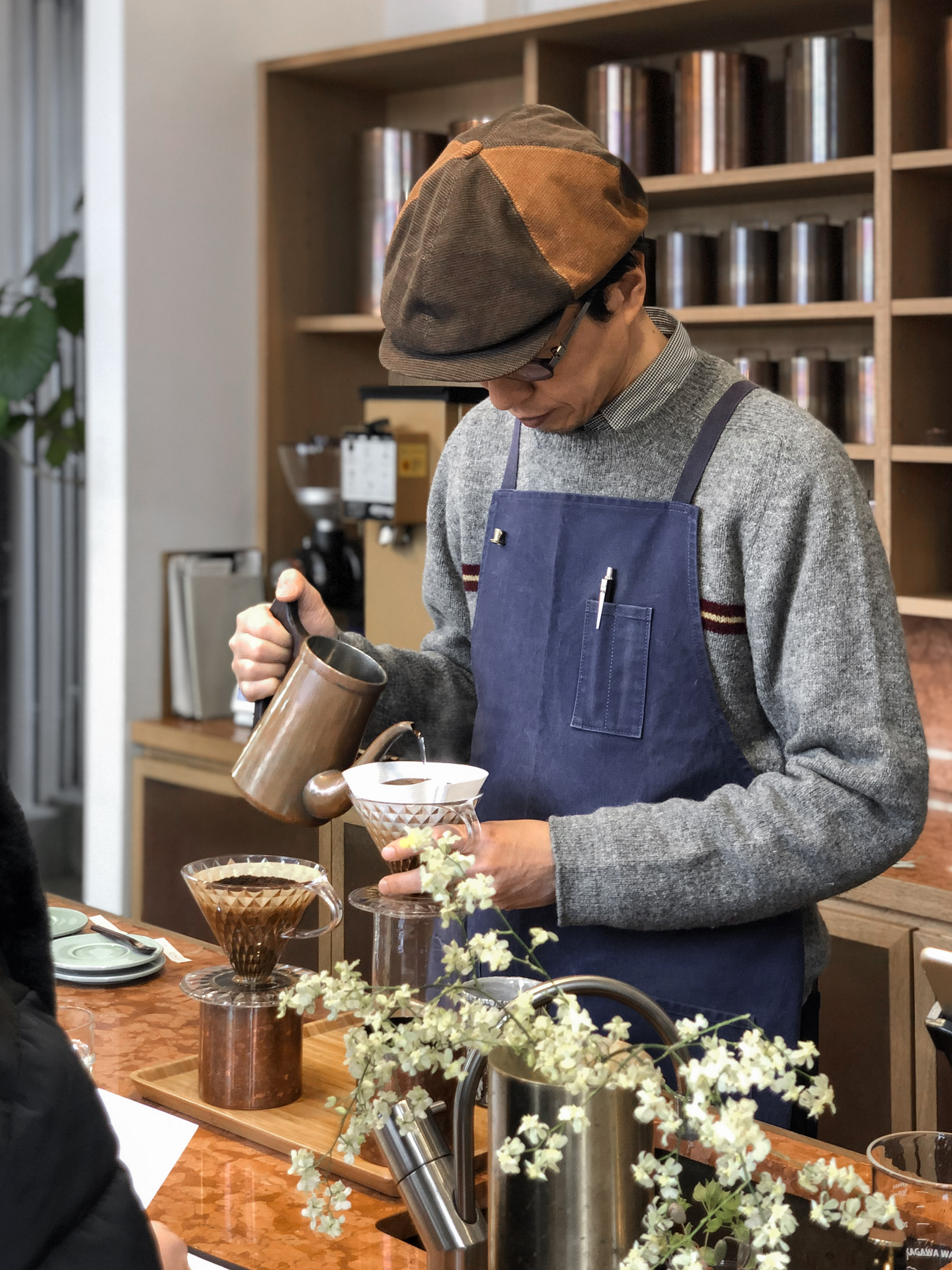 Not far from the site of Sento Imperial Palace, you have School Bus Coffee Stop. Hugging the corner of a busy main street, the beautifully designed shop is an extension of the original in Osaka and specialises in world-class coffee alongside baked sweets and even a small beer selection.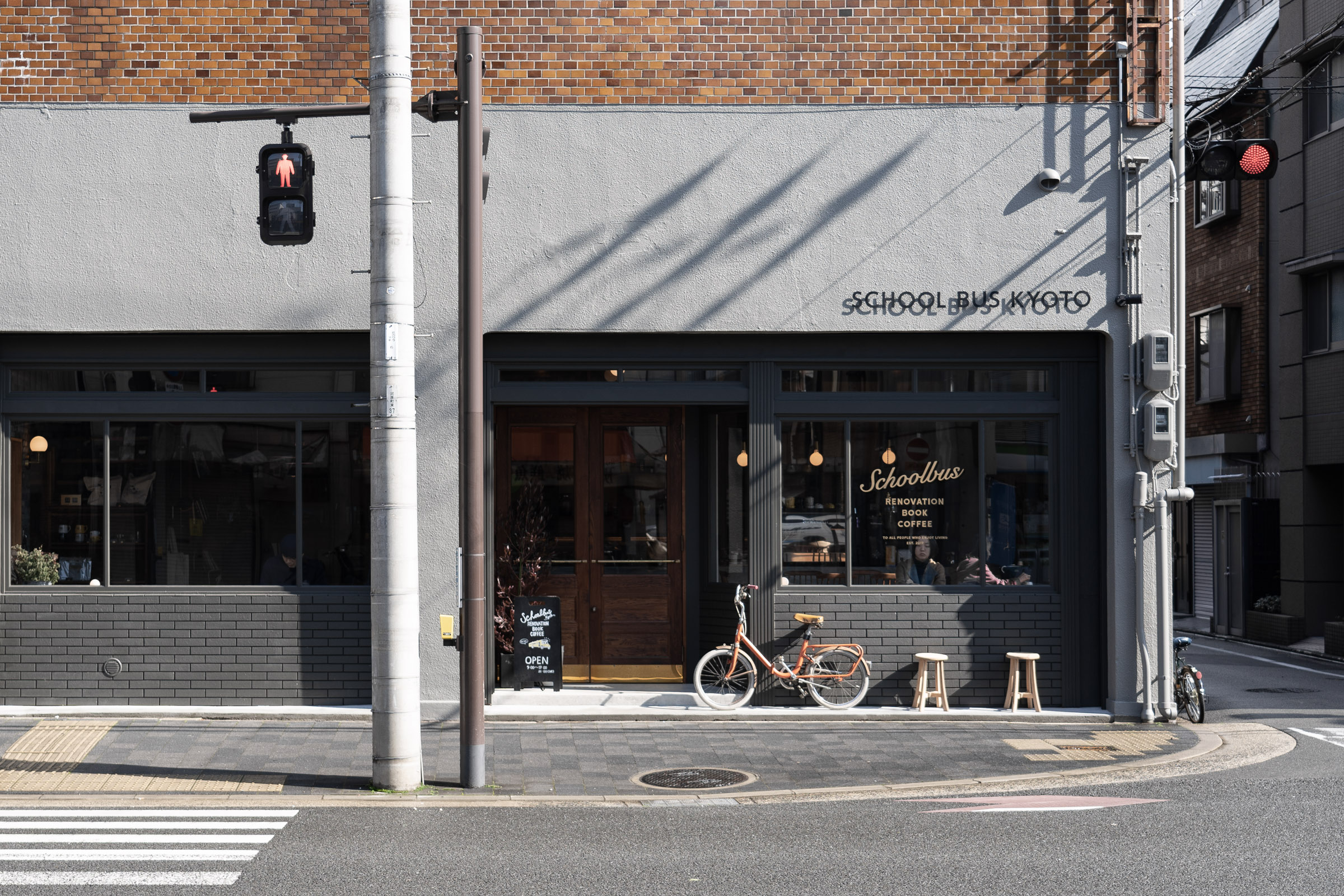 Shops
Flagship stores, highly sought exclusives and famous boutiques characterise Kyoto's famed shopping scene. Given the city's history of heirloom crafts and soulful traditions, there are plenty of distinctive products to be found, from elaborate tea caddies and minimalist furniture to traditional tableware and ceramics. With many of the city's most beloved boutiques located in the downtown area or nearby, shopping across these unique businesses within a day or two is simple.
The aforementioned Kaikado brand is internationally renowned for their intricate, airtight and functional tea caddies: the vessels in which tea, coffee and spices are stored. The incomparable beauty of their craftwork has been maintained for over a century, so the flagship Kaikado store in Shimogyo Ward is a requisite for design lovers.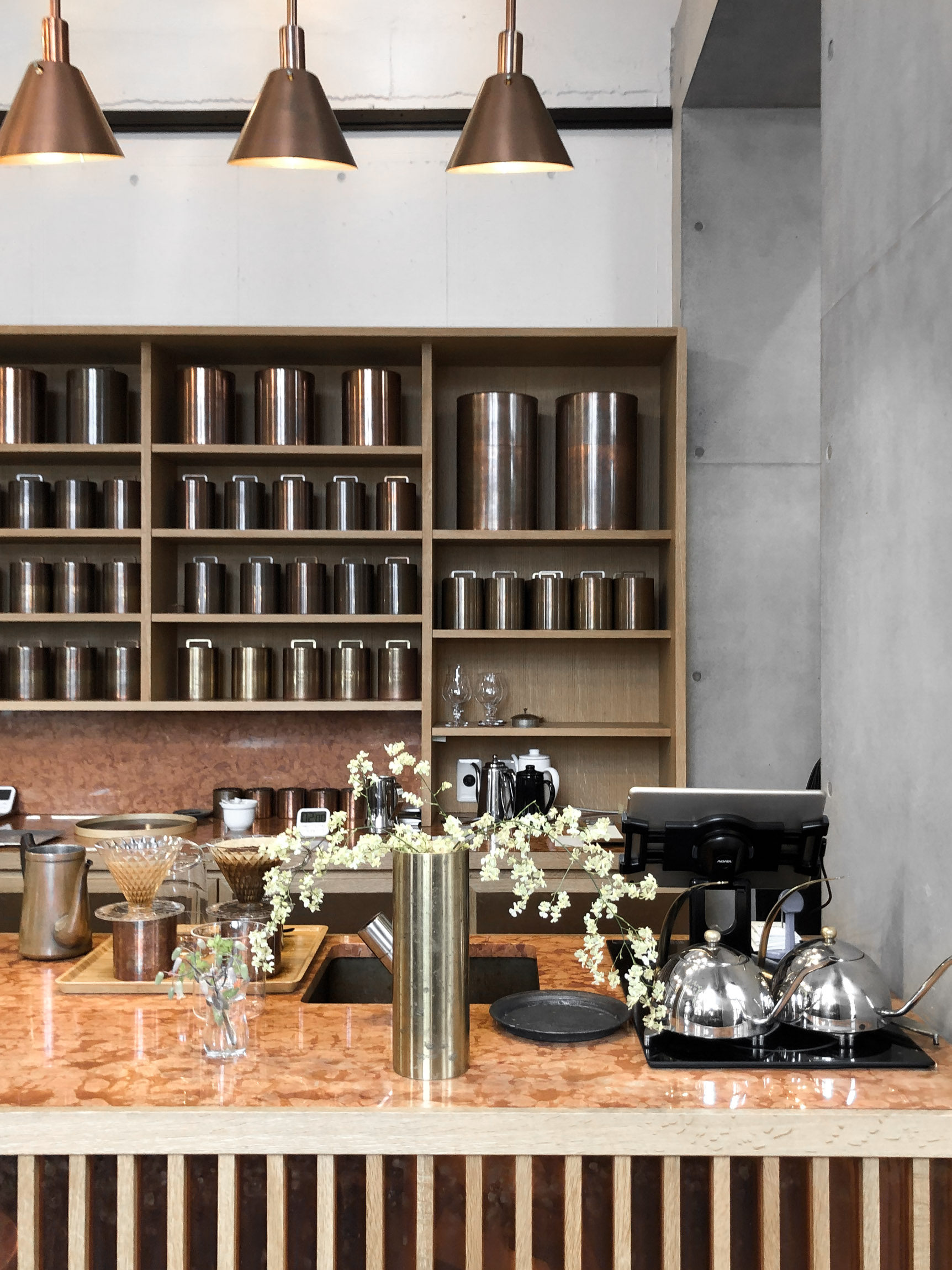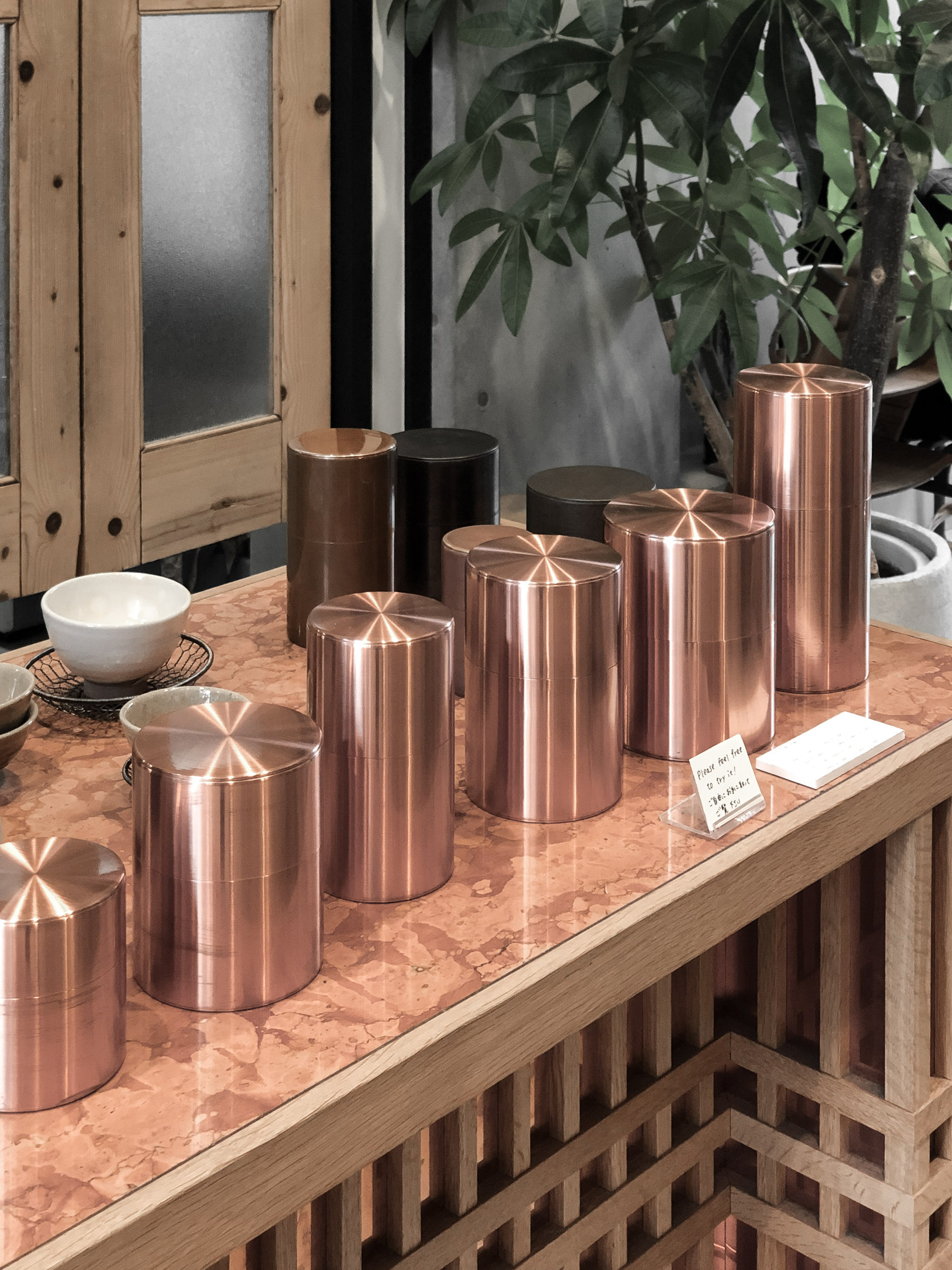 Located in the beautiful 13th century Bukkoji temple, D&Department is a strong expression of founder Kenmei Nagaoka's ethos of "long-life-design". The functional, locally-made goods sold here encompass everything from Japanese sake sets and stunning tea mugs, to unique second-hand pieces. Local small-batch producers are also showcased at the next door cafe, with rarities such as heirloom misos and special sesame seed oils.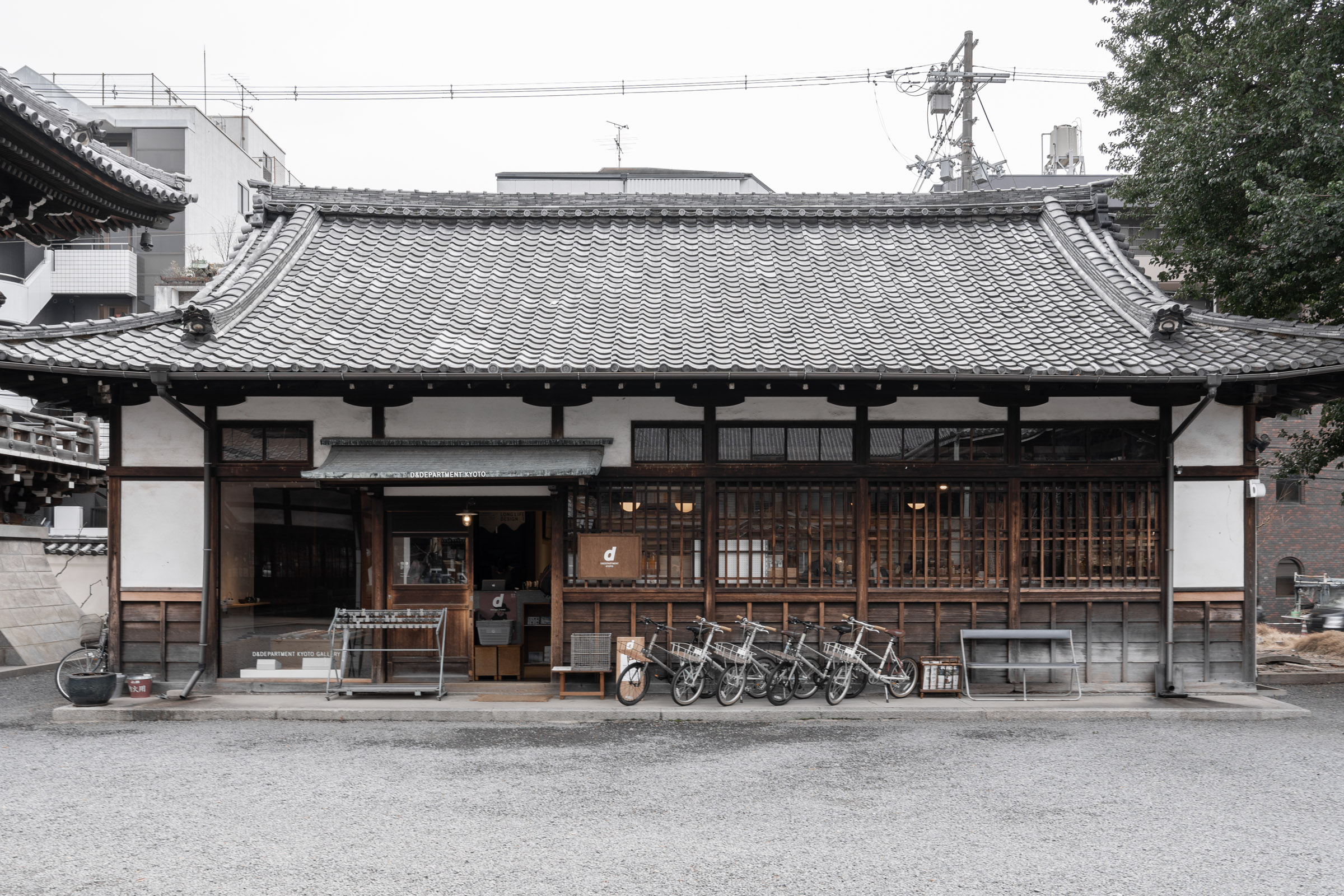 Close to Nishiki Market, towards Kawaramachi Station is the welcoming Kawataki, with its friendly atmosphere and enormous range of daily necessities, quality homewares, and traditional Japanese pottery. Enter into a colourful showcase of mostly tableware before heading up to the second floor, where you will find a large focus on kitchenware, as well as a quiet corner where you can sit and browse a selection of local magazines — coffee in hand.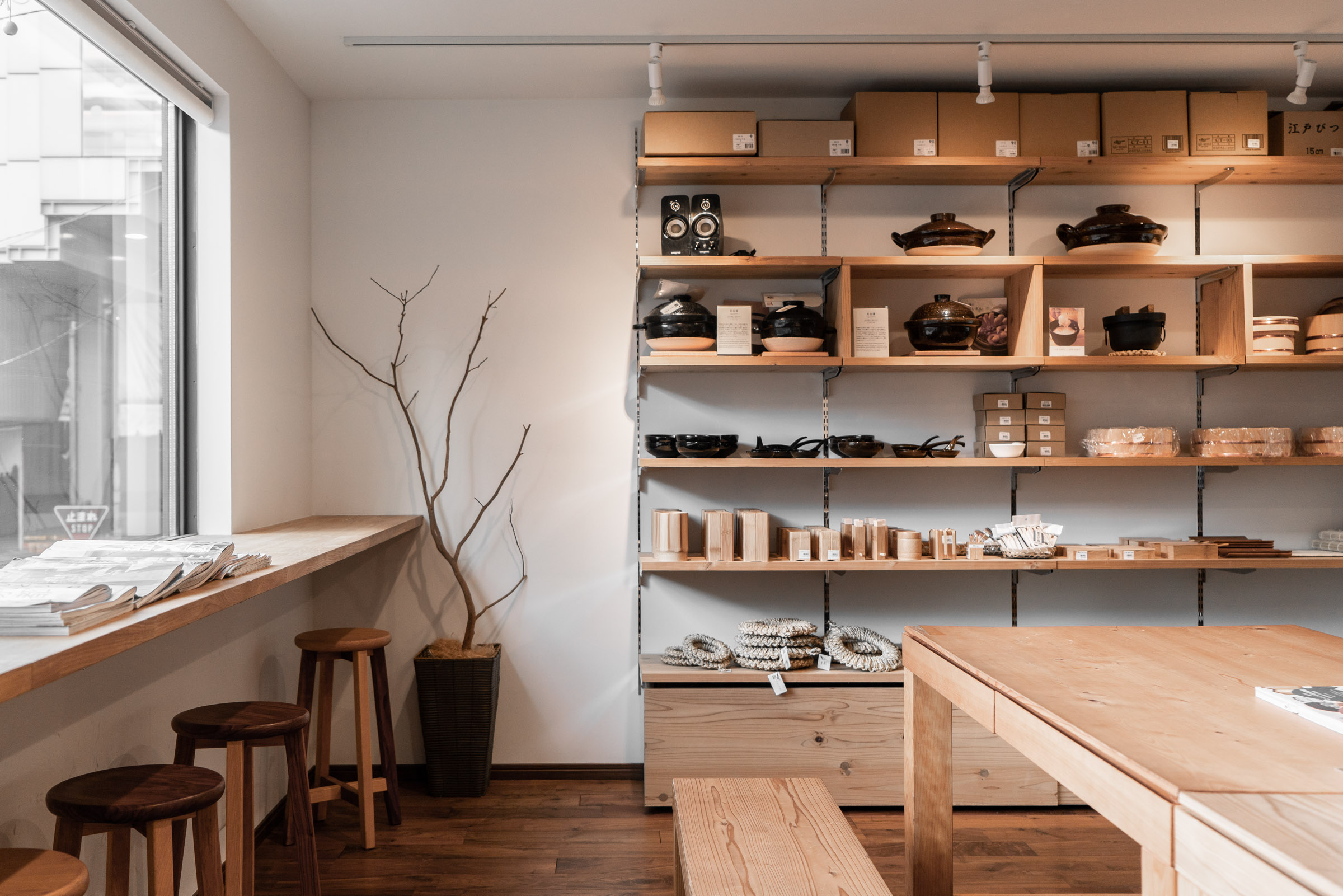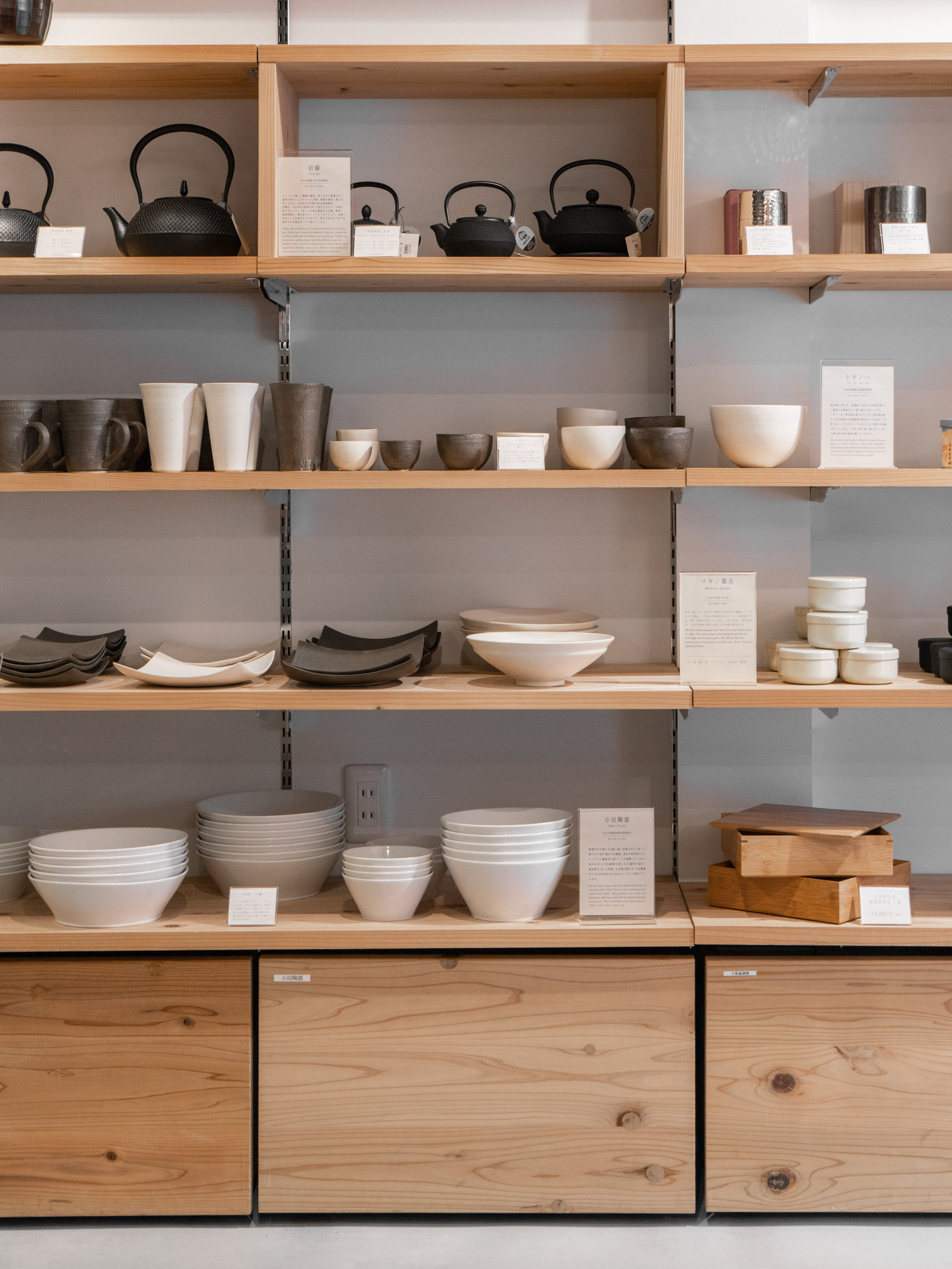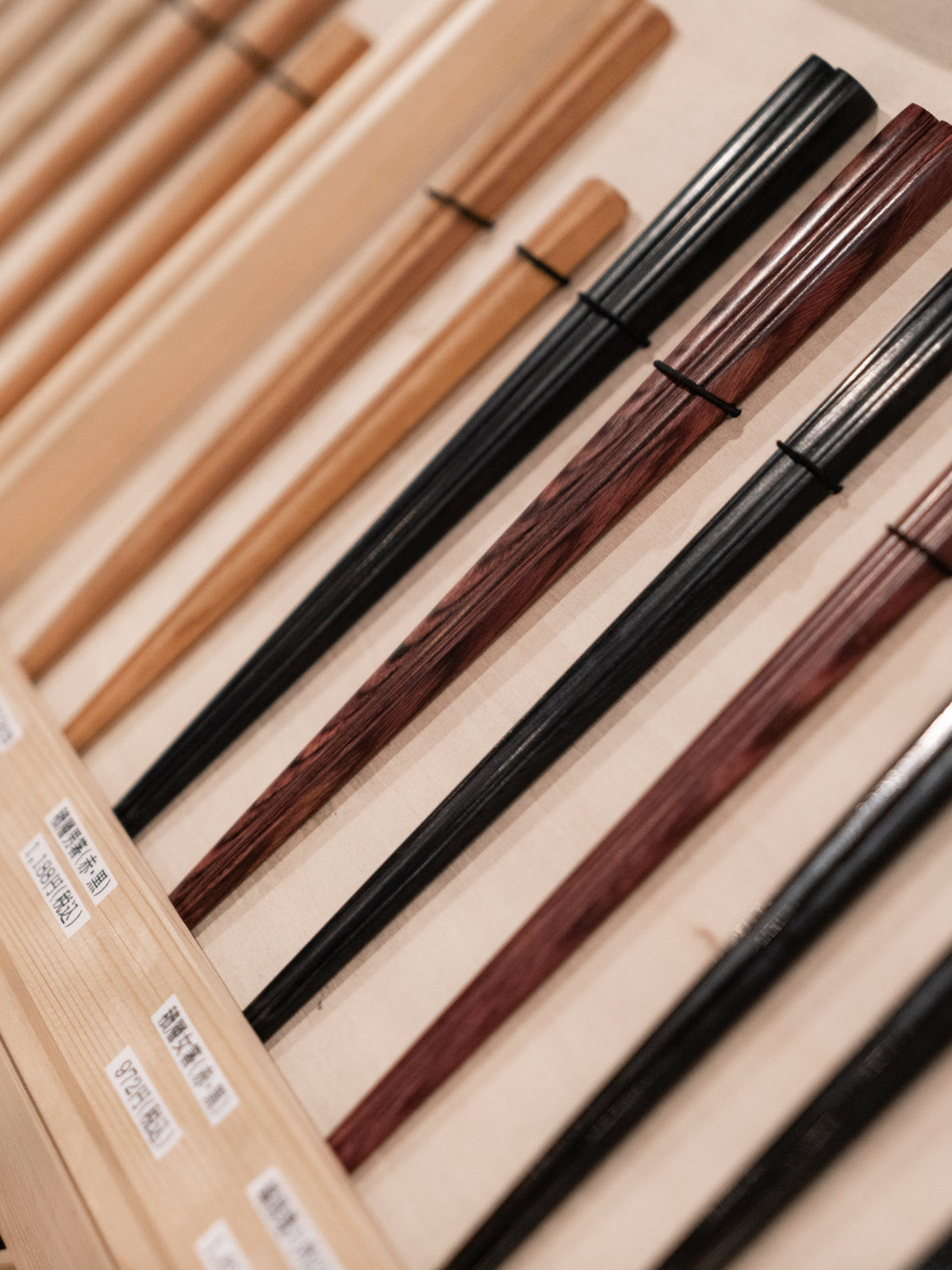 With both in-house local brands and international designers, Actus dominates the first and second floors of entertainment and shopping complex Cocon Karasuma — adjacent to both Shijo and Karasuma stations. On the first floor, you will find such things as kitchen amenities and fragrances, while the sprawling second floor features furniture, clothes and various design objects curated to an impeccable standard.
Stationed within the progressive Fujii Daimaru department store, THE Shop stands out from neighbouring boutiques with its immaculate white interior. Maintaining a sharp focus on superior, statement products of various categories, this premium store is determined to create new standards. Fashion basics and essential homewares are presented as the epitome of their industries.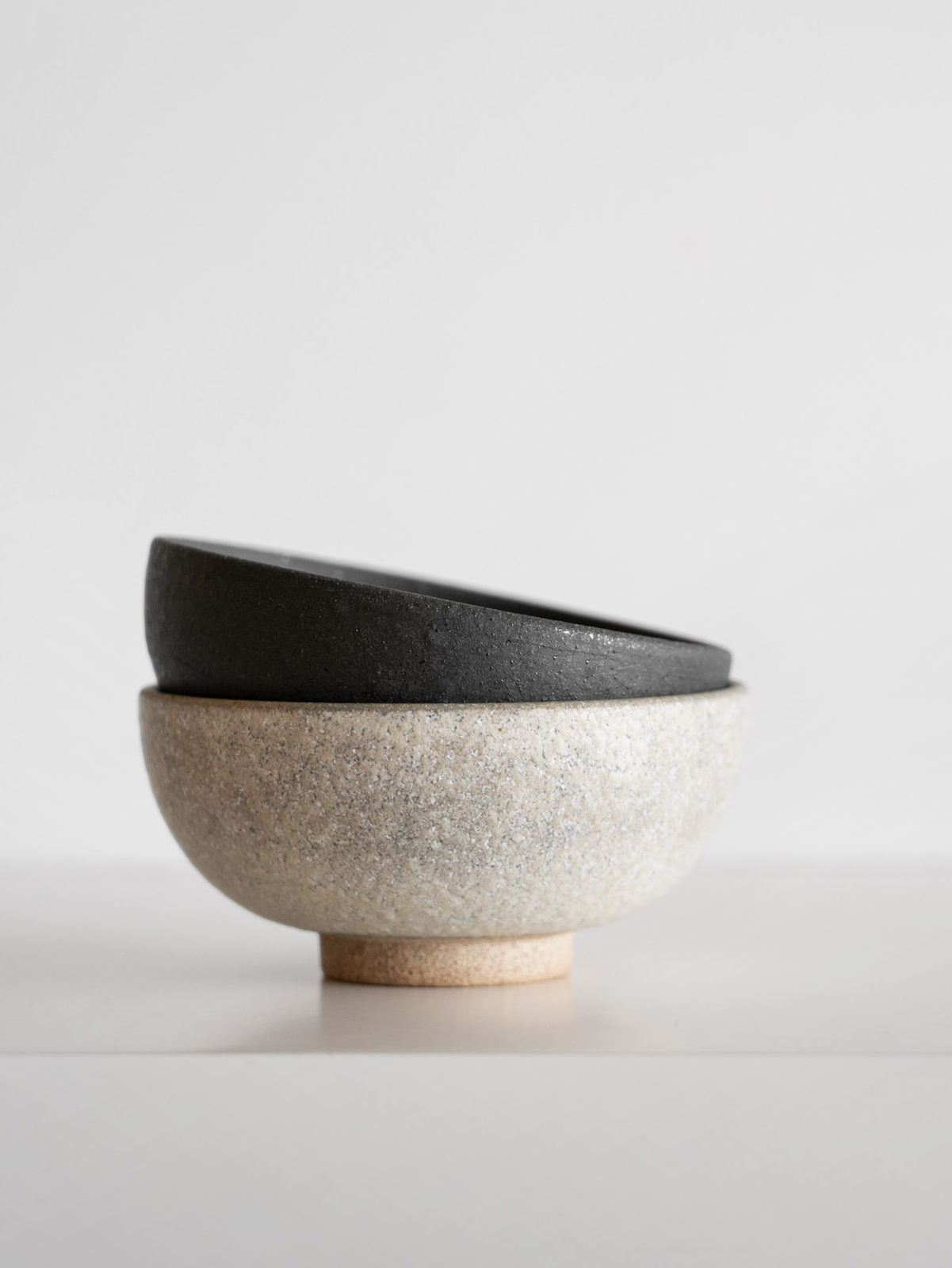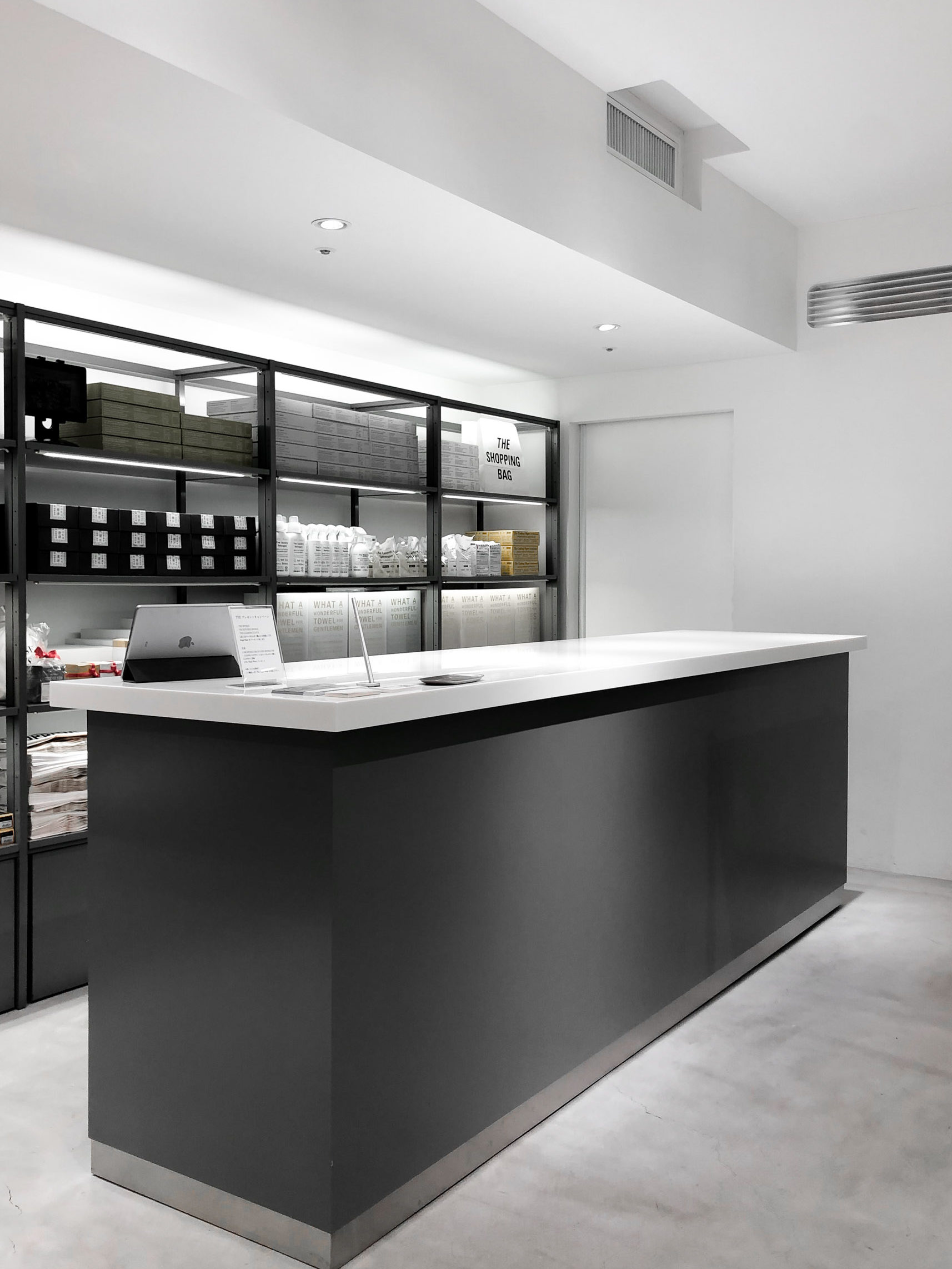 Inside an exceptionally clean, minimal space on the first floor of Casa Ala Mode Rokkaku is the world's very first umeshu plum liqueur store. Simply named Choya, for the renowned brand behind this concept, this fresh addition to Kyoto's enviable collection of flagships is where you can go to purchase both hot and cold plum drinks. You would be wise to book ahead for their exclusive, and very popular, plum experience.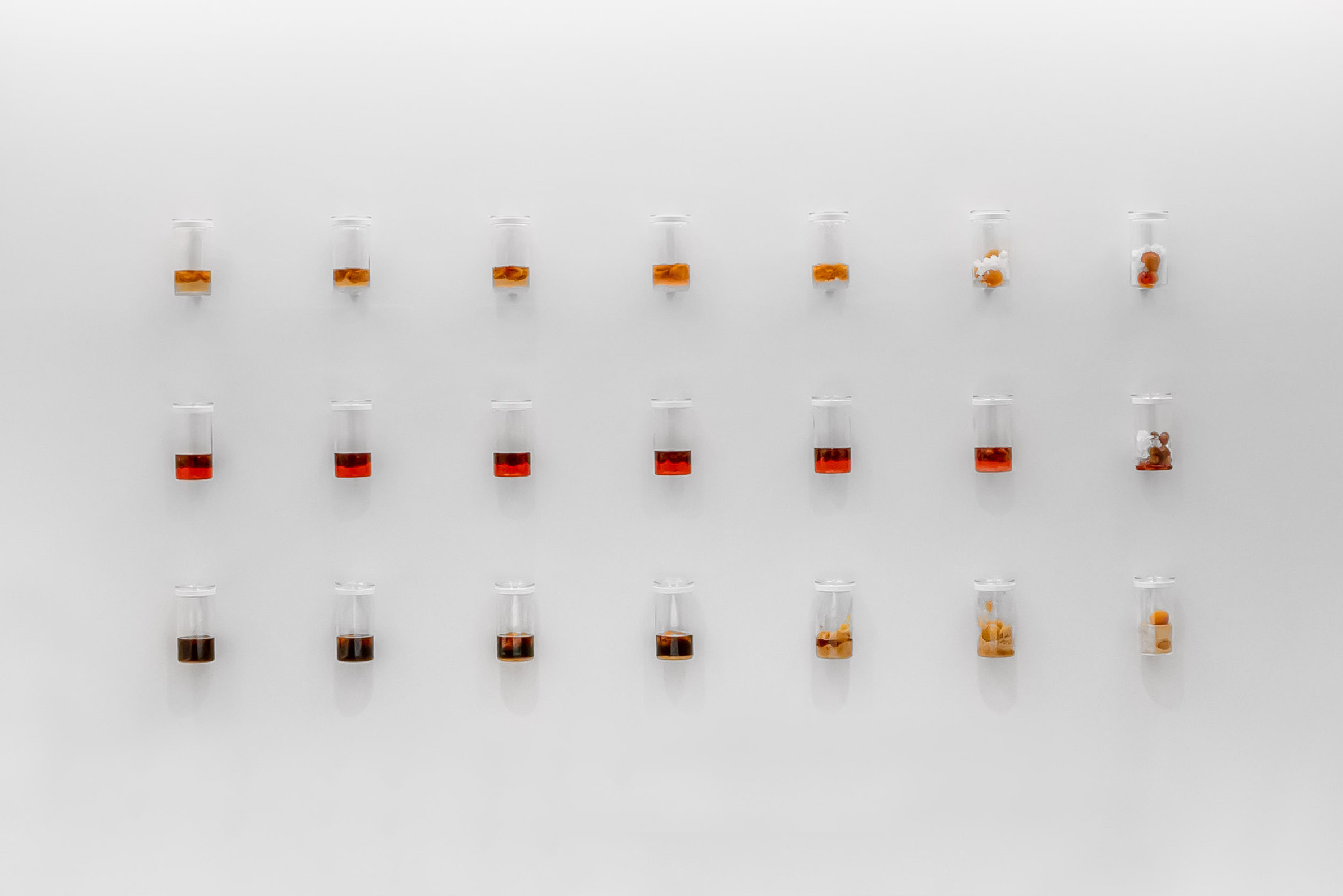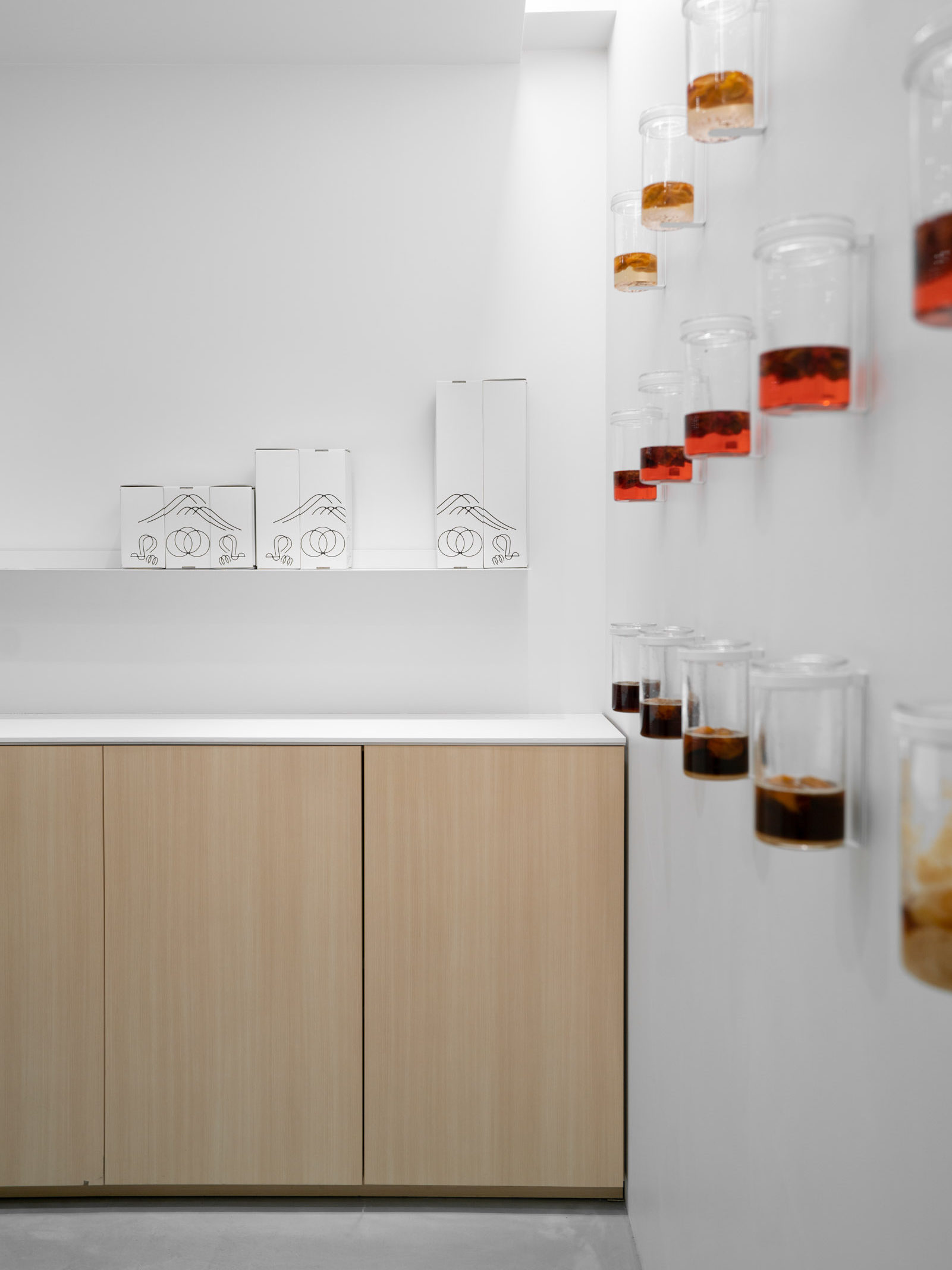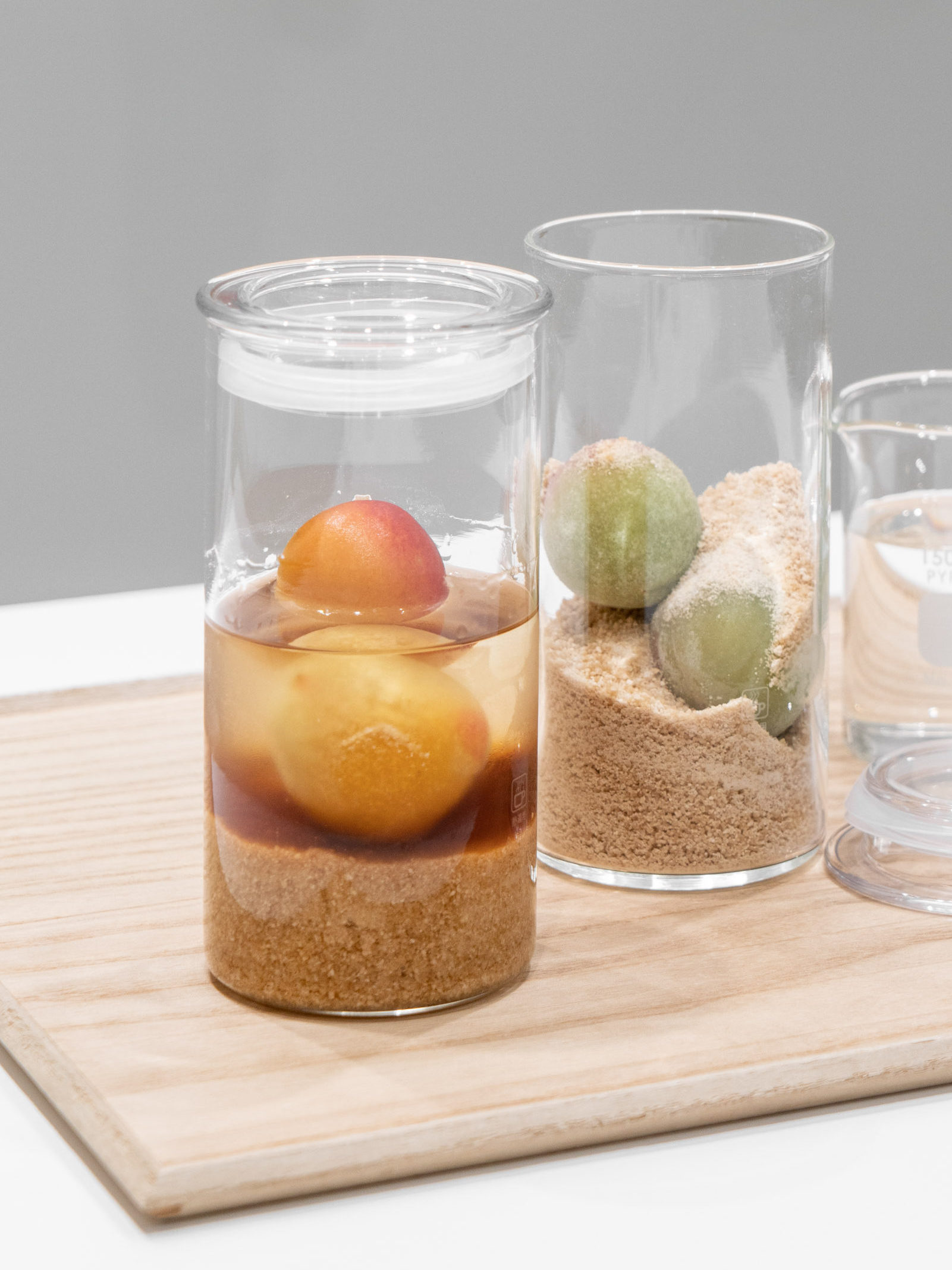 Bars & Restaurants
Recipes that span generations, locally-focused produce, and a clean, organic lifestyle have together given Kyoto a distinguished dining scene on par with Japan's most famous food cities of Osaka and Tokyo. The city owes much of its vibrancy to the many restaurants, bars and izakaya—a traditional Japanese pub — so you can surely expect to make some memorable discoveries during your stay.
For a spontaneous night out, head along to Pontocho Alley. The festive, atmospheric pedestrian alley is a favourite amongst locals, known for its high density of bars and restaurants. During the summer months, many of these establishments build temporary platforms over the water of nearby Kamo River so guests can drink and dine in the cool breeze.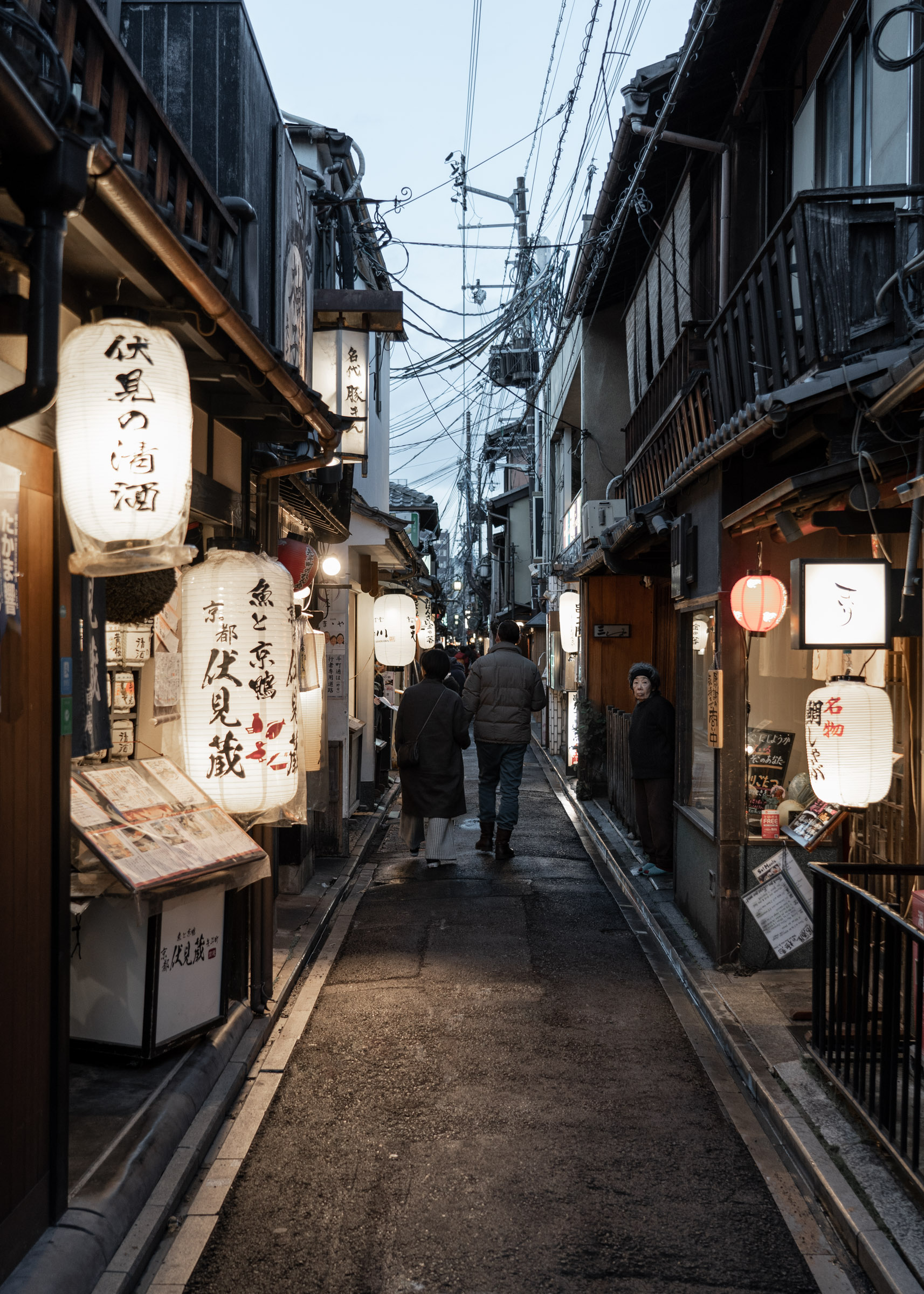 Like many Michelin star ramen spots in Japan, you could easily walk past Menya Inoichi Hanare. This tiny space has less than 20 seats, but it's well worth waiting around for a coveted spot to slurp on popular orders like the wagyu beef ramen. Notably, their soup is made with no pork or chicken fats, and the noodles are made with no preservatives.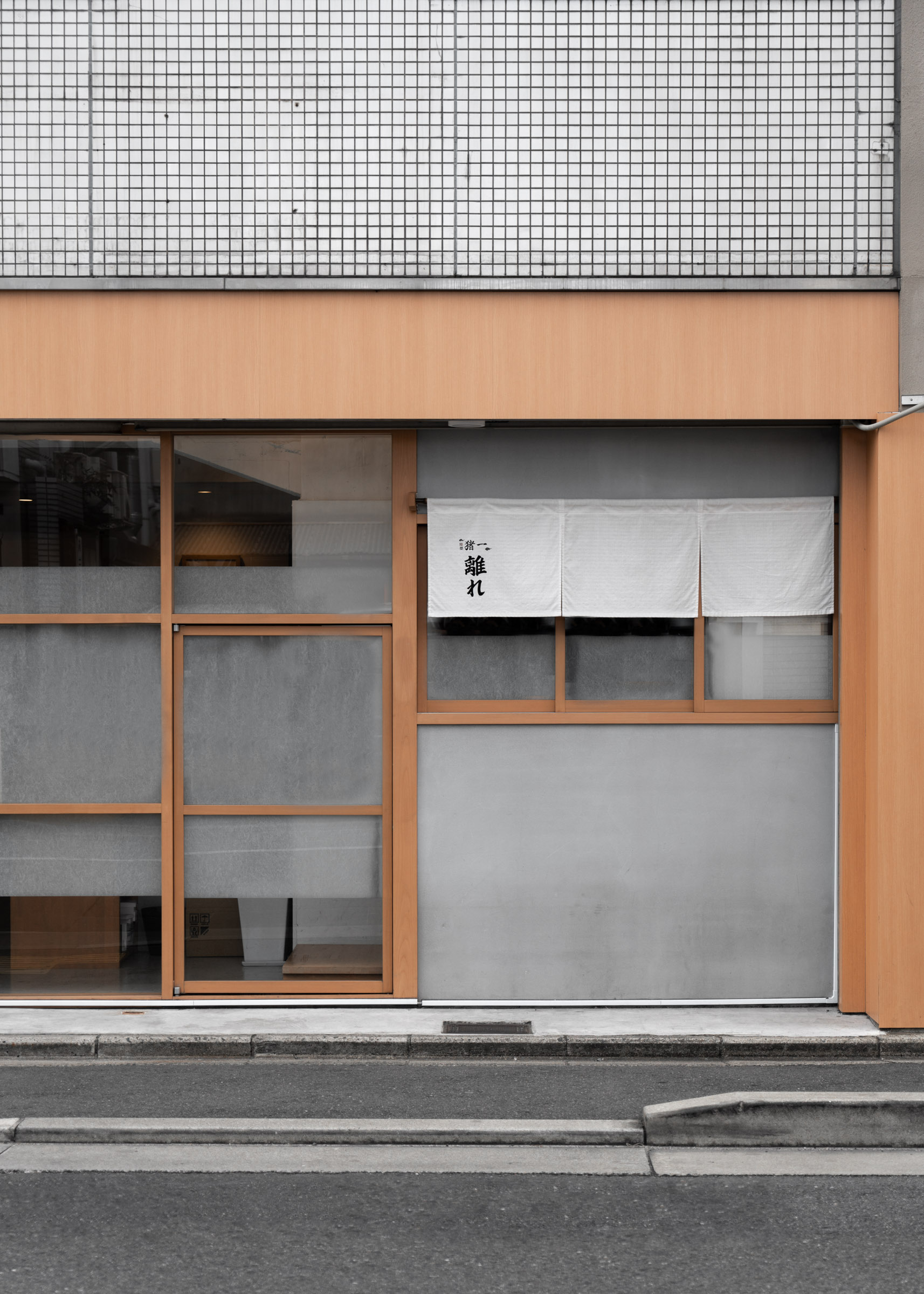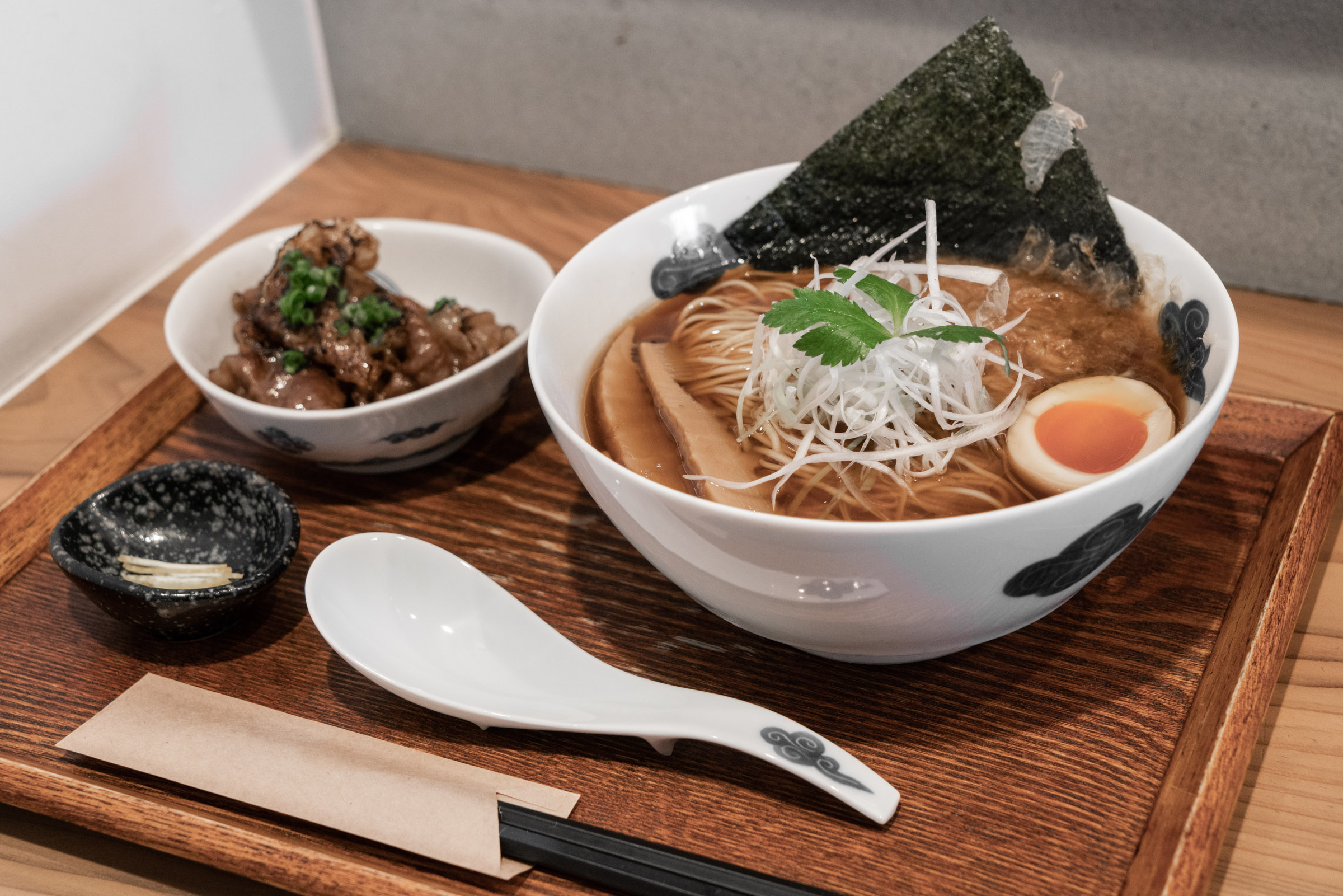 If the lively, modern and minimalist interior of Before9 reminds you of a Kyoto coffee shop, then you have been paying attention. This craft beer and sake bar was lovingly shaped by the same design firm behind %Arabica, creating a sleek spot to down some of the city's finest brews and experiment with different types of sake.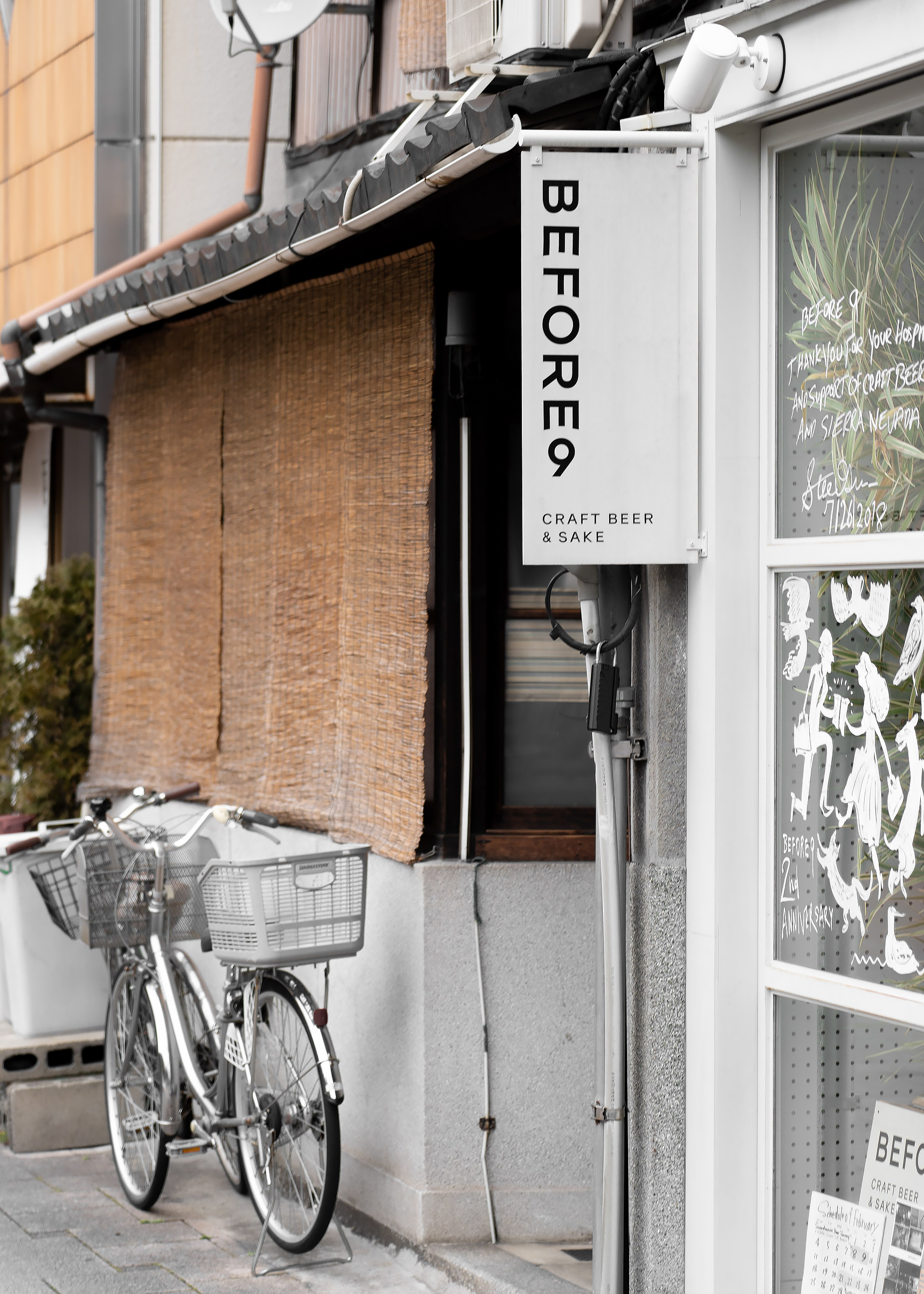 When in Arashiyama in the evening, check out the vibrant Jizake, a family-run Izakaya open until midnight most days. With a great selection of food and drink, the menu offers temptations like pork belly meat in plum and Japanese herbs, and delicious fried oysters.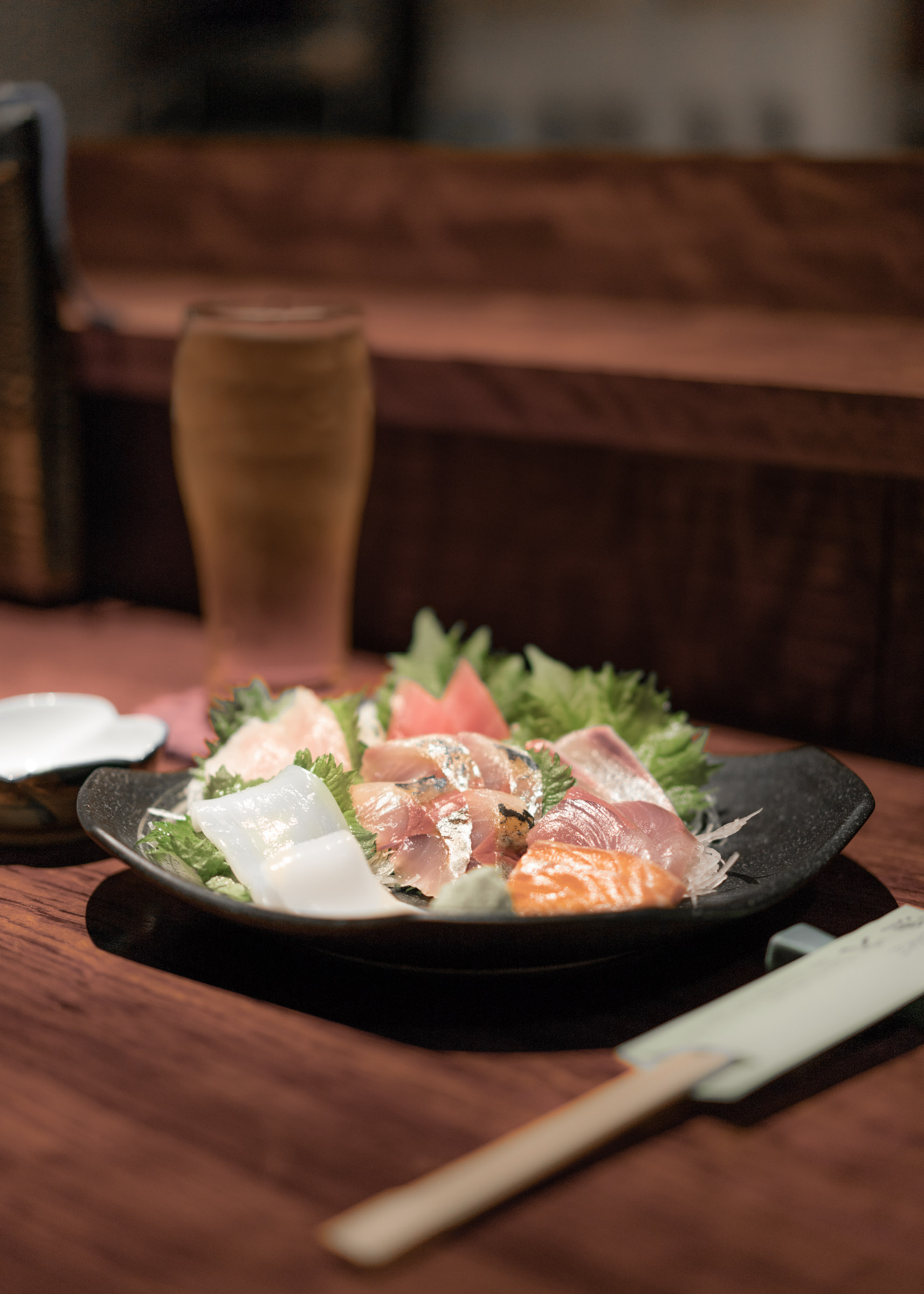 Though it may be unexpected, it turns out Kyoto-style sushi and European wines is an exceptional combination and one you will find at Sushidokoro MAN. Standing on an unassuming backstreet in Downtown Kyoto, the facade sticks out with its clean and Scandinavian-esque design. Inside you will find a small and focused menu of grilled, fried and raw fish that is very popular amongst locals.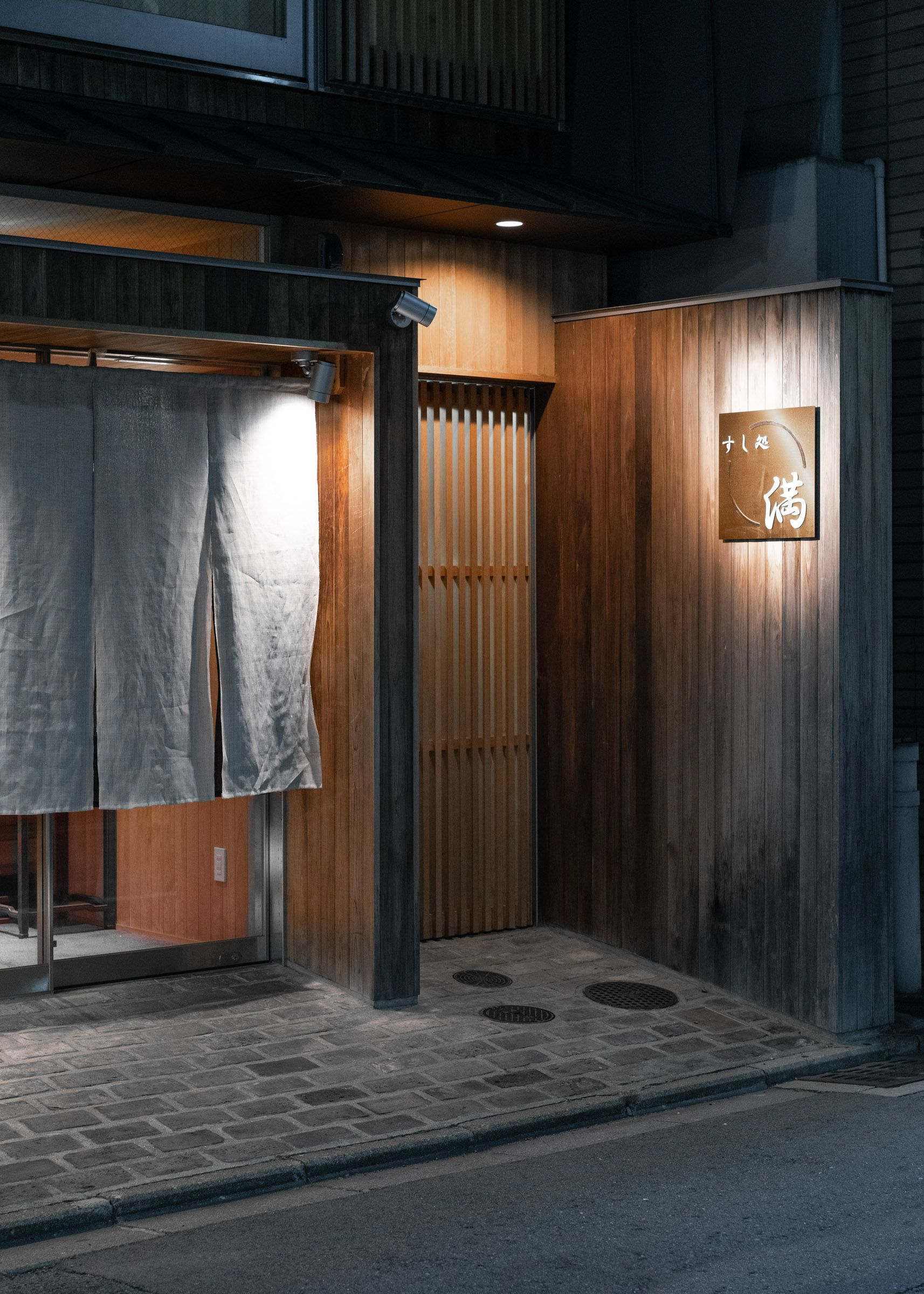 Take your chocolate with wine or whisky at perennial award- winner Assemblages Kakimoto, just south of the Imperial Palace. Housed in a stylish traditional townhouse — known as machiya — it is one of Kyoto's favourite dessert destinations, with pastries and a vast selection of handmade chocolates.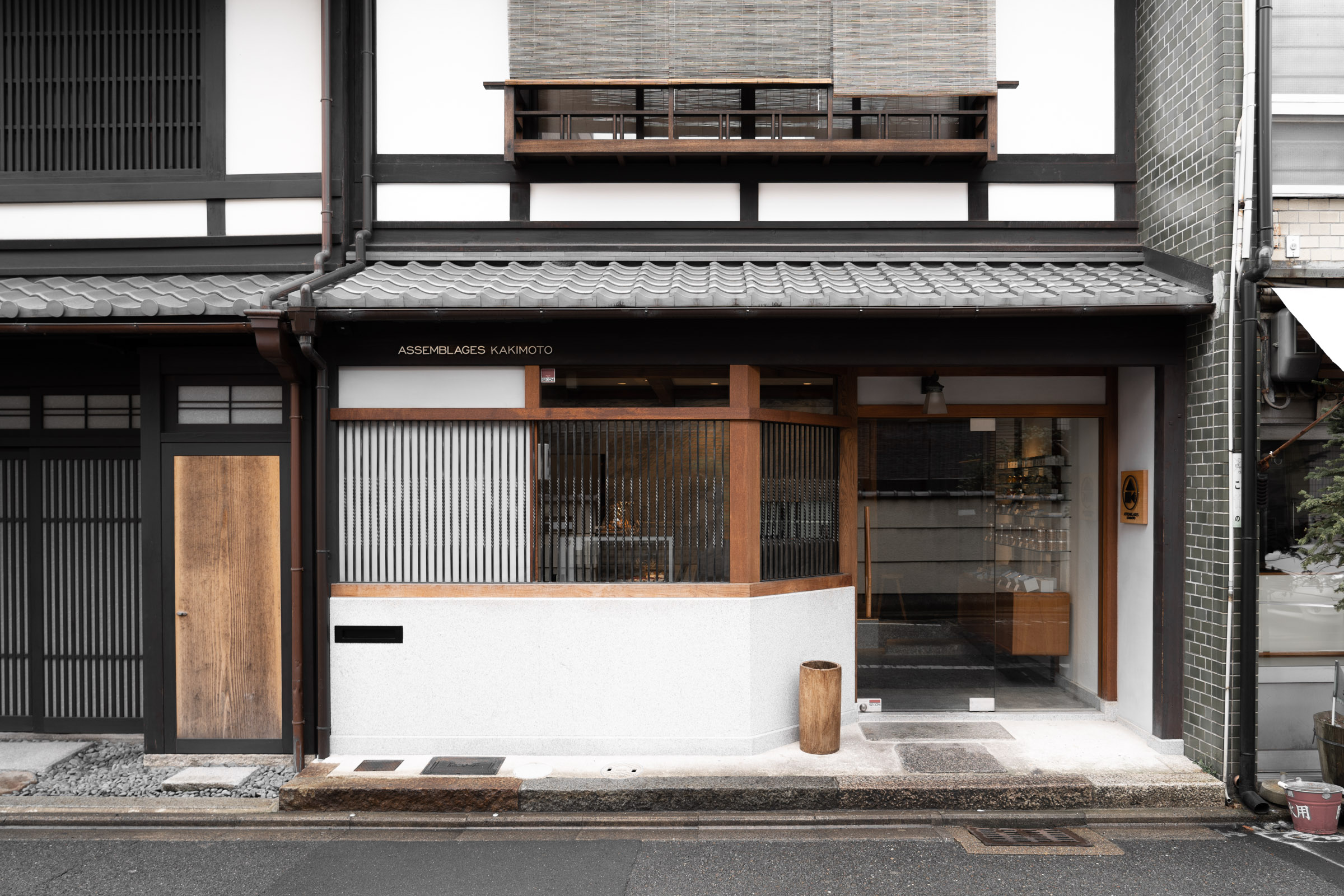 Hotels
Hotel Kanra Kyoto
Embodying the beauty and soul of Japan, Hotel Kanra is a boutique 68-room hotel carefully designed according to the machiya-style of Kyoto's traditional urban homes. The elegant wooden finishes and warm palette, combined with the use of both floorboards and tatami, captures tradition and gently blends it with contemporary thought. This is also reflected in the spaciousness of the guest rooms — a rarity in Japan — touched up by modern amenities, but still maintaining a strong sense of place with low dining tables and mats.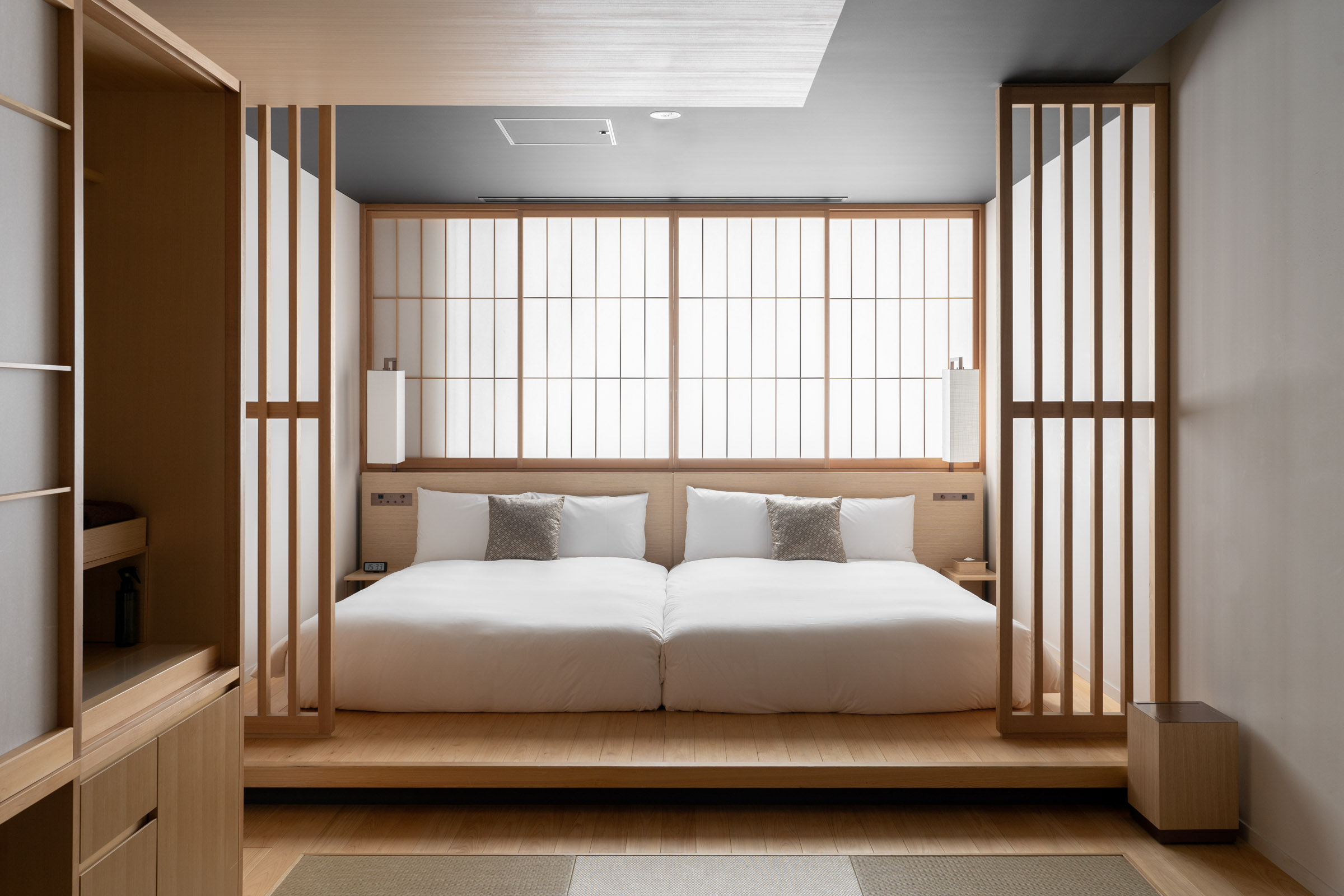 Large, comfortable beds and generous bathrooms are a welcome bonus. Sink into the deep soaking tub and take in the design, which has effectively been curated to bring guests serenity and a real feeling of belonging. For an elevated experience, head to the property's Kanra Spa: an extension of this calming effect, with a heavenly treatment menu.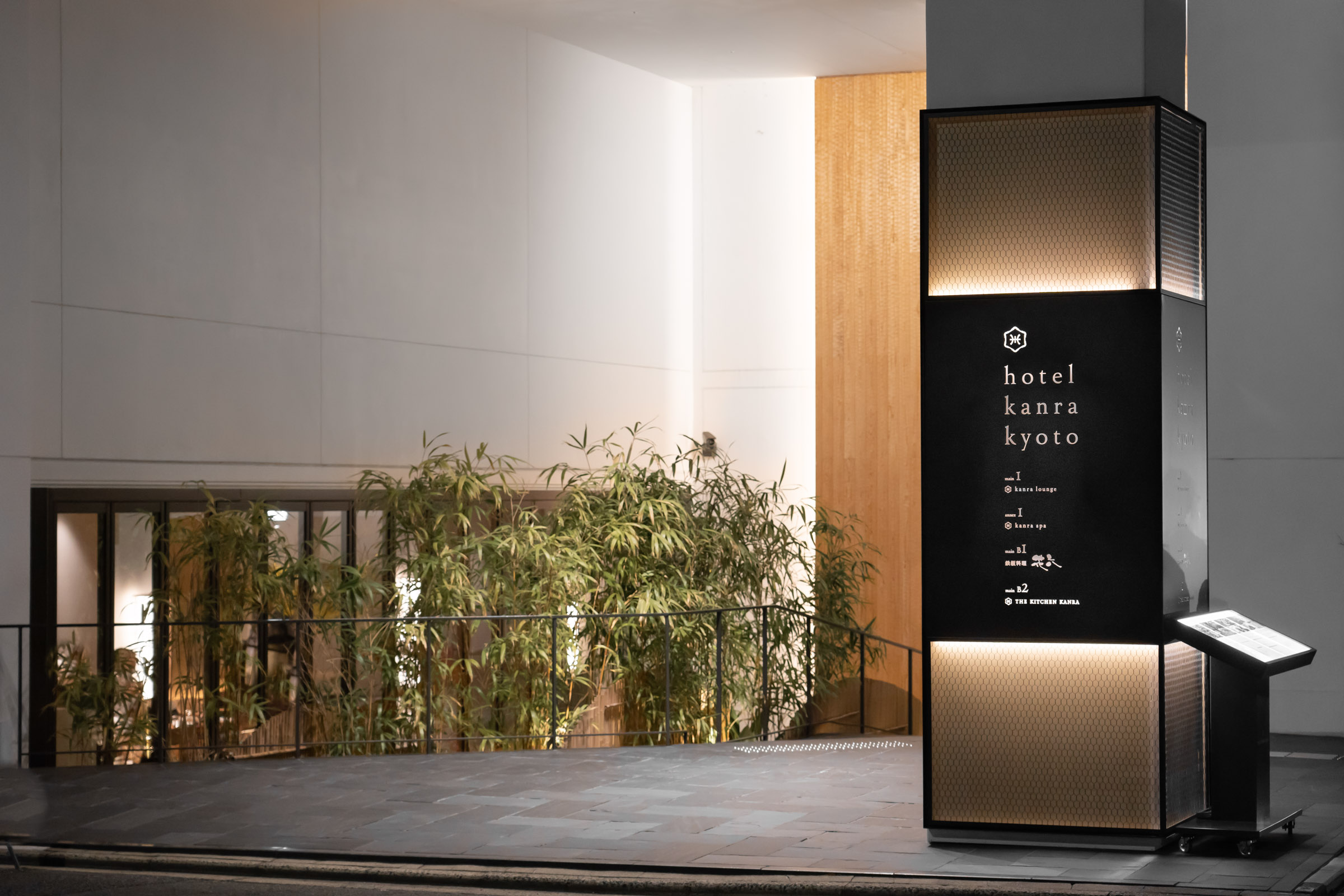 The hotel's alluring cafe is refined with beautiful pops of greenery, elegant lighting and tasteful furniture — attractive even from the street, and fittingly open to the public. Other food offerings include both Japanese and western breakfast options served in a large dining room with exceptional service, an Italian restaurant called The Kitchen Kanra, and the popular Hanaroku, which serves teppanyaki cuisine prepared with local ingredients.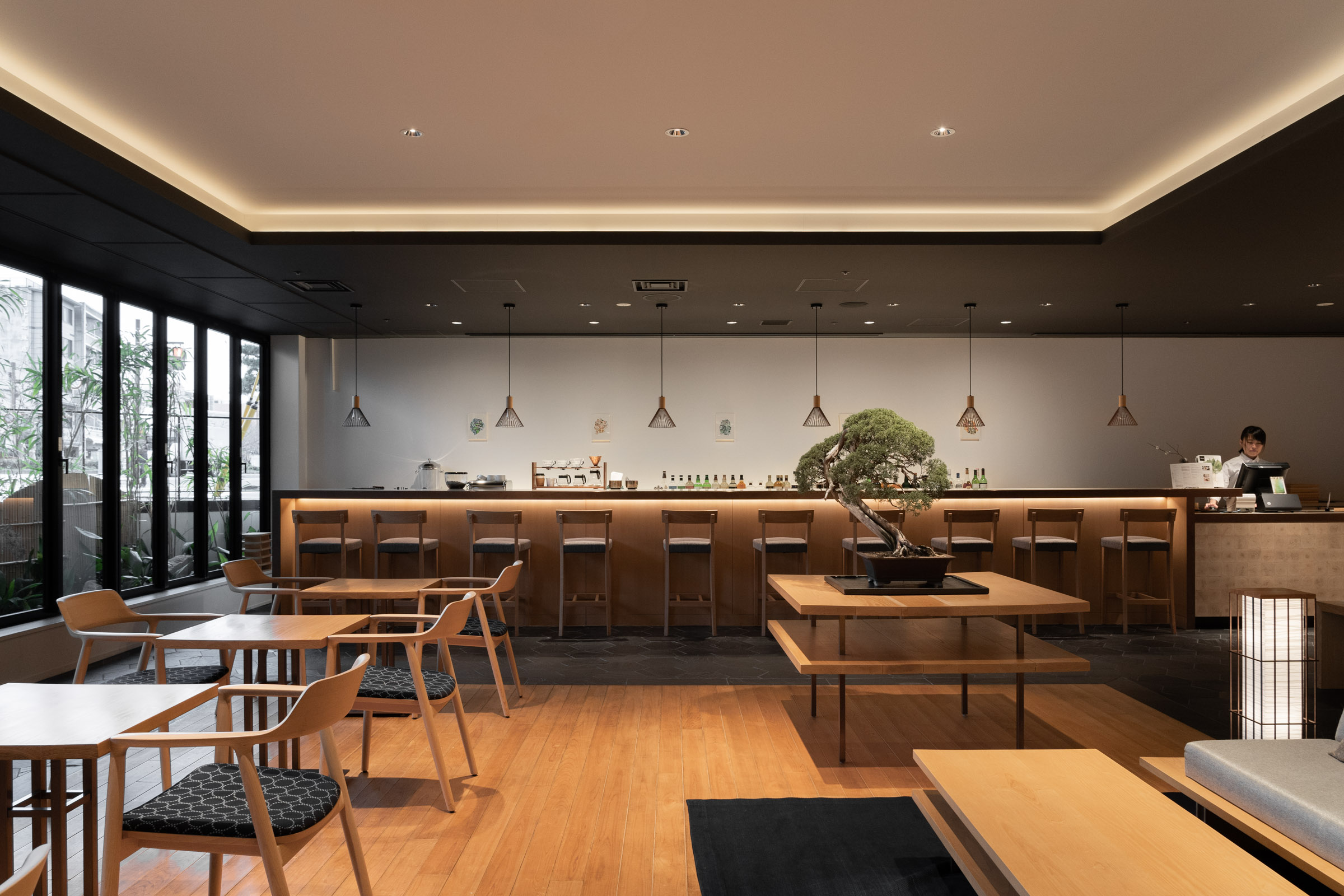 Design enthusiasts should make time to browse Kanra Shop, adjoining the lounge, which showcases a selection of local brands and welcomes guests with hand drip coffee made from beans provided by a local roaster. The space overlooks a beautifully cultivated Japanese garden and is stocked with authentic goods sourced from all over the country. Staff practice the art of Kintsugi, which involves repairing broken pottery with lacquer dusted or mixed with powdered gold, silver or platinum. Here, the process of breakage and repair forms part of the history of an object, as opposed to something to disguise or replace.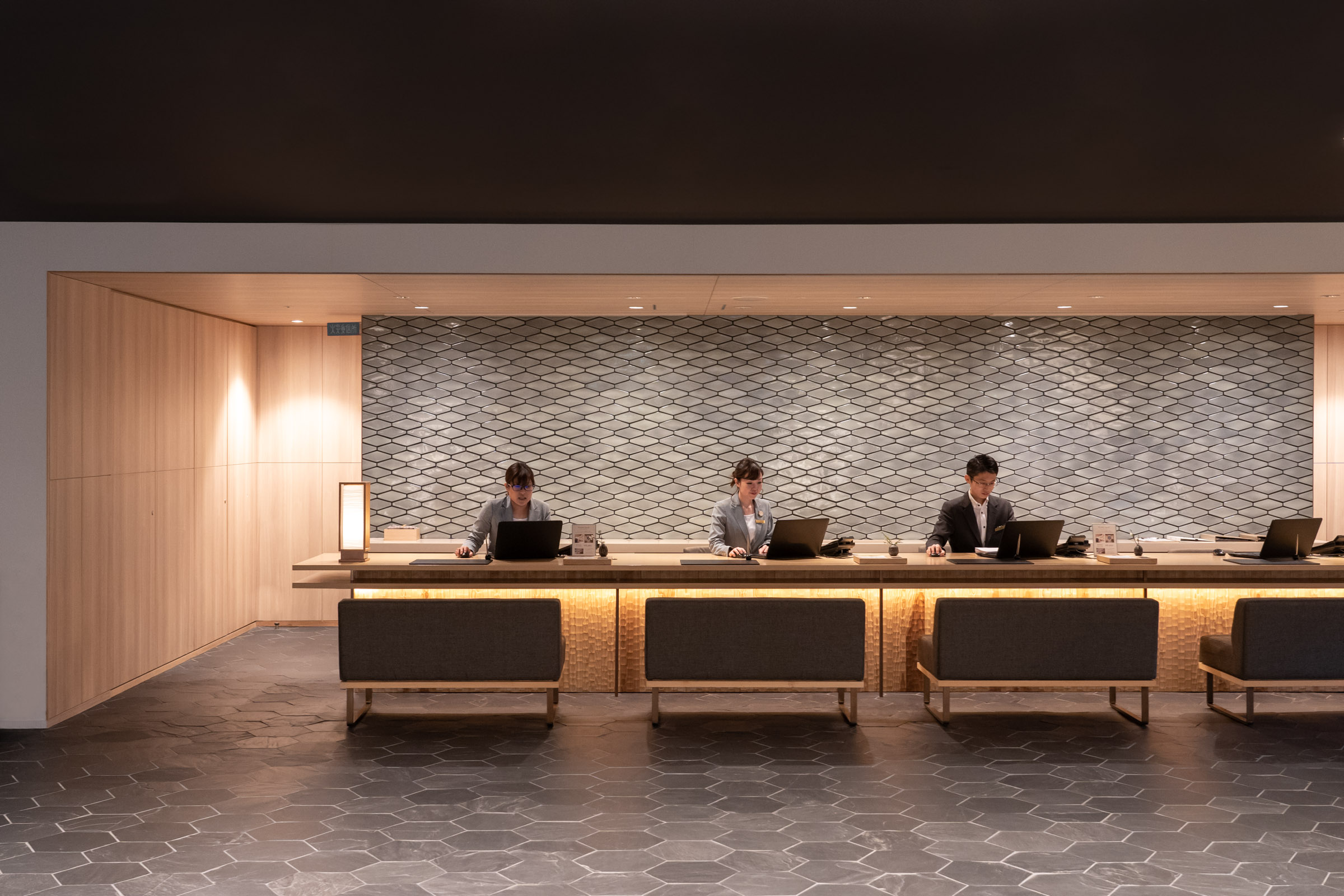 Suiran
Mirroring the tranquillity of adjacent Hozu River, Suiran, a Luxury Collection Hotel is a treasured collection of 39 guestrooms, including six speciality rooms, all sitting comfortably at the intersection of modernity and tradition. This high-end property seeks to blend Arashiyama's heavenly nature with the locale's unique collection of restaurants and shops. This creates an atmosphere that is both exciting and slow-paced, built into what was once the private grounds of a 19th-century industrialist.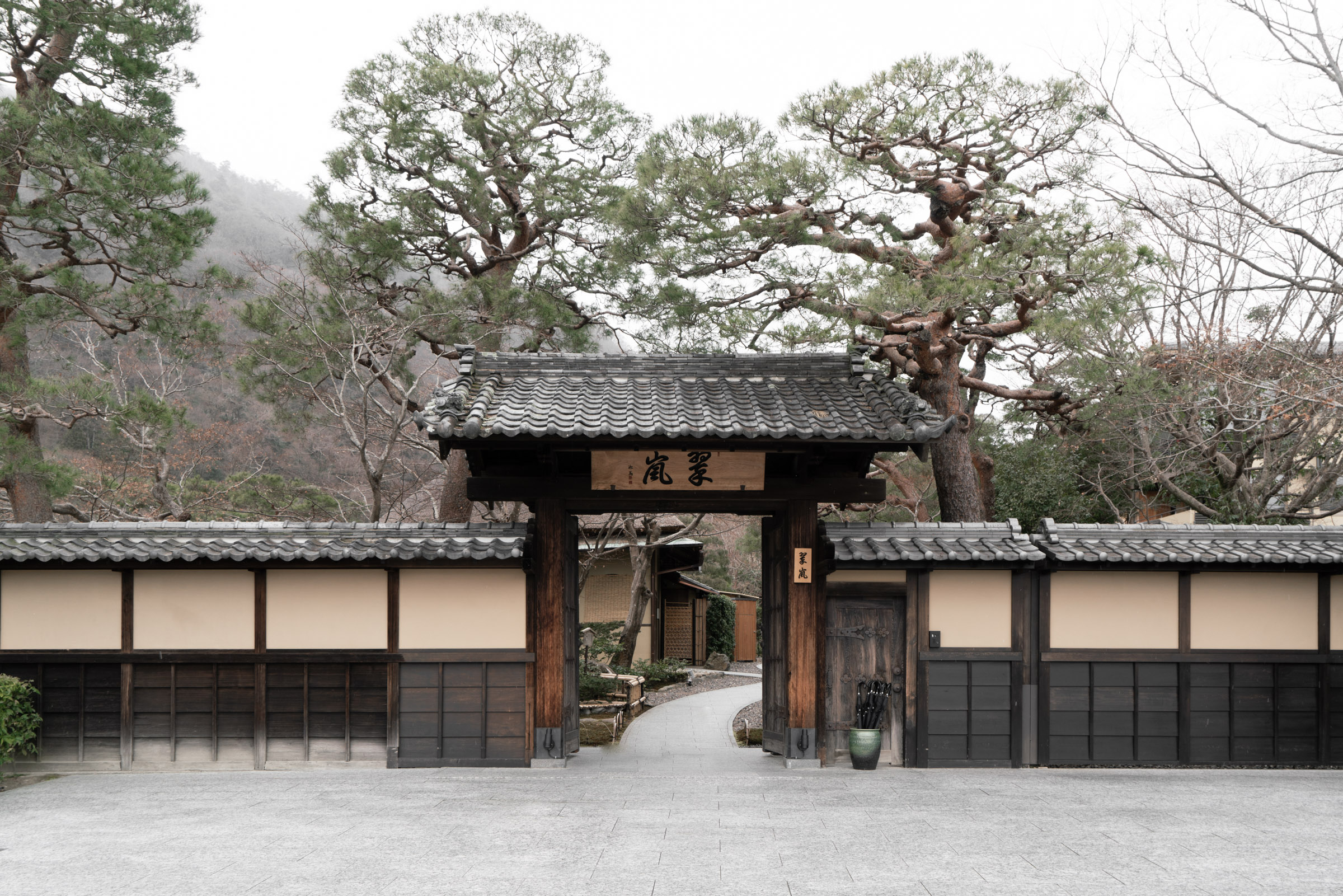 Drawing on the minimal design principles of a traditional Japanese ryokan, Suiran's guest rooms feature tatami mat flooring and black lacquer furniture, brought into the modern age with contemporary comforts like soft Simmons beds and generous flat-screen televisions. Upstairs, rooms each feature a balcony from which you can truly take in the spectacular natural surrounds and distant mountains, while most include their own private cedar wood onsen for the ultimate local experience.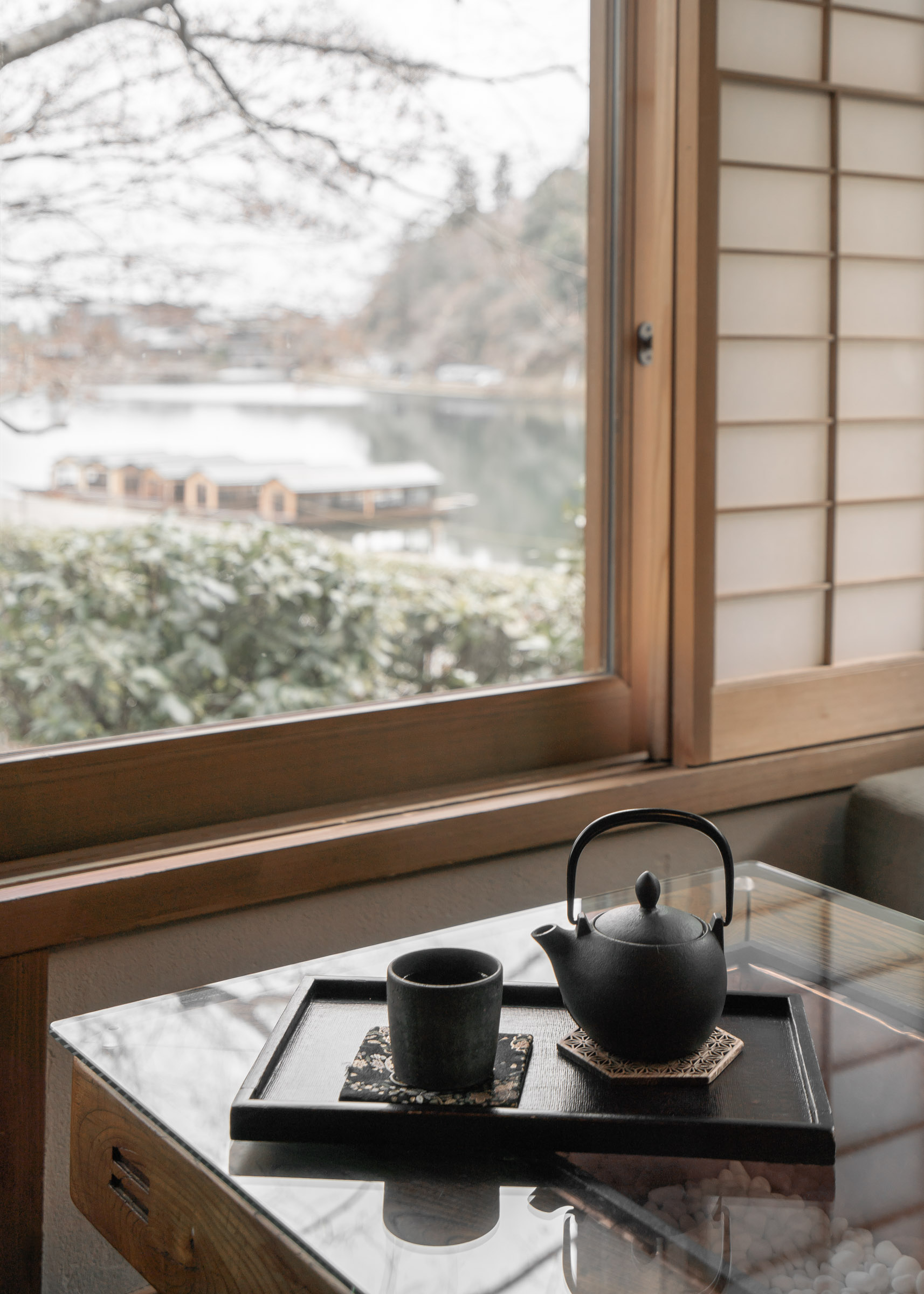 With its own manicured private garden, Suiran seamlessly blends with Arashiyama's impeccable landscape, hiding from most of the area's action at the end of a riverside path. This offers guests complete privacy as they saunter between their rooms and the hotel's amenities, which include two different restaurants, both set in the site's two original structures from the Meiji era. Kyo Suiran, a restaurant specialising in washoku — literally translated as "food of Japan" — using French techniques and local ingredients, fits into one of the restored houses, while the other, Cafe Hassui, boasts a casual waterside dining experience.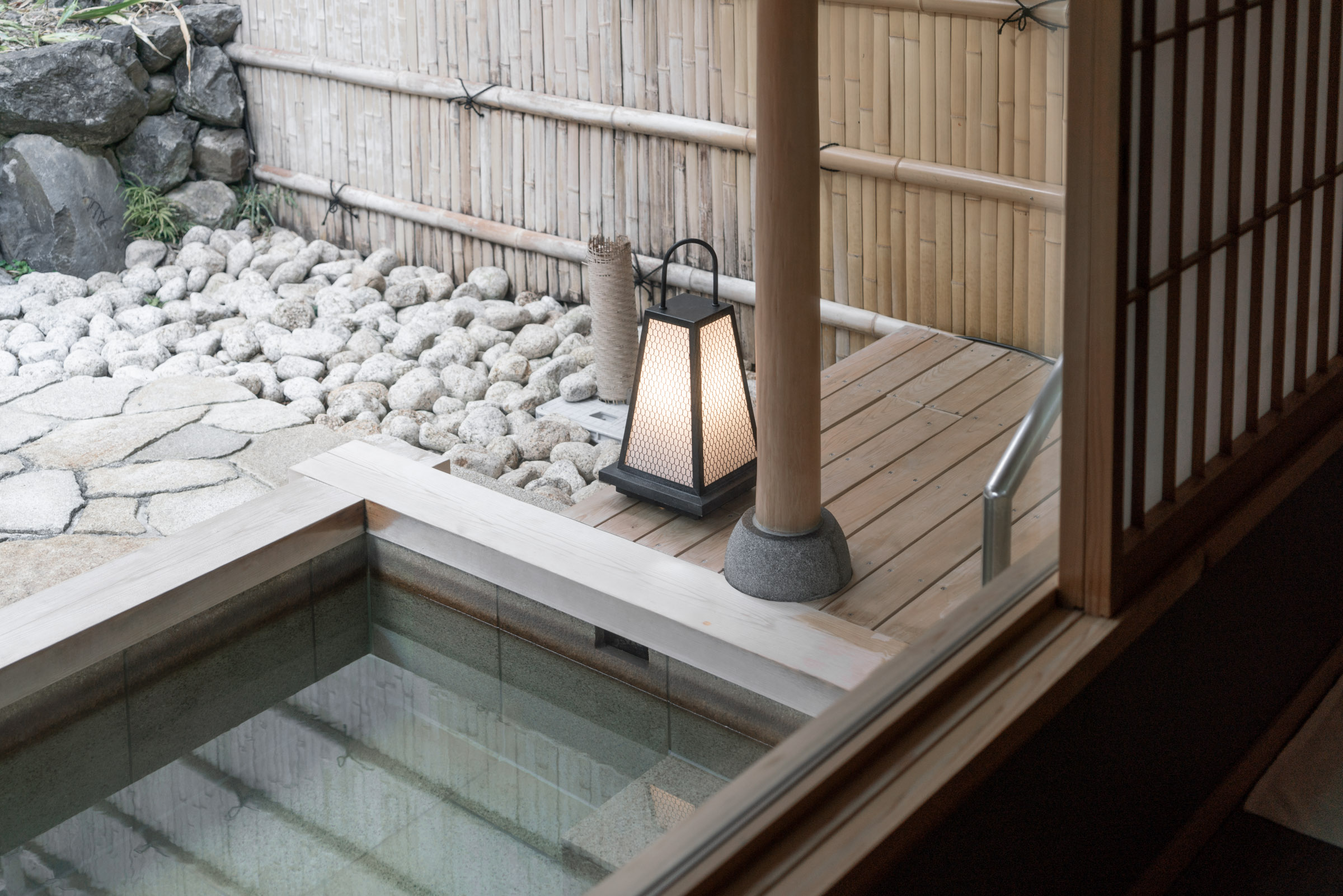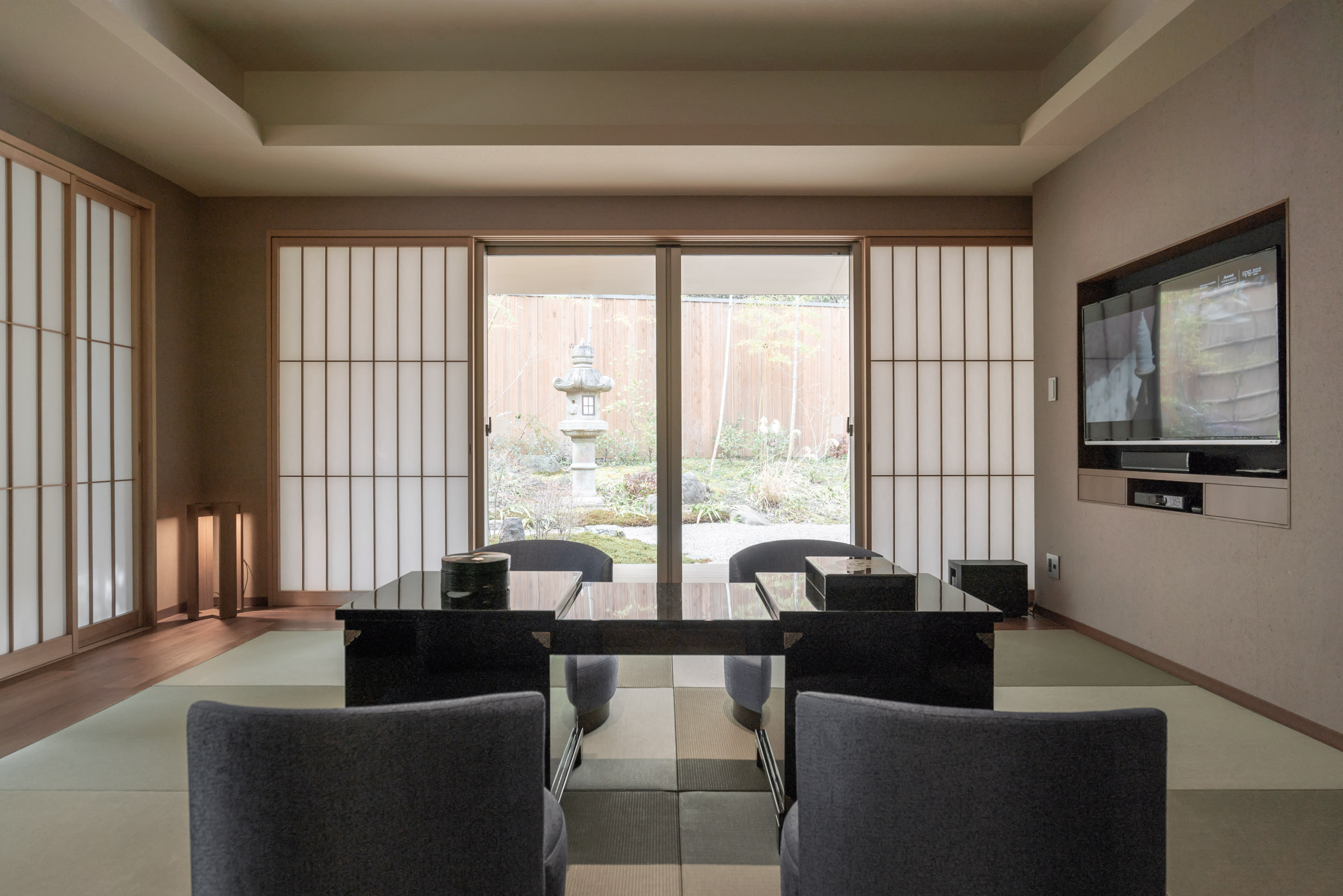 Explorers will get plenty out of the location. The heritage- listed Tenryuji Temple and iconic Togetsu-Kyo Bridge are only five minutes walk from the hotel, while the entrance to famous Sagano Bamboo Forest is just as close.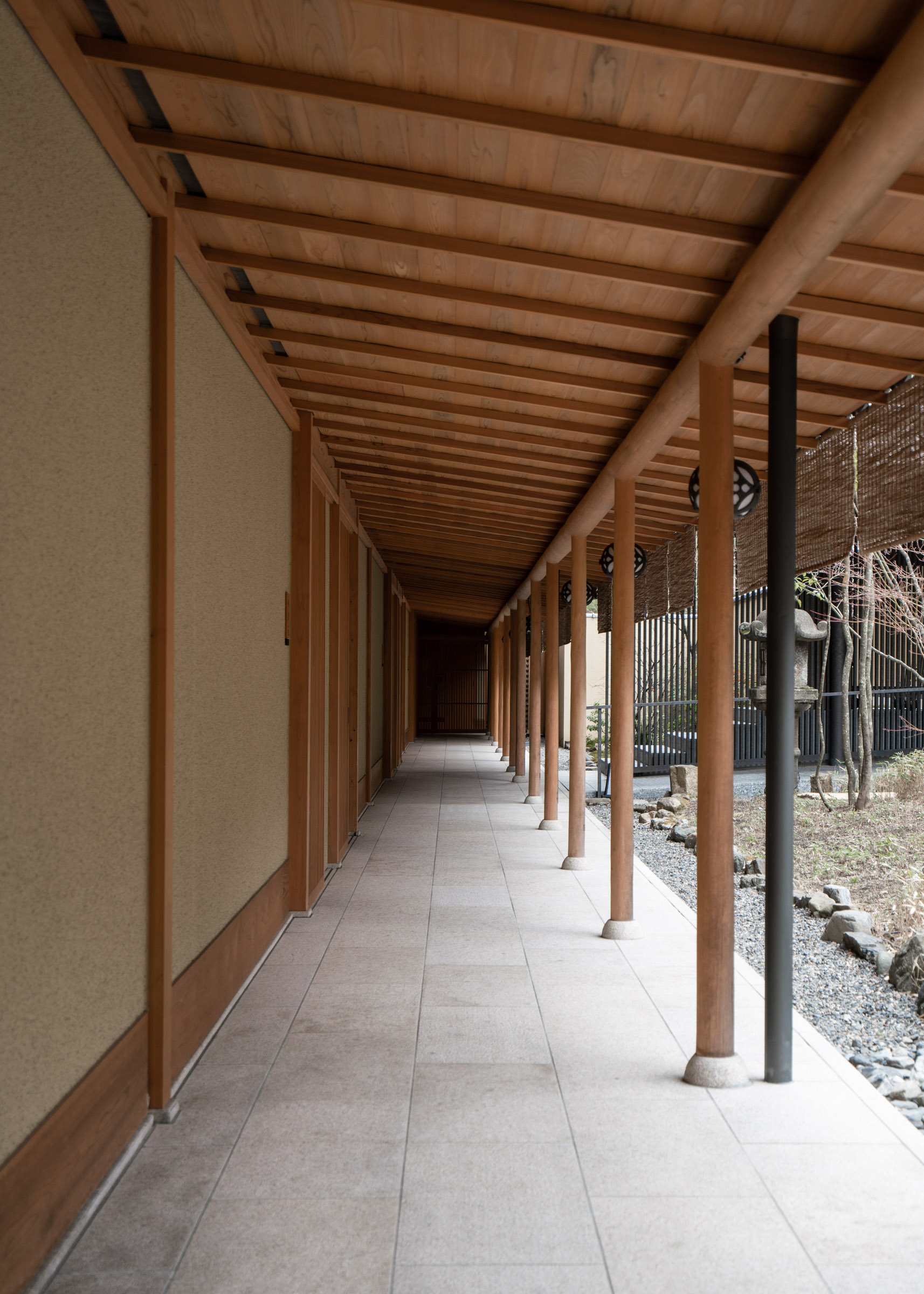 THE GENERAL Kyoto
Five separate zen-inspired buildings, all spread amongst the adjacent neighbourhoods of Kyoto, act functionally as one unified hotel in THE GENERAL Kyoto. Fashioned as a dispersed hotel, an idea born in Italy, this unconventional, high-concept property seeks to bring guests closer to the everyday life of the city. Activities on offer include zen meditation with the priests of the city's Ryosokuin Temple, home-style cooking classes, and guided morning runs to nearby points of interest.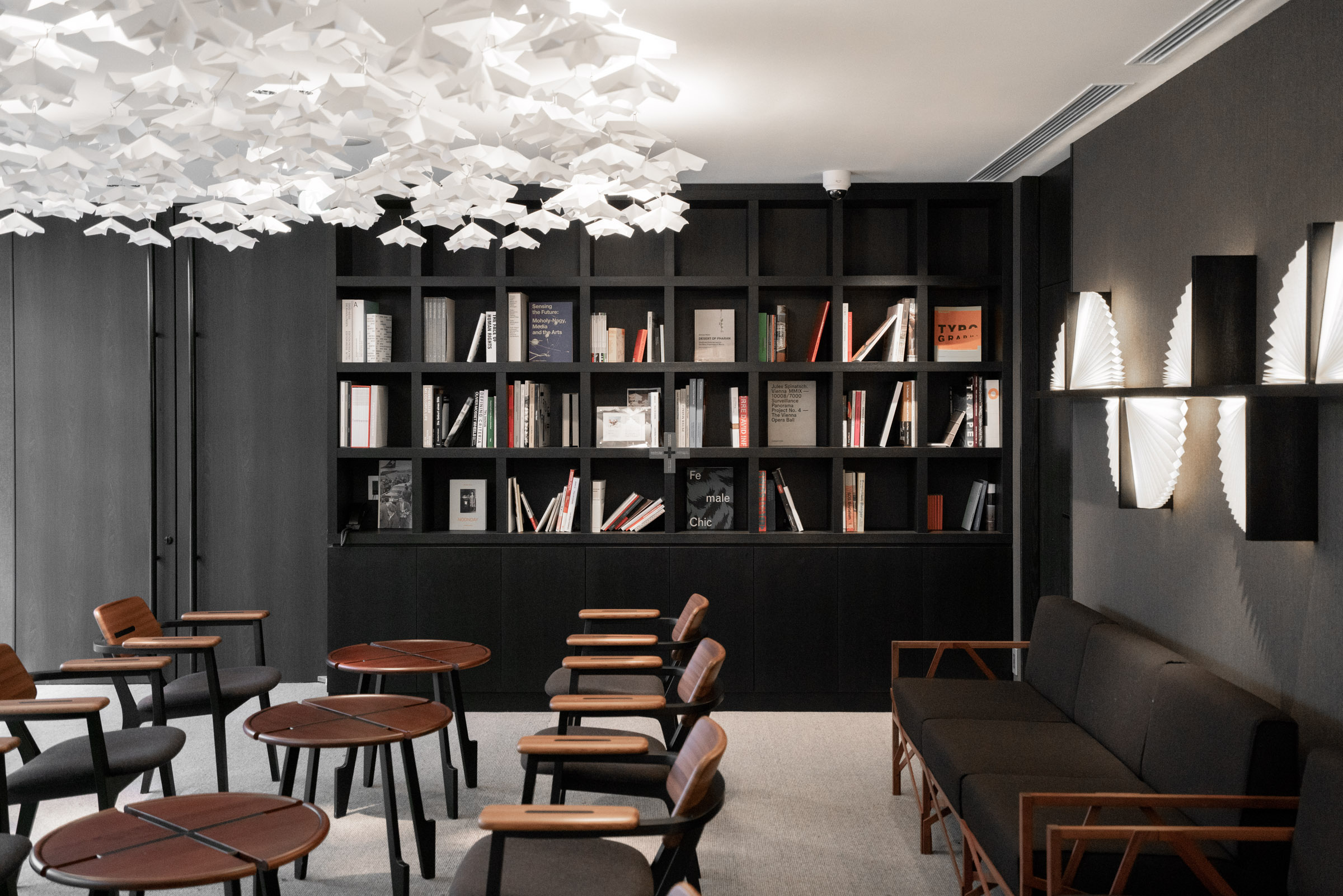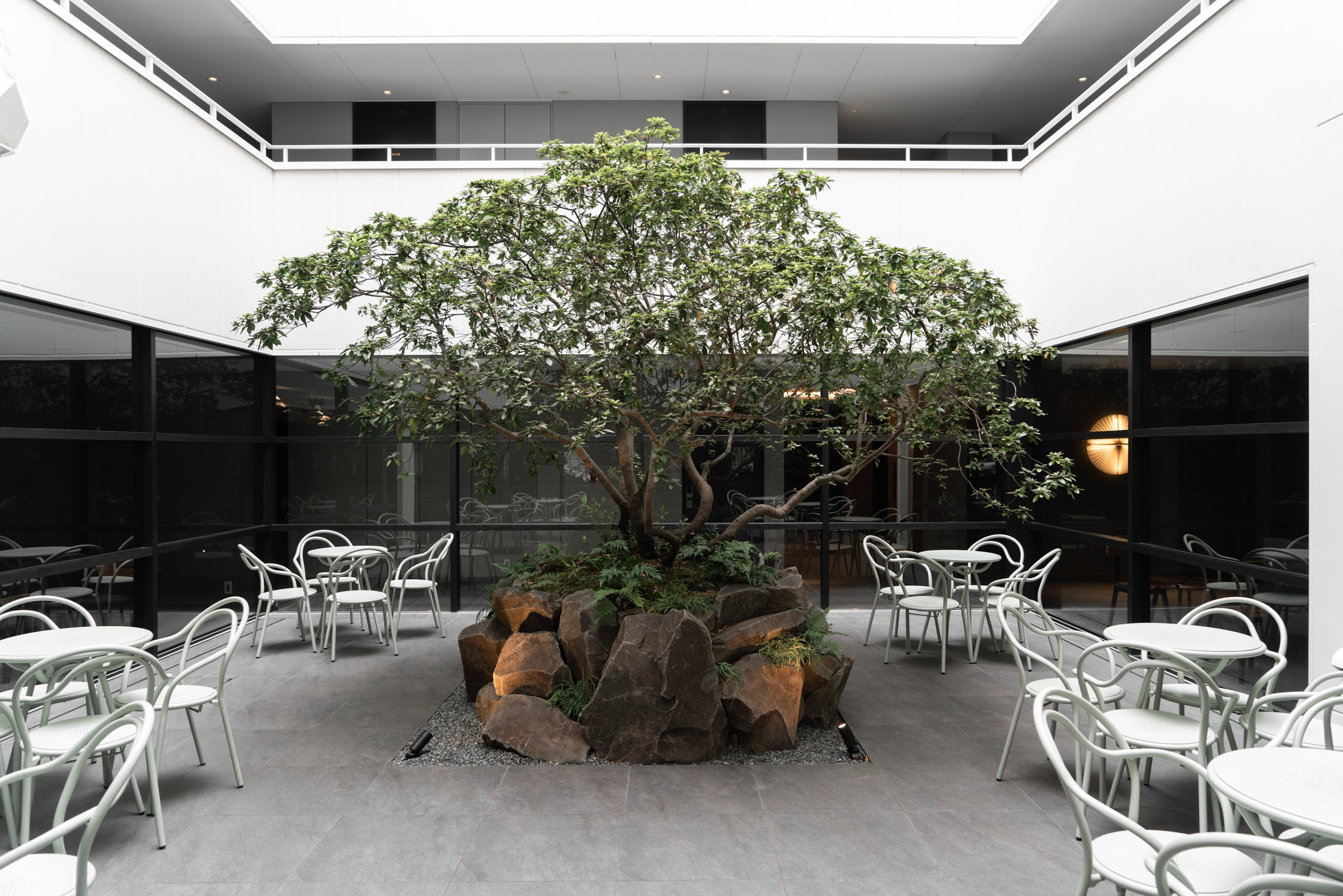 Different designers were used for each of the five buildings, which differ in size and facilities. The largest consists of 86 rooms, and sets itself apart with a lounge area, internal atrium, tearoom, state-of-the-art gym, and tatami mat salon as a versatile studio for yoga and other classes. Meanwhile, the latter carves its own identity with an enormous outdoor area in the middle of a block, cosmopolitan in its reach with a full bar, pintxos-style Spanish restaurant and a hybrid library-lounge area all designed by the Swiss group, Atelier Oï.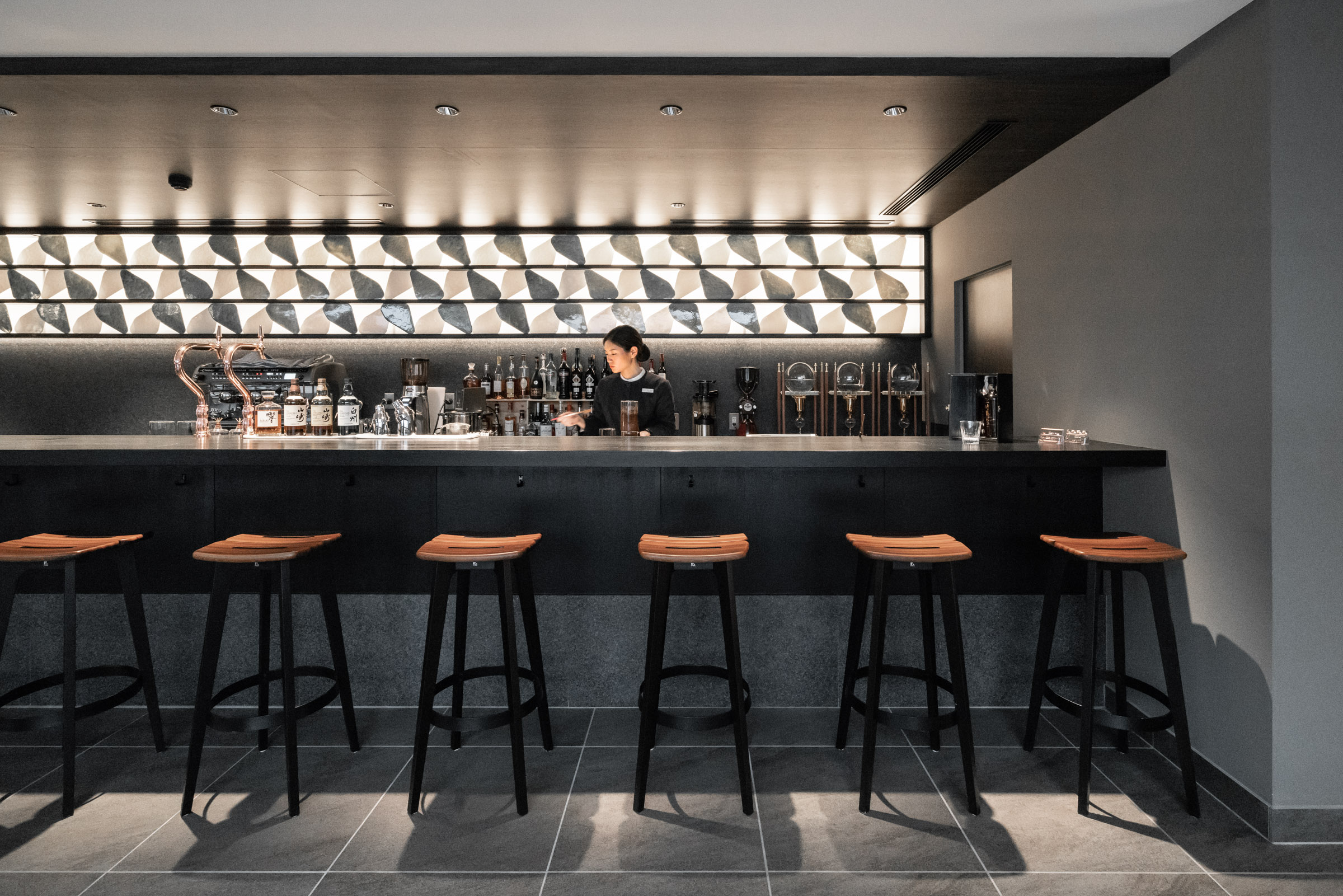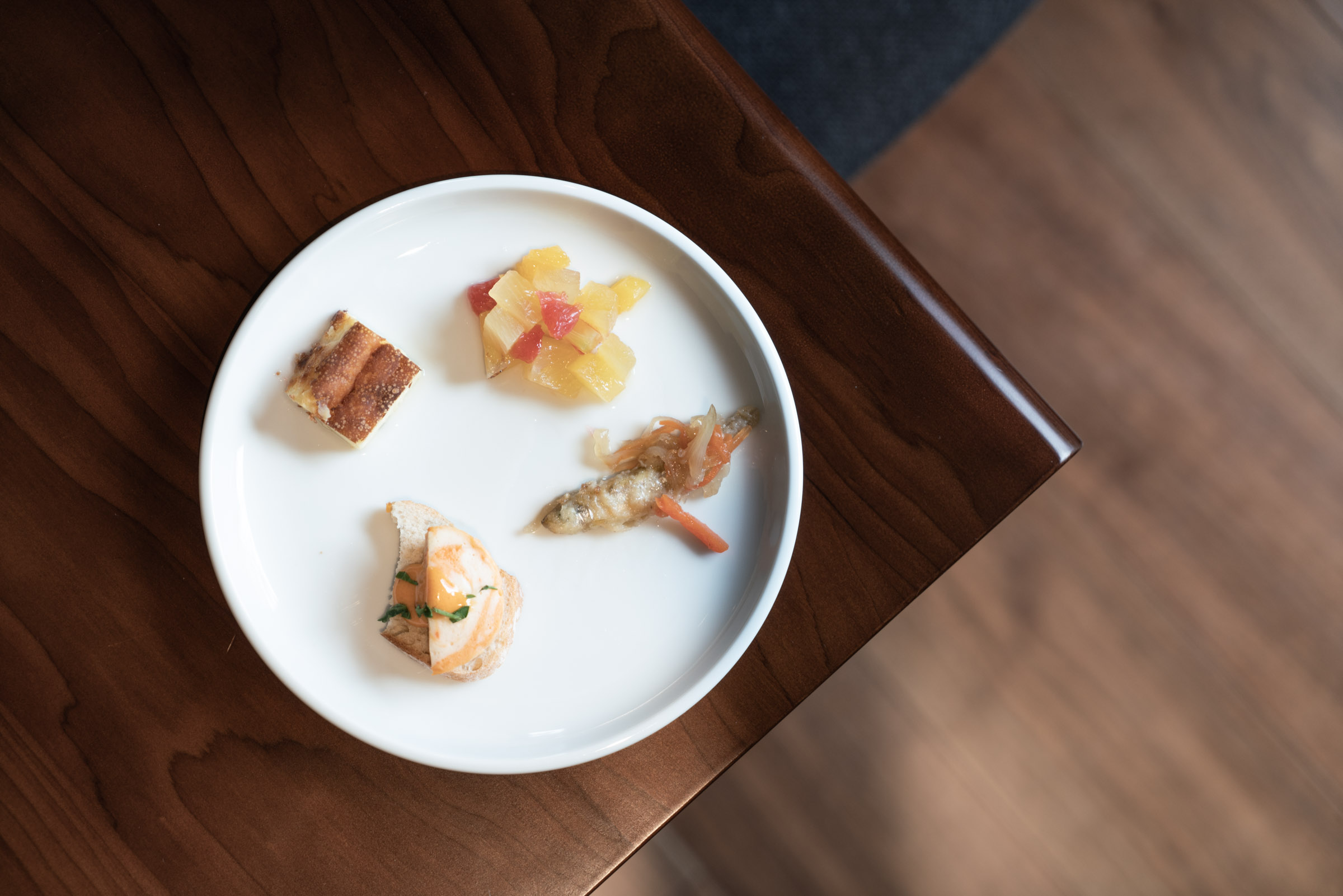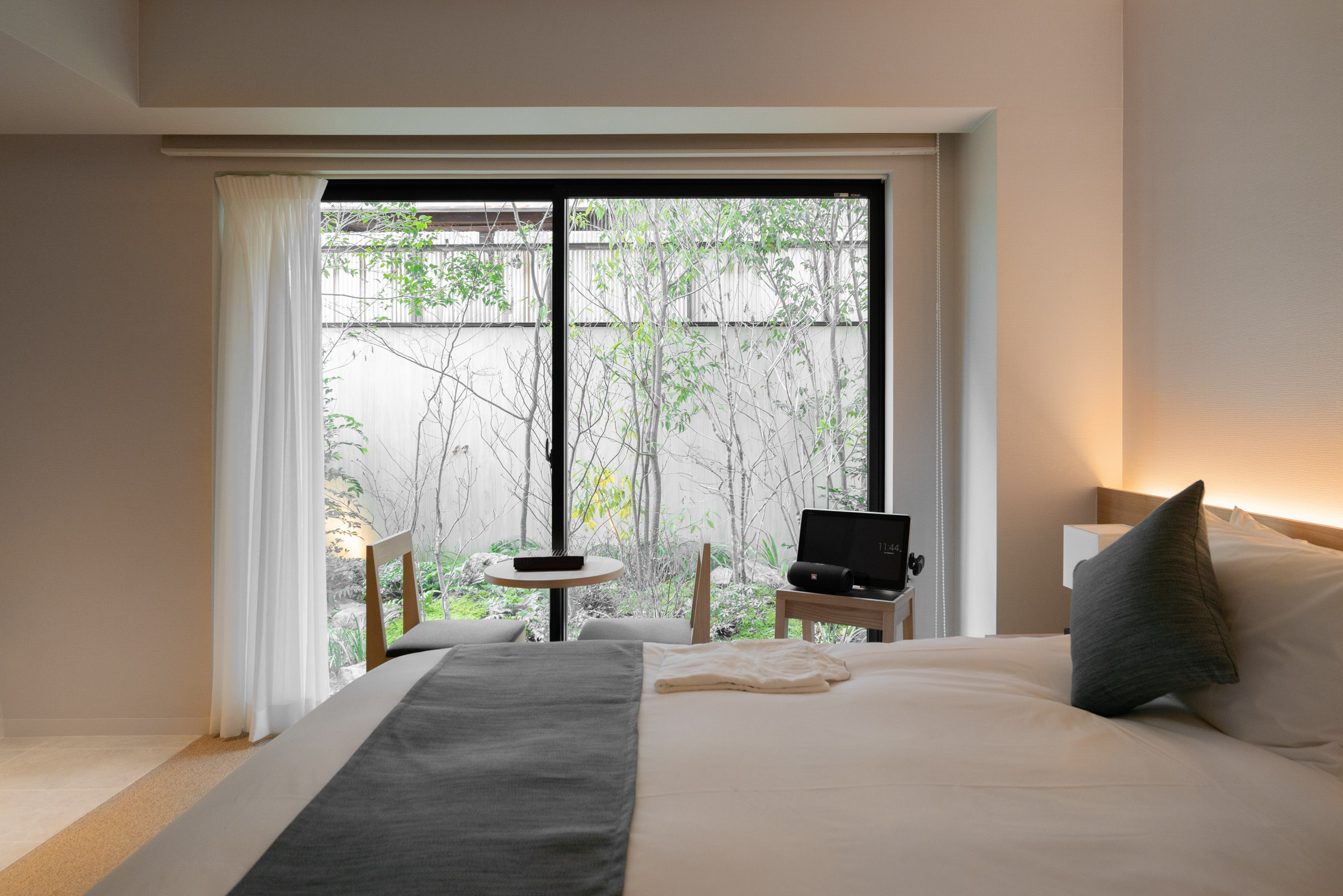 Guest rooms differ for each building, ranging from small spaces with bunk beds to bigger rooms with fully stocked kitchenettes. This is to showcase the various design philosophies and approaches which came together, balancing consistency with a high level of individuality.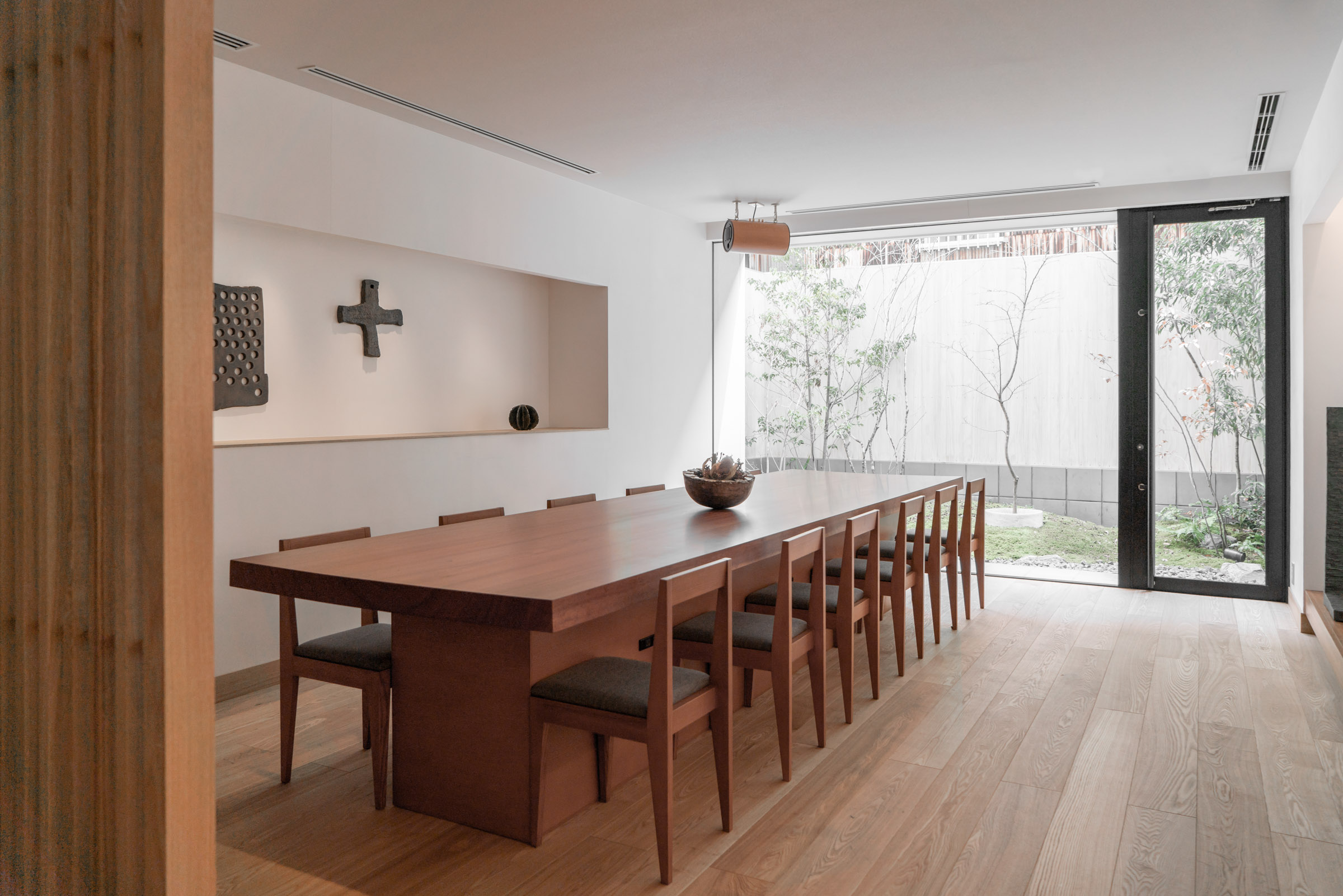 HOSHINOYA Kyoto
The experience begins before you even arrive at HOSHINOYA Kyoto. From the exclusive boat waiting room where you're offered refreshments as you sit in low wooden chairs and look out onto a small peaceful garden, you get a taste of what's to come: serenity, seclusion and modern comforts combined with Japanese tradition. Step onto the private wooden boat, and after 15 minutes along the magical Oi River, you'll arrive at the hidden resort.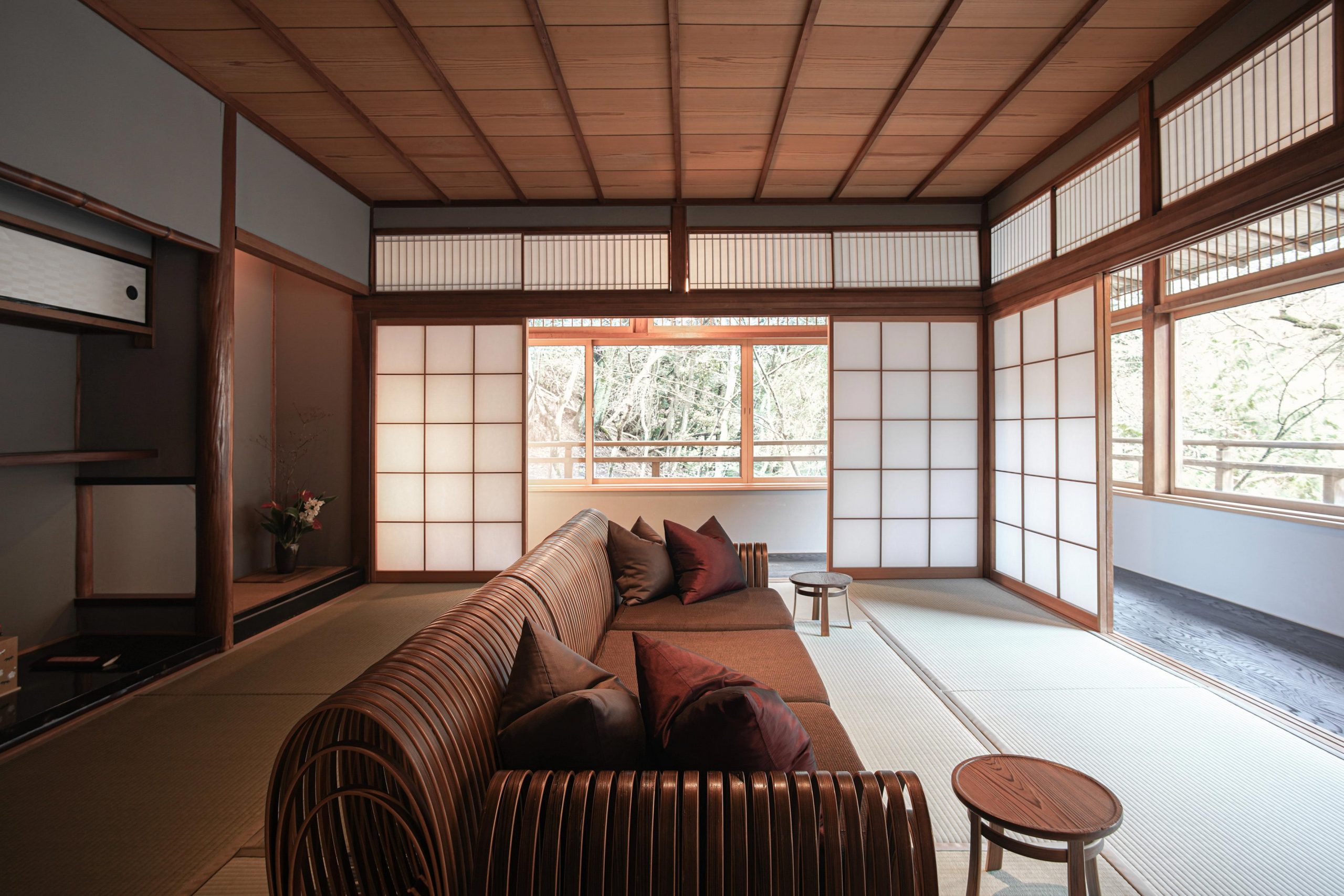 The site of HOSHINOYA Kyoto was once home to a 17th-century mansion before being transformed into a ryokan with a cluster of buildings over 100 years ago, and now looks as though it could be a small village. Walk past the Water Garden and along the winding stone path surrounded by cherry blossom trees and Japanese Momiji maples — here you'll come across the 25 guest pavilions, each one private and separate from the others.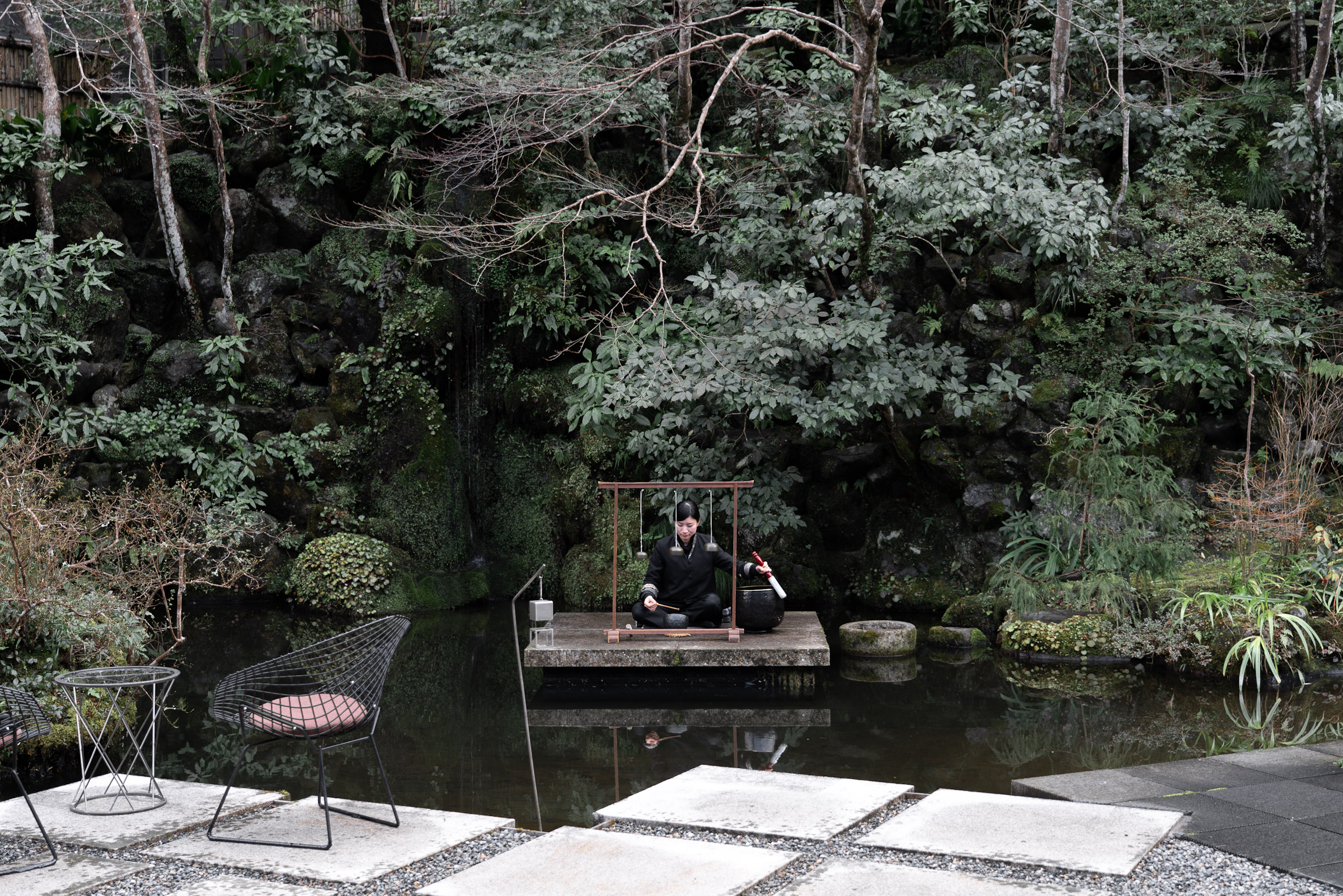 All meticulously designed, the rooms are a balanced mix of old and new, combining to offer an updated Japanese-style retreat complete with shoji paper sliding screens, karakami wallpaper and tatami mat flooring. Impressive bent-wood sofas designed by Japan's foremost makers of furniture, Hinoki Kogei, face windows that look out to the river and passing local wildlife.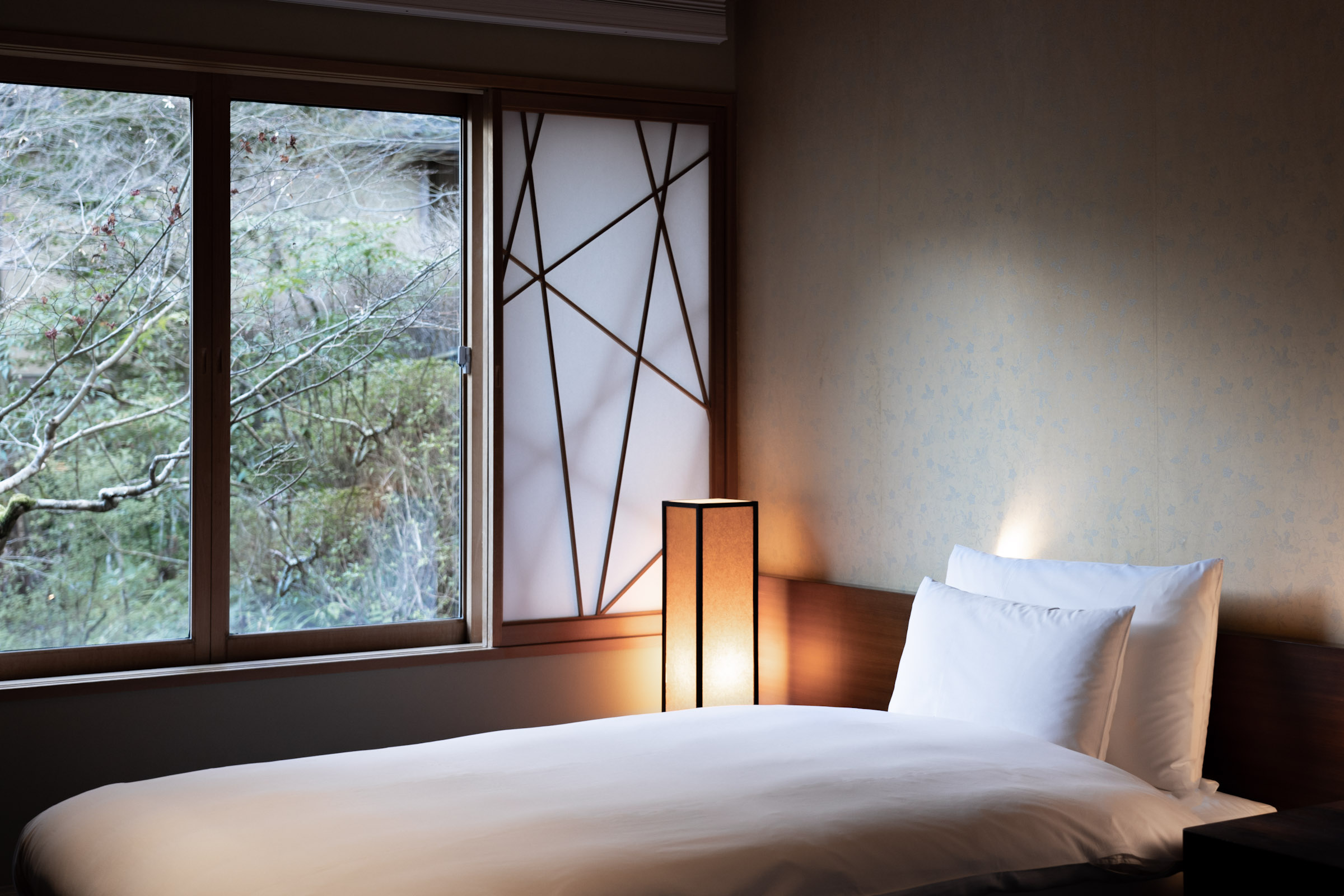 At HOSHINOYA, everything is centred around relaxation, and time almost seems to stand still. Mornings begin with a stretch class in the Hidden Garden before your in-room Japanese breakfast and then an incense ceremony — an experiential introduction to the aristocratic pastime. Sit in the Library & Lounge to catch up on some reading, or relax on the large cushioned seats of the Floating Tea Room's open-air balcony to enjoy a hot drink as you watch the river's water flow beneath you. If you're looking to venture further afield, seek advice from the staff, who have a comprehensive knowledge of the area's rich history.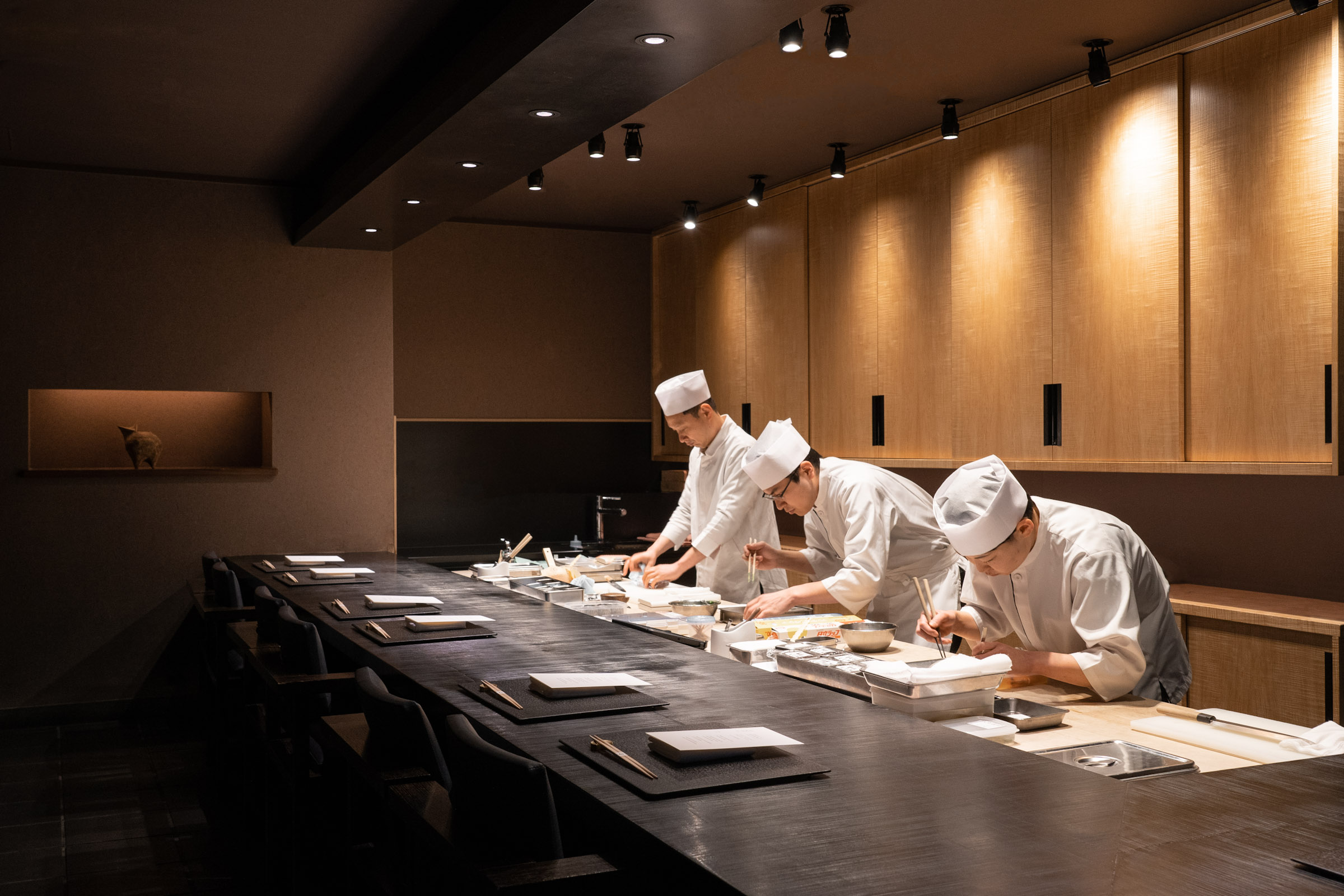 At night, take a seat in the intimate restaurant as the chefs cook up a kaiseki Japanese-style banquet with seasonal touches, overseen by head chef Ichiro Kubota (previously of Umu in London's Mayfair). Dining service is impeccable, as it is throughout all areas of the resort, with staff ensuring you're well looked after at every moment.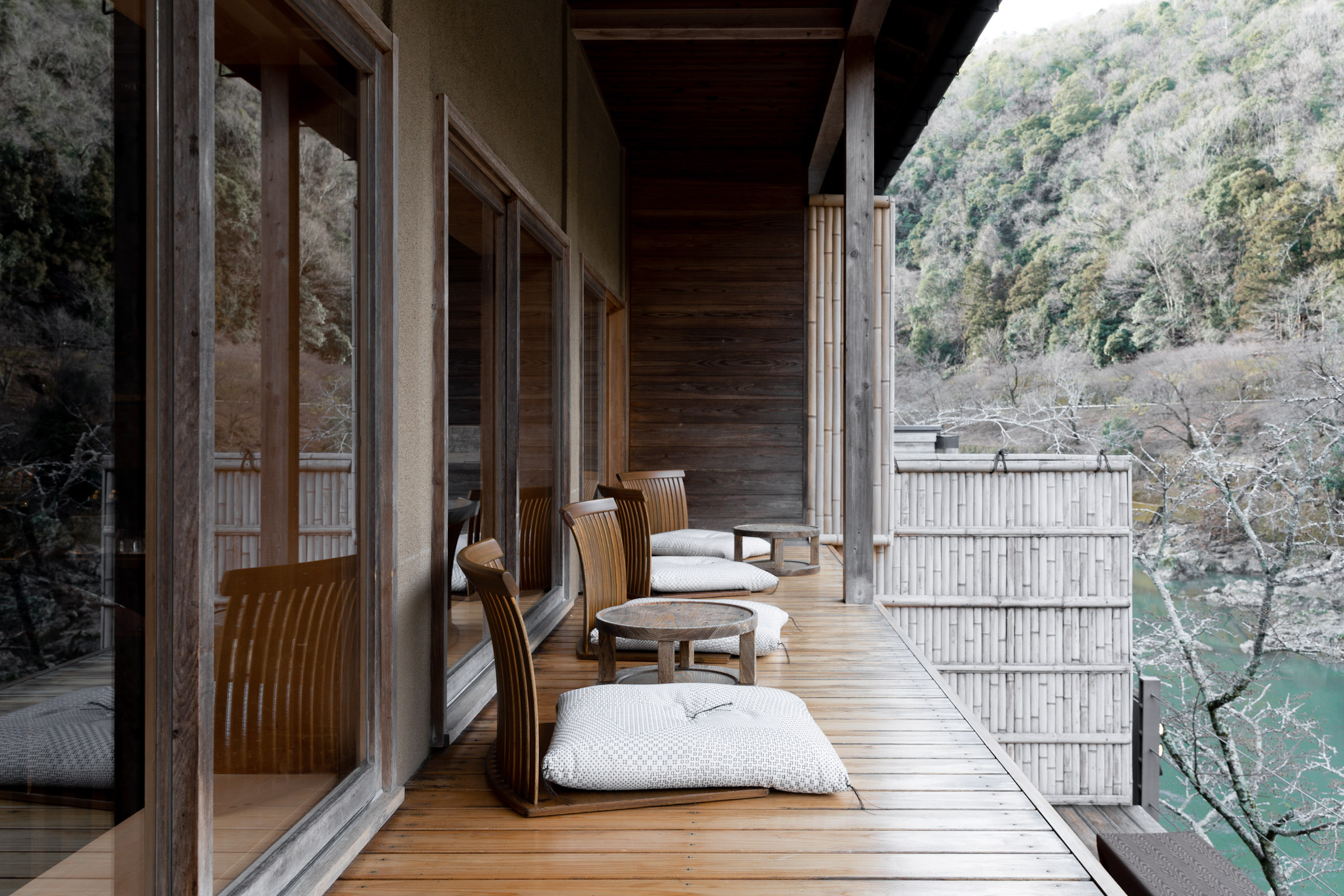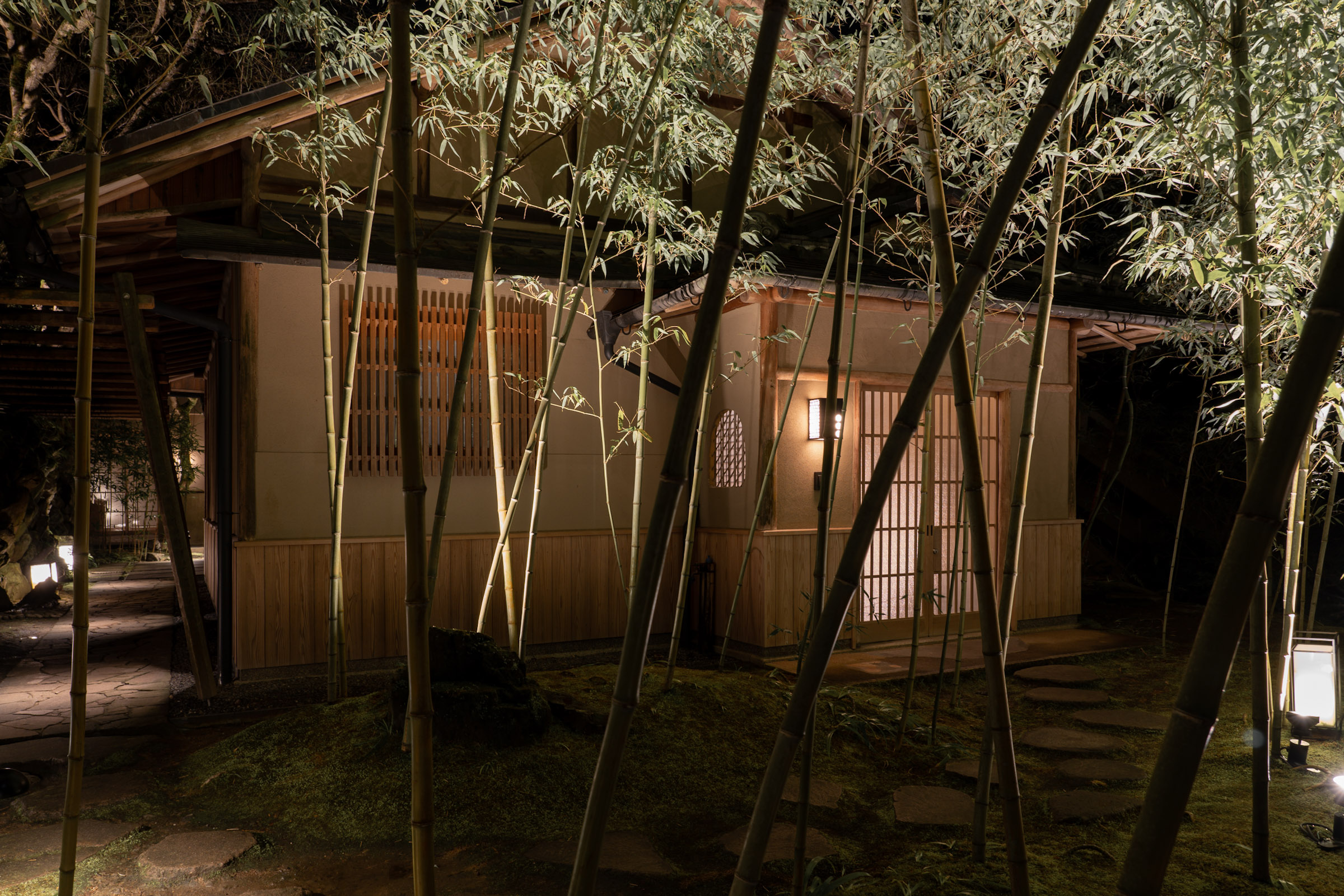 After retiring to your room, hop in the traditional soaking bathtub and enjoy the surrounding sounds of the forest. When it comes time to check-out, the tranquillity of HOSHINOYA Kyoto will ensure you leave feeling calm and rejuvenated as you board the boat once more and head back to the city.