In 2015, August Bard Bringéus and Jakob Dworsky launched 'The T-Shirt' on Kickstarter—a simple, timeless, crewneck tee made with quality fabrics that came in 15 sizes rather than the standard five. This was the beginning of ASKET, the Swedish menswear brand that eschews trends in favour of well-made wardrobe essentials free from unnecessary embellishment, and with a focus on fair trade and sustainability. While the collection has since grown to offer a selection of garments including shirts, jeans, chinos, knitwear and accessories, the brand's ethos, principles and take on fashion remain the same. Softer Volumes spoke with August to find out more about ASKET's approach to design, the challenges they faced as a startup, and how both consumers and brands can be more environmentally-conscious when it comes to clothing.
What inspired you to start ASKET back in 2015?
My co-founder Jakob and I were struck by how hard it was to find something as simple as a well-fitting, quality, white t-shirt or a simple Oxford shirt because brands changed their style and fit every season. Instead, we found unnecessary details, tasteless colours, overpaying for 'quality', or paying too little for garments of dubious origin. What we realised is that fashion is built on a model of constant renewal. In order to continue turning a profit, brands are telling us we need new styles and to change our wardrobes at an increasing pace. At the time we were students at Stockholm School of Economics, and it just seemed like bad business, and unsustainable to say the least—so we saw an opportunity to move away from fashion's seasonal churn and introduce a permanent collection of mindfully-produced, quality and timeless garments designed to last.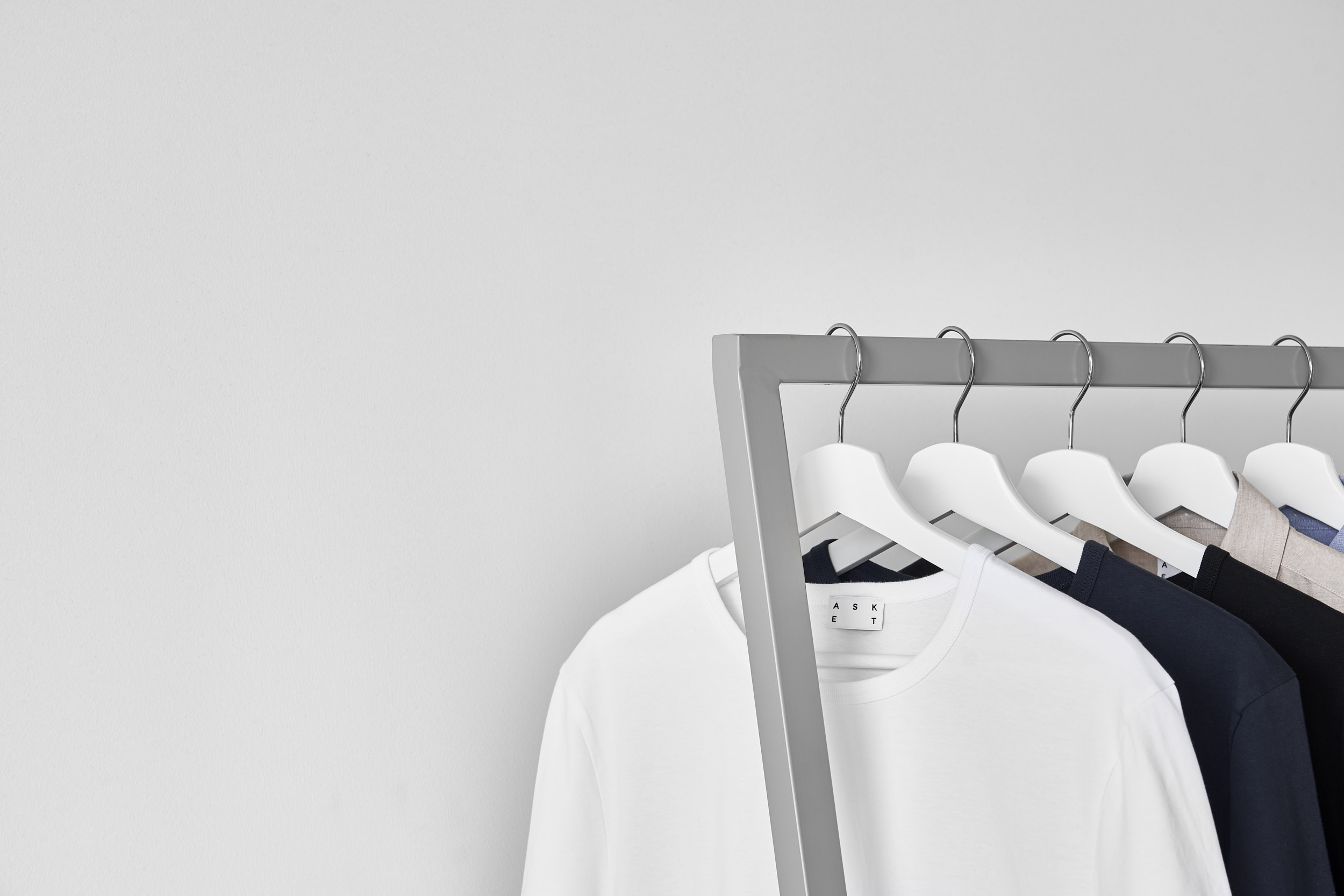 How has the brand evolved since then?
Neither of us had worked in fashion before, so we absorbed ourselves in every part of the process; design, material selection, picking suppliers, visiting facilities, packing orders, customer care — you name it. While we were excited to bring a fresh perspective to the table, at the same time, the industry opened our eyes. A typical fast-fashion t-shirt might set you back €5, but the true cost is far greater, with acres of land required for the cotton, 2700 L of water and 2 kg of CO2 during production, and over an hour of craftsmanship. In our minds, this simply didn't add up. The only way the industry can make these numbers stand up is by exploiting natural and human resources. That's when our mission changed. Instead of just creating beautifully crafted garments, we realised we had a bigger role to play to add value and care back into the apparel system. That means designing quality, timeless garments that people want to wear over and over, as well as providing transparency and education about where clothing comes from and what went into producing it — resulting in a greater understanding and appreciation for clothing that we otherwise take for granted. This, in turn, should help us transition to more mindful consumption.
What do you believe draws people to the brand?
I think people love that we deliver the kind of pieces they wear every day, in a quality they can feel and a cut that properly fits. When you own something that you can wear over and over, you really start to bond with that piece and appreciate it. Added to that, our values of openness and honesty transcend our clothing and go into everything we do — marketing, customer communication and community management. I think that allows people to feel a sense of belonging — they're on a journey with us. It might sound like a simple notion, but it goes a long way in restoring the value of garments. We received an email from a customer recently who confessed to buying fast fashion pieces every season, being unsatisfied with them and within a year donating them to charity. After discovering ASKET, he realised that he started to care for his clothes; hand washing them, air drying, tailoring and sewing buttons back on. With it, his closet gradually reduced from 60 to 50 garments, from 50 to 40 and eventually down to 20 garments that he truly cared about. If we can spark a change like this, then we can go a long way in repairing the industry.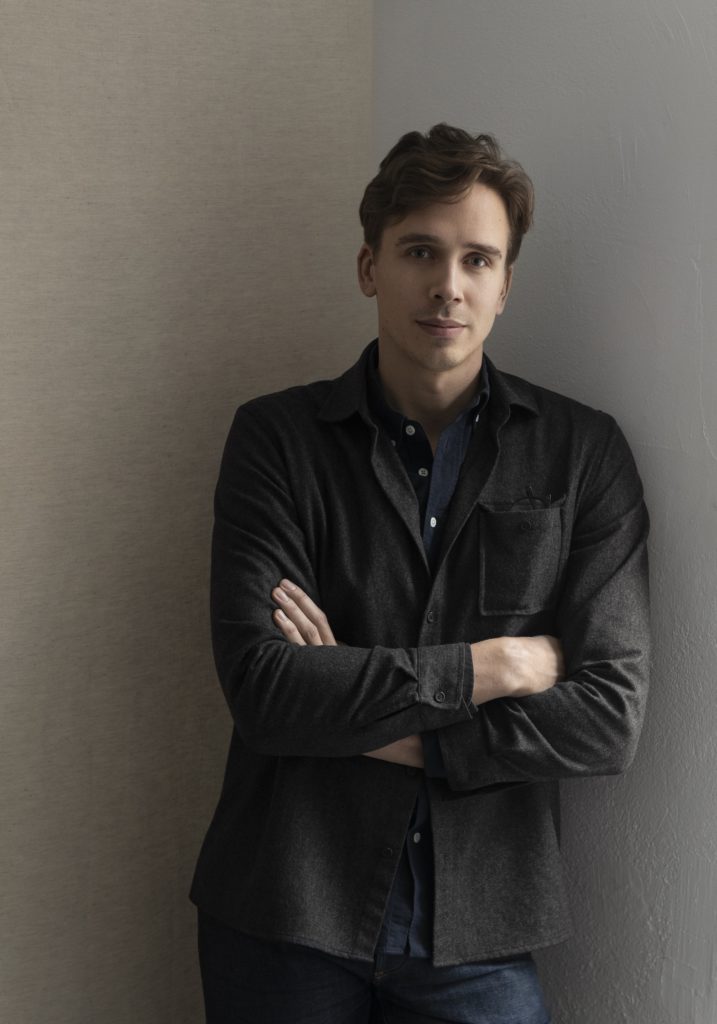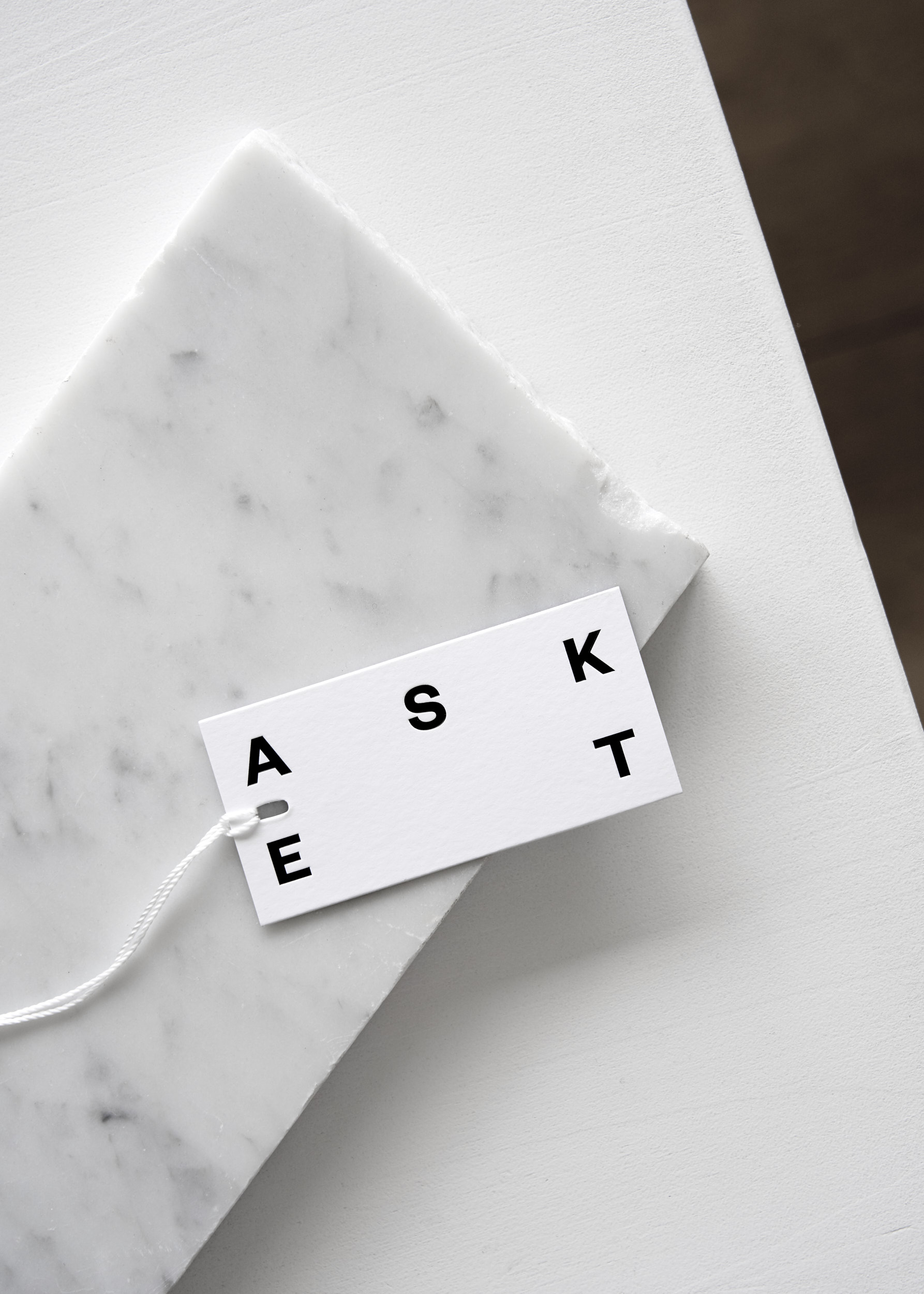 Scandinavian design is typically characterised by simplicity, minimalism and functionality. Has this influenced you and how you approach your designs?
It's true we like to keep things simple. But rather than saying we're inspired by Scandinavian design, I'd say our approach to design is to focus on perfecting what is already there. Essentials are the cornerstone of every man's wardrobe, but over the last 20 years, the simplicity of these garments has been corrupted — with useless pockets or unnecessarily deep neck lines being added in the pursuit of creating new trends. We want to restore that simplicity, stripping garments back to their very essence and instead focusing on perfecting the quality, fit and design. Our design mantra: Eliminate what doesn't add value, invest in what does.
ASKET has quite a unique approach to sizing, with many more options than most brands. What motivated you to implement this system?
It started with Jakob actually — he's 190 cm tall and slender. Before ASKET, he was always in between a medium and a large. Depending on the brand, he'd have to choose between a crop top or a nightgown kind-of-fit. Creating wardrobe essentials, there are really two things that matter — quality and fit. And let's face it, the world's 3.8bn men aren't going to fit into just five sizes. The existing sizing system suits the industry, designed to keep production costs down by squeezing as many people into as few sizes as possible. With a system like that, people are forced to make a compromise. Instead, we decided to offer 15 sizes — adding three lengths (short, regular and long) on top of the standard XS–XL sizing system, allowing us to cater to a much larger spectrum of body sizes and fit preferences. We've extended additional size dimensions to our trouser line-up too. And it works, we see a healthy distribution across the sizes and a better fit helps cut down on returns and waste.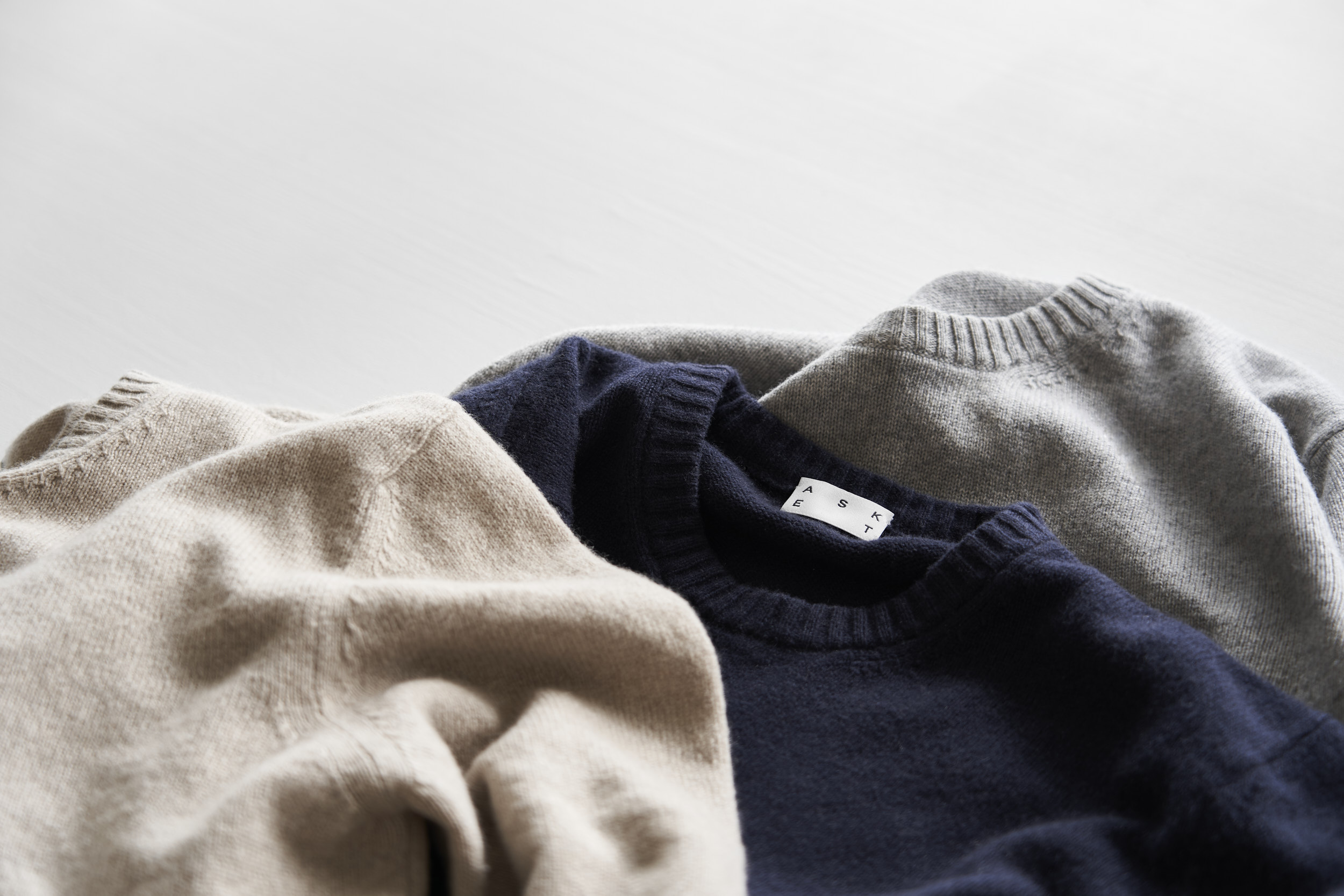 As a brand, one of your most significant points of difference is forgoing seasonal releases for a permanent collection of wardrobe essentials. What is the process for deciding which products to offer or not, and how large do you see the selection growing?
The permanence of our collection remains our guiding principle. It influences every aspect of the design process; from deciding what qualifies as a wardrobe essential, to selecting the most durable and quality materials, as well as creating timeless designs that won't fall out of fashion. When it comes to deciding which products to include, we look back in time rather than trying to predict the next trend. Taking inspiration from the Steve McQueens and Alain Delons of the world, whose casual sensibilities would look as comfortable on the cover of magazines now as they did 60 years ago. We then analyse these pieces, stitch by stitch, seam by seam, to create the perfect version of them. I envisage at some point we will complete the permanent collection, and we'll have nothing to add. Trends come and go, but I hope our garments will stand the test of time. At that point, we'll be left perfecting what's already made.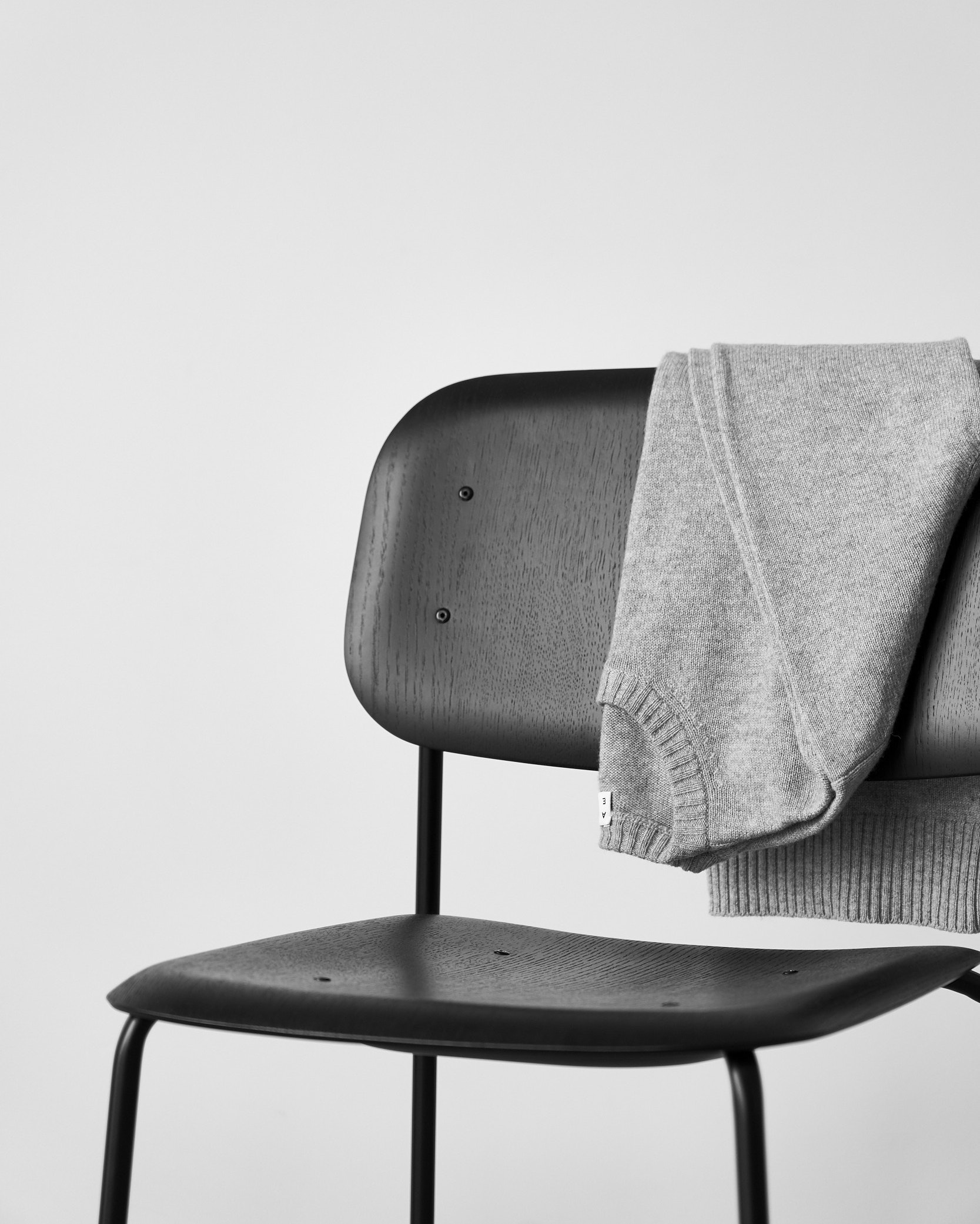 You are very open about your production — from showcasing your factories to allowing customers to know the origin of every component of a garment — why is it important to you to be this transparent?
The sad truth is that fashion has lost its value because we have no understanding of what it takes to create clothes, and the price is so low compared to what goes into making it. Our goal is to show people exactly what goes into making the clothes they wear every day. Our belief is that when you better understand the material, the complexity and the craftsmanship involved, you'll understand the inherent value in it and respect it more. Ironically, the fashion industry itself is in part to blame for this disconnect, as it relies on outsourcing its production to meet demand and push for ever-cheaper prices. By unravelling our supply chain, we become responsible for our actions (or inactions). We want to lead the charge, in empowering ourselves and consumers to make informed decisions that are better for people and planet — ultimately showing the industry that it can be accountable for its actions and start making better choices.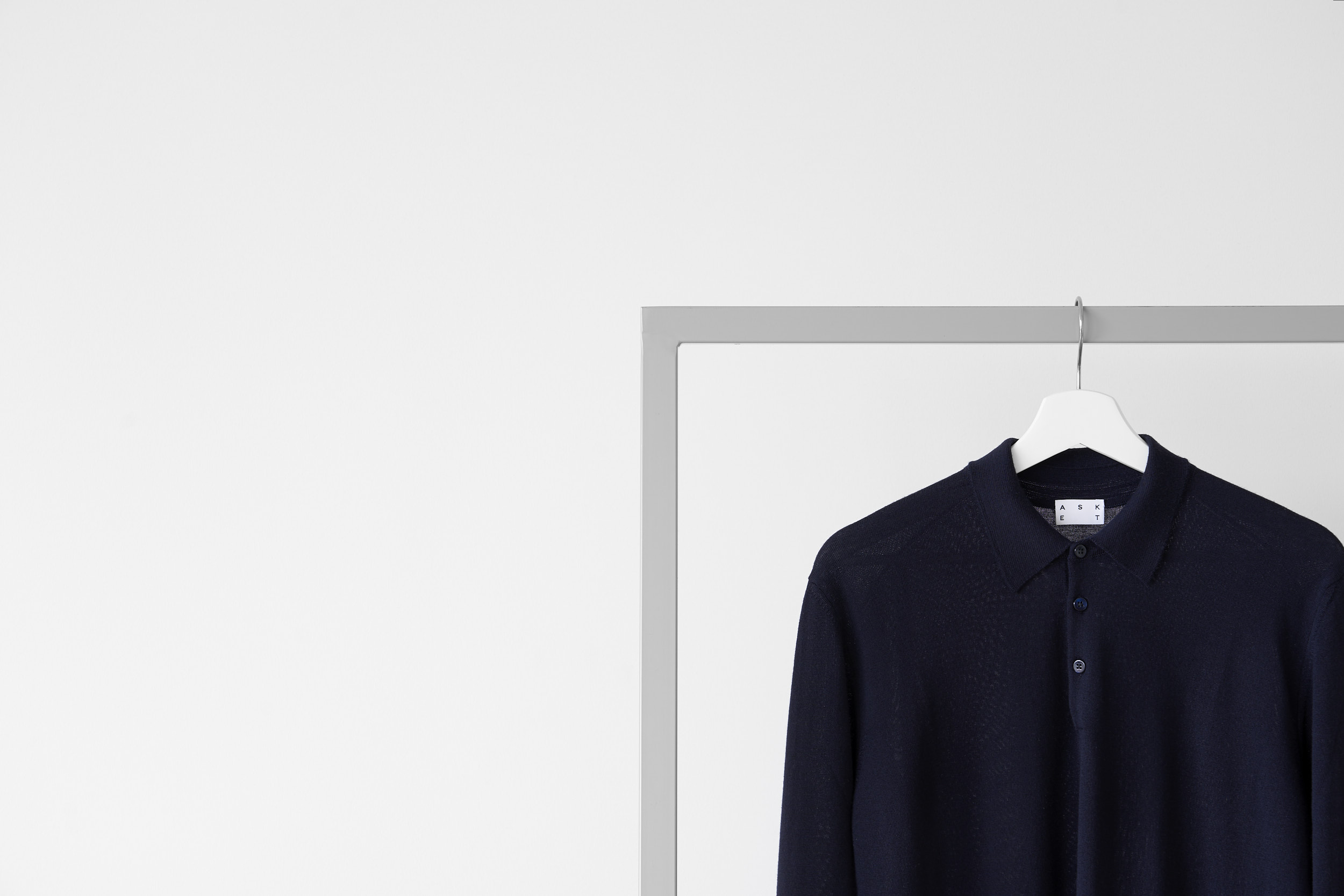 You've recently hit a major milestone with 100% traceability across your Merino Wool line-up. Was achieving this easier or harder than you thought it would be?
When we set out to uncover our entire Merino Wool supply chain, we realised we were about to take an entirely different approach. While industry convention adopts a top- down approach, we decided to establish a direct relationship with a raw material supplier, and then trace the wool from source, along the entire production process — easier said than done! Faced with industry nuances, we had underestimated how tough it would be to dig deeper. The trouble in tracing raw materials is that they are commonly mixed and sold together at auctions so that suppliers can meet quantity demands, meaning the true material source is erased early in the supply chain. To overcome this, we had to purchase wool directly from one farm. It took our team 18 months to find a farm that we were happy to work with, both in terms of producing quality wool as well as the care for their flock. Eventually, we landed on Smith Family farm in Australia and invested 20% of our previous year's revenue to obtain 4.3 tons of wool — enough for an Italian spinner to set up a dedicated production line from raw wool to finished yarn.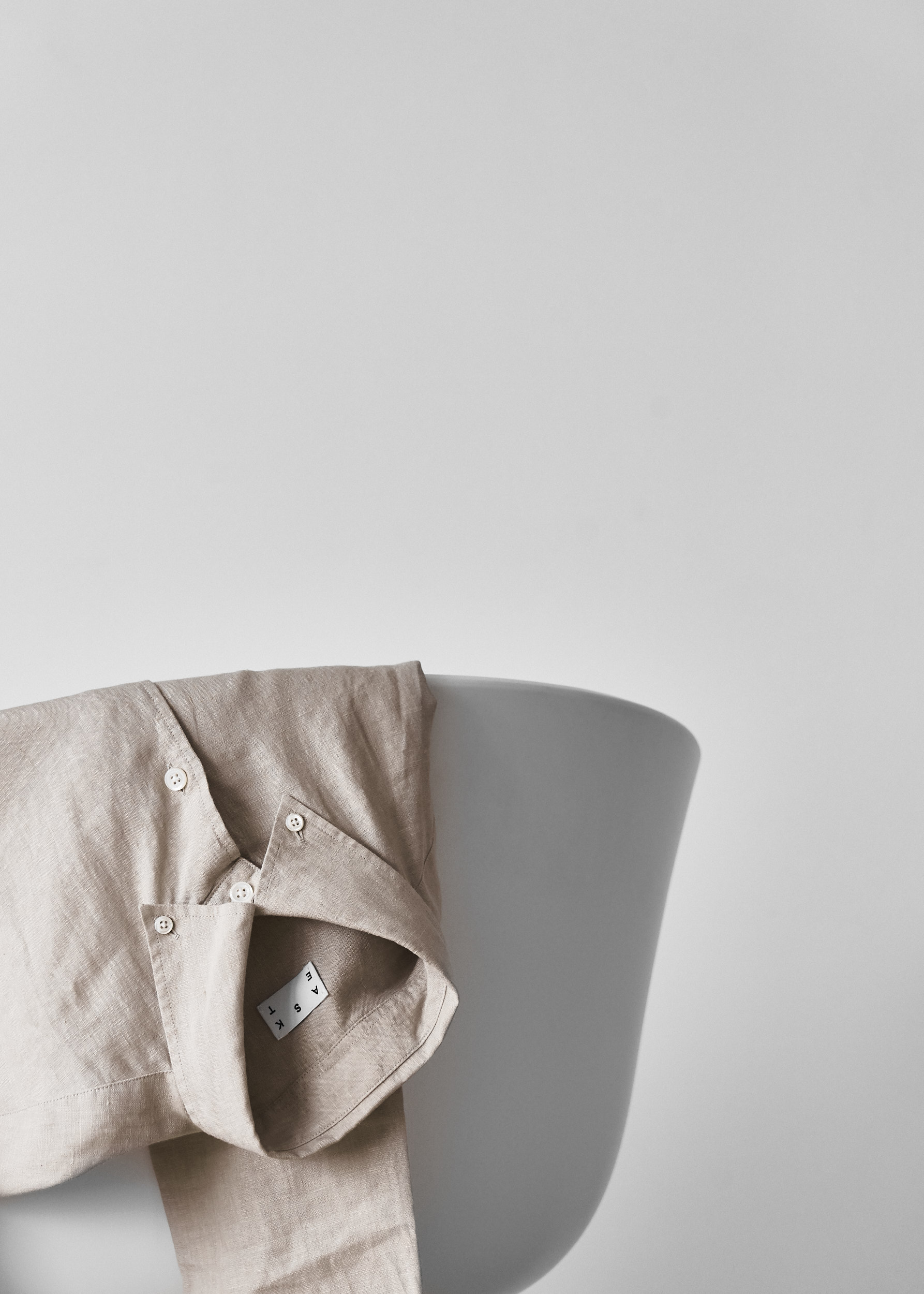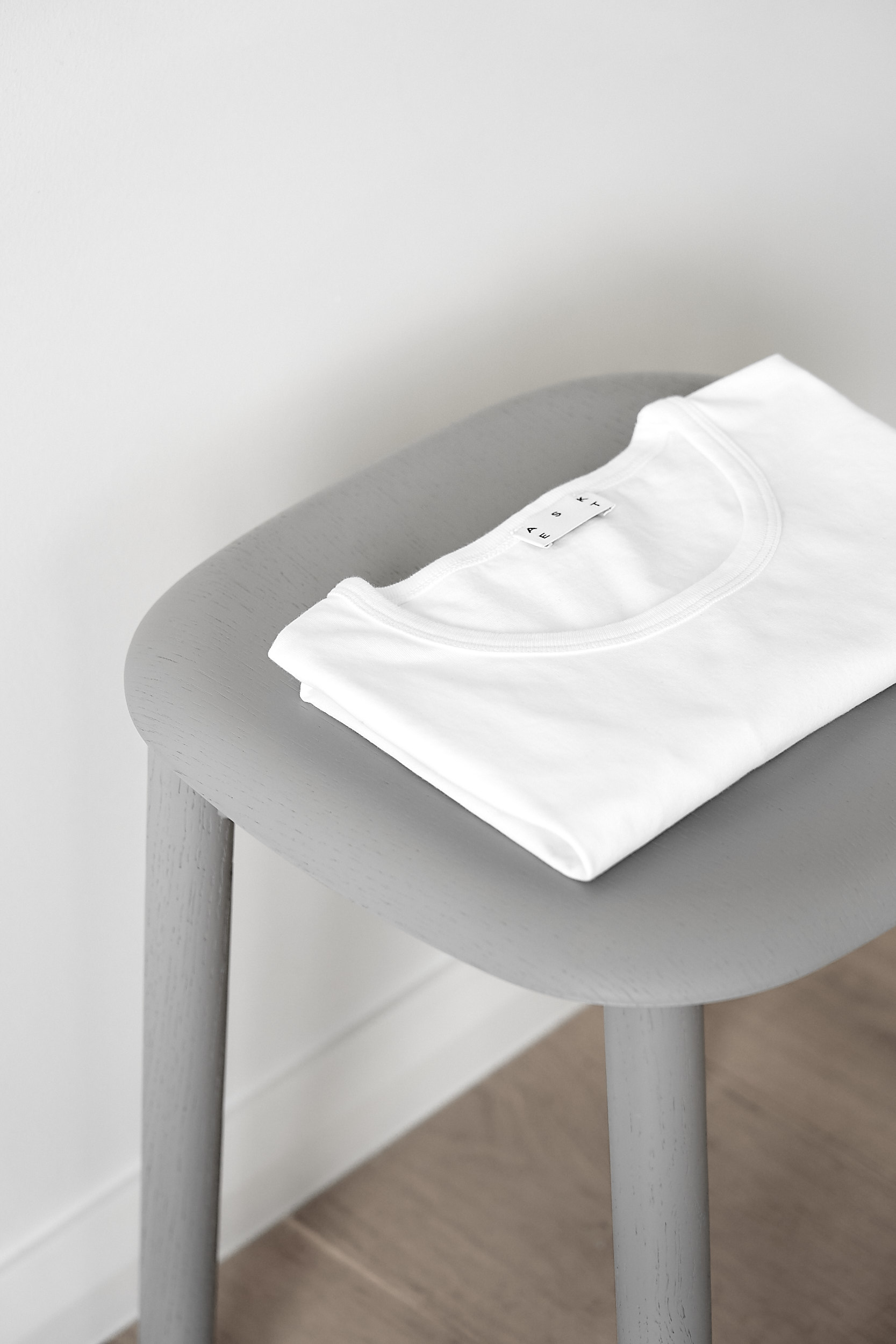 What's been the biggest challenge for ASKET to date?
In 2015, following our T-Shirt launch, we couldn't wait to add our next wardrobe staple to the collection — The Sweatshirt. We spent months developing a beautiful custom knit and prototyping different designs. Young and inexperienced, we were so eager to get it out to our little family of first customers that we didn't pay enough attention to its one drawback — the weight and the openness of the loopback knit made the fabric tremendously elastic and unpredictable. As a result, we weren't quite able to nail the fit and continued to tweak and change it right into production. We didn't get any final prototypes made to see how the changes actually came out and launched straight to the customer — something we would never do today.
After a few days, we started getting odd reports from customers about sleeves being disproportionately short, bodies being way too long, and bottom hems being too wide. When we investigated, we realised that the production run had some serious defects. We had to cancel it and recall the product already out there. As a startup, this nearly killed us.
Eventually, we managed to salvage some of the sweatshirts and recover some of the losses. At that point, we said we'd never rush anything — ever again. We started over, from scratch, and decided to launch a mini-production of only 150 pieces. Sold as a 'pre-release', we would require our supporters to provide feedback and only when we were 100% satisfied would we ramp up for a full production. It turned out to be the best thing we could have done. During the pre-release, our site crashed from the amount of demand. We sold out in 45 minutes and got a tremendous amount of engagement and feedback. Eventually, we ramped up production and launched The Sweatshirt in full, breaking all records again. We were so pleased with our new approach of taking things slowly, continuously tweaking our garments based on customer feedback (just like software) that we decided to institutionalise it, 'garments as software'. To this day, it's one of the fundamentals of garment development at ASKET.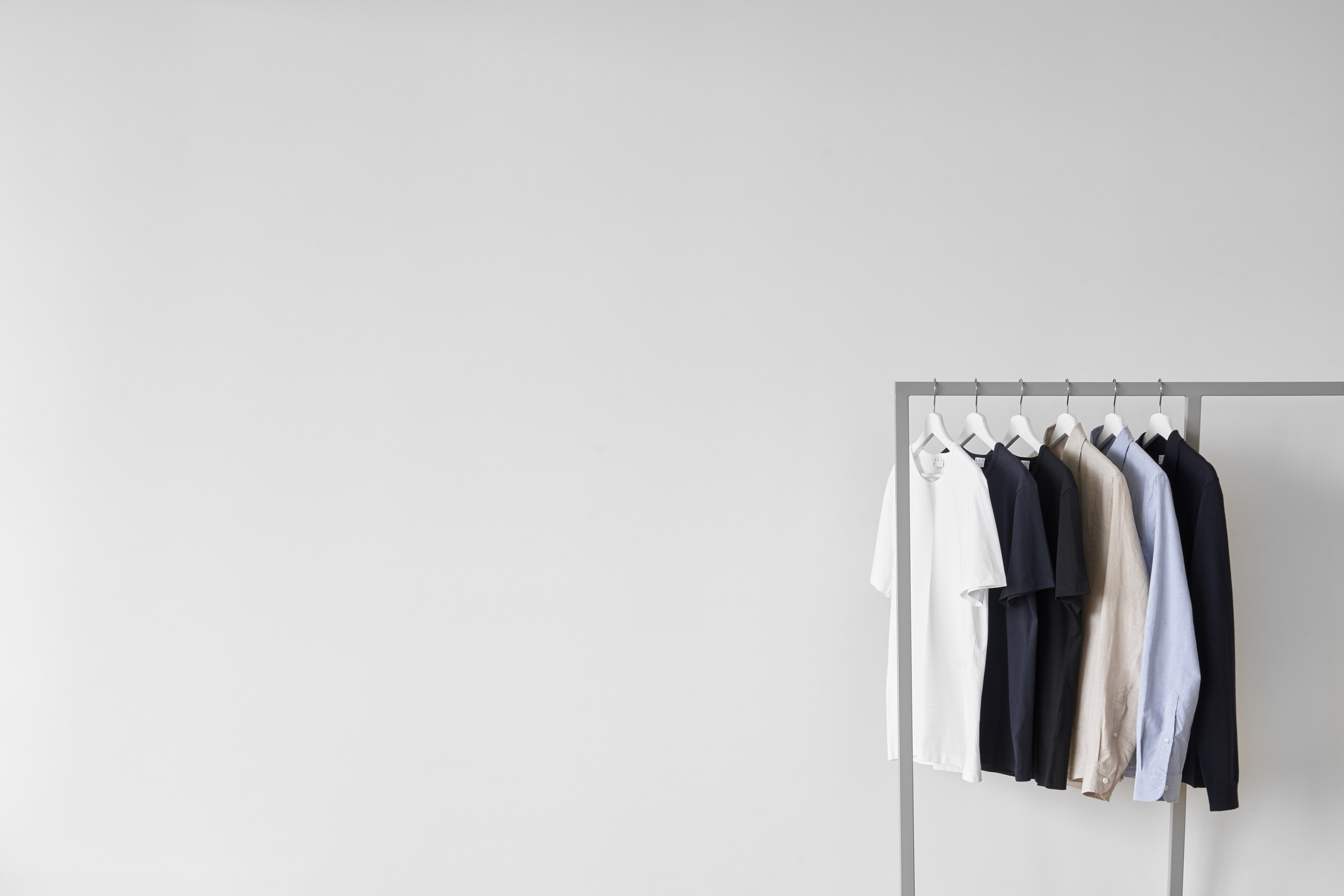 What do you think are some other ways consumers can be more environmentally conscious with fashion?
The single best thing we can do as individuals is simply to buy less. Opt for better, love your garments longer and truly appreciate what went into making them. I recently read some very compelling numbers from the Swedish research institution, Mistra Future Fashion. By wearing a garment twice as many times, its environmental impact can be halved. The research noted that on average, a t-shirt is used 30 times and washed 15 times. If this t-shirt is instead used 60 times, the climate impact can be cut by 49%. And yes, it does mean resisting the urge to click on those shoppable Instagram pictures, but with numbers like that, it's hard to argue otherwise. The fashion industry is built on a model of constant renewal and has normalised the notion that we need new clothes when we already have enough. I'm a firm believer that it can be just as gratifying and even liberating to own fewer but better things.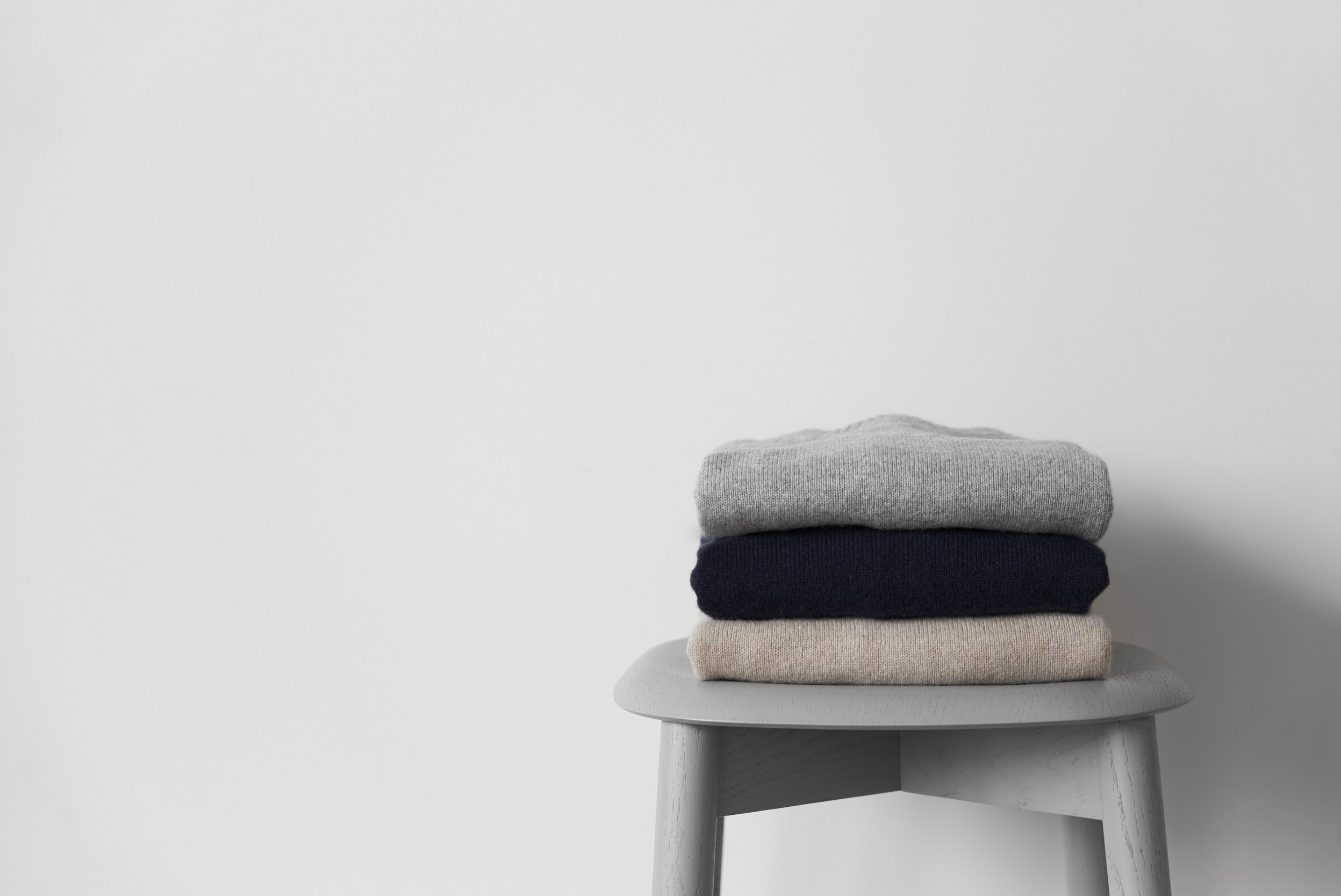 What do you think are some key ways the fashion industry can improve practices to reduce the impact it has on the environment?
While we are starting to see small steps in the right direction, the fashion industry is still far from sustainable. Recent reports show that the fashion industry's progress on improving its environmental and social impact isn't moving fast enough to counteract its rapid growth. With the fashion industry continuing to grow at 5% per year, all the organic tote-bags and recycled-PET sweaters aren't enough to counter the unprecedented strain on the planet's resources, yet major fashion companies continue to make headlines about their sustainability efforts.
Despite the fear of sounding like a broken record, the underlying issue is that these brands are still producing way too many clothes and convincing us its normal to buy more than we need when what the planet really needs is less. To counter this, we need legislation to accelerate the conversion towards lower impact business models, more accountability and stricter guidelines around greenwashing. The tipping point will come when an increase in general consumer awareness coincides with harsher legislation on responsibility in the fashion supply chain. At that point, the old ways of doing business, at the expense of people and planet, will no longer be viable and responsible business will become financially sound for the industry as a whole.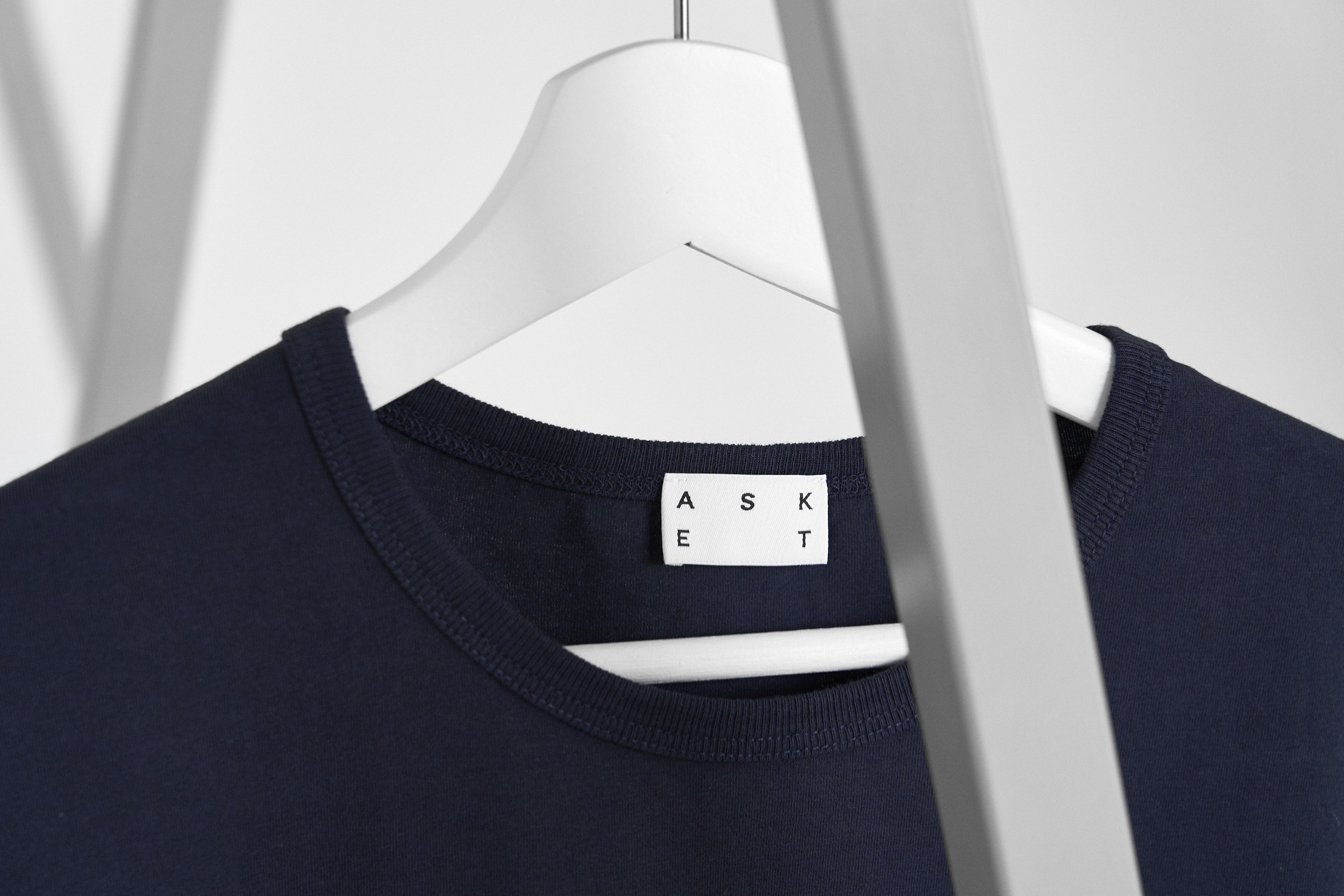 What's next for ASKET?
The beauty of being a startup is that we're not beholden to fashion's outdated business model. Rather than trying to change bad practice, we can instead focus on driving entirely new ways of working. We'll continue to strive for 100% traceability in our supply chain, and we're continually looking at new material solutions — but I don't want to give too much away. Above all, we want to show people that there is economy in slowing down — that you can run a successful business that doesn't rely on exploiting natural and human resources.